Ed Miliband declares Labour the the party of 'one nation Britain' as he sets out his vision of a Labour-run country
Oliver Wright
Tuesday 02 October 2012 17:15 Comments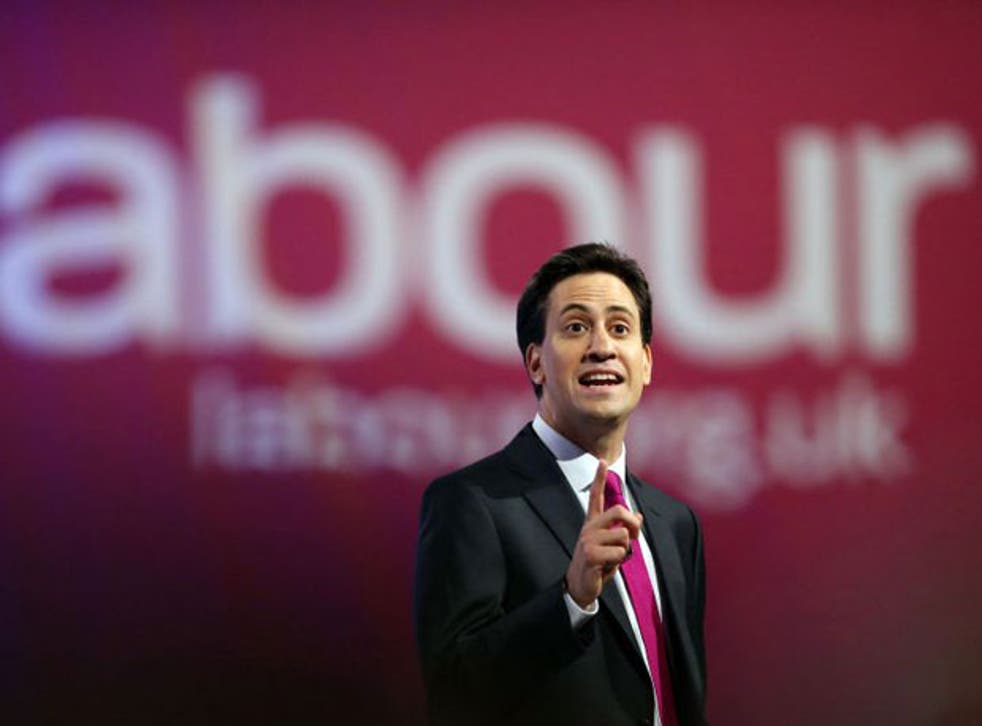 Labour not the Conservatives are now the party of "one nation Britain", Ed Miliband asserted today, as he set out his vision for how the country could look under a future Labour Government.
In a highly personal speech made without notes, Mr Miliband appropriated the slogan, first used by Conservative Prime Minister Benjamin Disraeli to define Labour's ideology under his leadership.
He claimed David Cameron has lost the right to call himself a one nation Prime Minister because of the way he has governed for the rich while cutting services and benefits for the poor.
And he promised that under Labour "those with the broadest shoulders would carry the heaviest load" in the strongest signal yet that the party is prepared to countenance tax rises for the rich at the next election.
The speech was hailed by commentators both on the left and the right as his most assured and polished as party leader.
Aides said that Mr Miliband had largely written the the speech himself and decided to deliver it without notes to achieve a more "direct and authentic connection" with his audience.
His performance will inevitably spark comparisons with Mr Cameron's widely acclaimed speeches when he was fighting for the Tory leadership in 2005 and in 2007 when he was behind in the polls and facing the threat of an imminent election.
Describing himself as a "person of faith" but not in a religious sense, Mr Milband said he believed in a shared value system which involved the duty to work together to make the country better and combat injustice.
"Every time Britain has faced its gravest challenge we have only come through the storm because we were one nation," he told delegates at Labour's party conference in Manchester.
"But too often governments have forgotten that message. With one million young people out of work, we just can't succeed as a country. With the gap between rich and poor growing wider and wider, we can't succeed as a country. With millions of people doing the hard work and effort but not rewarded we can't succeed as a country.
"And with so many people having been told for so long that the only way to get on is to be on your own, in it for yourself, we just can't succeed as a country."
Mr Miliband said he "understood" voters who turned their backs on Labour in 2010 and gave David Cameron "the benefit of the doubt", but added: "I think we've had long enough to make a judgment.
"They have turned a recovery into the longest double-dip recession since the War. Because there are more people looking for work for longer than at any time since the last time there was a Conservative government.
"And borrowing, the thing they said was their most important priority, the reason they were elected, it's rising not falling."
There were few policy announcements in the speech, beyond the announcement that young people would be able to take vocational qualifications rather than 'A' levels under Labour, and that companies would be denied government contracts unless they trained apprenticeships.
However he presented an ideological view of how Labour would create policy in the run-up to the 2015 election focusing on making society more equal and coherent.
"I say this: you can't be a One Nation Prime Minister if you raise taxes on ordinary families and cut taxes for millionaires.
"You can't be a One Nation Prime Minister if all you do is seek to divide the country - divide the country between north and south, between public and private, between those who can work and those who can't work."
"You can't be a One Nation Prime Minister if your chief whip insults the great police officers of our country by calling them plebs..
Mr Miliband then brought the Labour audience to their feet by saying that, despite their belief that they were "born to rule" and would be good at governing, the Conservatives had turned out to be incompetent.
"Have you ever seen a more incompetent, hopeless, out-of-touch, U-turning, pledge-breaking, make-it-up-as-you-go-along, back-of-the-envelope, miserable shower than this Prime Minister and this Government?" he asked to loud applause.
In a personal section of the speech Mr Miliband said his political views were forged after family friend Ruth First, a campaigner against apartheid in South Africa, was killed in a letter bomb attack.
"When I was 12 years old I met a friend of my parents, Ruth First," he said.
"The image I remember was of somebody vivacious, full of life, full of laughter and then I remember a few months later coming down to breakfast and seeing my mum in tears because Ruth First had been murdered by a letter bomb from the South African secret police - murdered for being part of the anti-apartheid movement.
"Now I didn't understand the ins and out of it but I was shocked and I was angry. I knew that wasn't the way the world was meant to be. I knew I had a duty to do something about it.
"It is this upbringing who has made me a part of who I am - a person of faith, not of religious faith but a faith nonetheless. A faith I believe many people will recognise.
2Here is my faith. I believe we have a duty to leave the world a better place than we found it. I believe we cannot shrug our shoulders at injustice and just say that is the way the world is, and I believe we can overcome any odds if we come together as people."
Register for free to continue reading
Registration is a free and easy way to support our truly independent journalism
By registering, you will also enjoy limited access to Premium articles, exclusive newsletters, commenting, and virtual events with our leading journalists
Already have an account? sign in
Join our new commenting forum
Join thought-provoking conversations, follow other Independent readers and see their replies