Ed Miliband fails to look normal while eating bacon sandwich ahead of campaign tour
Advisers had to intervene – just a few bites in – when it became clear the breakfast was not going to be an elegant affair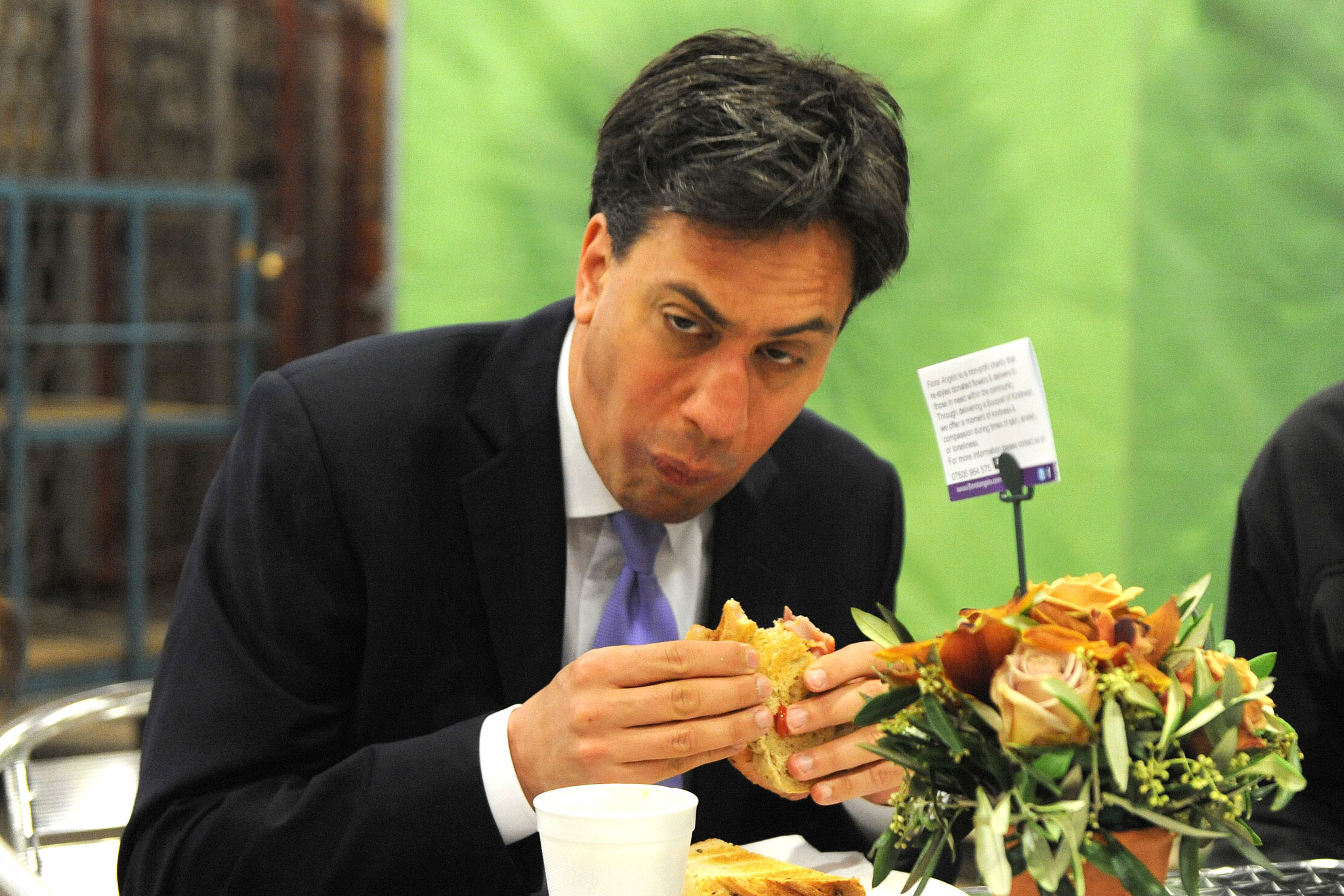 After a difficult Monday morning of gaffes and on-air slip-ups, Ed Miliband would have been hoping for an easier ride when he went out and about to meet the working classes on Wednesday.
Yet despite extensive stage-managing and with a seemingly simple task at hand, the Labour leader still struggled in his bid to look normal and back in touch with the general public.
Mr Miliband said he would be embarking on a whirlwind tour of 10 key locations across five regions of England, in a last-minute push for votes ahead of the local and European elections.
The first challenge, however, came in the form of a bacon sandwich – that staple for any politician wanting to look like he fits in.
The assembled photographers quickly took an interest after it became apparent that the mound of oozing ketchup and grease could not be tackled elegantly.
In pictures: Ed Miliband trying to look normal
Show all 18
After no more than a few bites the leader's advisors had to intervene, and the offending food item was entrusted to shadow cabinet member Lord Wood, the Evening Standard reported.
And the situation only got more awkward when cafe owner Tony Foufas, who served Mr Miliband, said he actually felt that the Conservatives were more "pro-business" and would not be inclined to vote Labour.
Speaking later to the Standard about the previous day's disastrous media appearances, Mr Miliband admitted: "It comes with the territory."
The rest of the morning reportedly went considerably better for the leader, after he went to buy a bouquet of roses for his wife Justine and was offered a significant discount – presumably the flower-seller was a fan.
Wednesday's tour took Mr Miliband from London to his Doncaster constituency via towns in the South-east, the East of England, East Midlands and Yorkshire & Humberside, and he said on Tuesday that he would highlight one of the 10 pledges from his "cost-of-living contract" at each location.
"I will be urging people to vote Labour on Thursday because I know Britain can do better than this," he said. "And it is Labour MEPs and Labour councillors who can help deliver".
On Tuesday, Mr Miliband made a similar speech on Good Morning Britain before he was quizzed on how much he knew about his own family's cost of living. Failing to bluff his way through, he was accused by presenter Susanna Reid of being "out of touch with reality".
Join our commenting forum
Join thought-provoking conversations, follow other Independent readers and see their replies