Ed Miliband interview: 'I hated telling my mother about Daily Mail piece on my father. It was out of line'
Ed Miliband tells Andrew Grice why he had to take a stand against the 'Daily Mail', and how he can deliver on his promise to freeze energy prices
Andrew Grice
Sunday 06 October 2013 22:55 Comments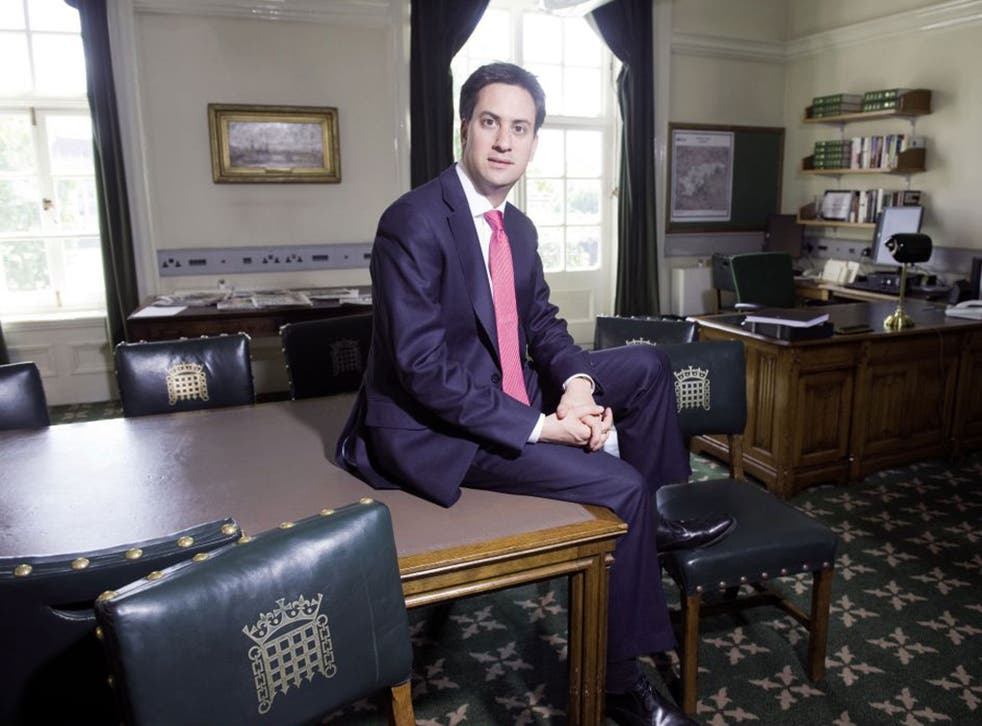 Ralph Miliband's widow Marion Kozak said the Daily Mail article labelling her late husband "The man who hated Britain" was "totally out of line" and must be answered, Ed Miliband has revealed.
In an interview with The Independent, the Labour leader says he "hated" showing the controversial article to his mother. Nine days ago, he was at her north London flat with his two sons for lunch, when he learnt about the piece on his Marxist academic father. "We both just thought this was totally out of line with the truth about my dad," he says. He spoke to his wife Justine and his brother David, now in New York as head of the International Rescue Committee, which helps refugees fleeing war or disaster. "We all felt the same way: I had to speak out to put this right," says the Labour leader.
His row with the Mail, which has refused to apologise, has dominated the political agenda. Yet Mr Miliband insists he is not trying to exploit the issue, or influence crucial decisions on press regulation this week, when eight ministers on the Privy Council will discuss two rival Royal Charters – one proposed by the newspaper industry and the other agreed by Parliament.
He stresses that the issue at stake was his father, not press regulation. He explains: "I did this because I wanted to stand up for my dad. I spoke out as a son who did not want to see his late father being smeared. He fought for our country, owed his life to our country, and I was not prepared to let the lie that he hated our country stand. Of course, there are many more pressing issues for the British people than this. Families are caught in the midst of the worst cost-of-living crisis for a century."
The Labour leader makes a wider point which suggests he is using the controversy to draw a line in the sand, and perhaps send a warning to other newspapers. "I am determined that the next election will be fought on these [cost-of-living] issues, not in the gutter on the basis of smears and character assassination. The stakes are too high for that," he says.
He insists he is not alleging that the Mail is being anti-Semitic, as some commentators have done. And he is adamant he is not seeking to make political capital out of the dispute. "I want the next election to be about raising living standards, not falling press standards," he says. "It must be about the issues that matter to British people."
Asked whether advertisers should boycott the Mail until Paul Dacre resigns as editor, as Lord Sugar has suggested, Mr Miliband replies diplomatically. He says does not want to fuel Conservative claims that he is anti-business.
"Commercial decisions about where people place advertisements are not – and should not be – a matter for politicians like me," he says. "I'm not really about boycotts. I will continue to deal with the Mail because that is part of my job. But I also believe what I wrote in my right to reply to [its proprietor] Lord Rothermere – that the Daily Mail claims to represent British values and it's time to take a long hard look at whether those values are being reflected in the practices and culture of the Mail and The Mail on Sunday."
The Labour leader wants to "move on" to his favoured cost-of-living agenda. After the unwanted diversion of the Mail row, his next move will be to try to bring in-house lobbyists employed by the energy companies within the remit of the Government's Lobbying Bill. He senses he is on a winning streak after pledging a 20-month freeze on energy prices if Labour wins the 2015 election.
Yet even some in his own party doubt that Labour will be trusted to deliver that promise until it regains a reputation for economic competence. "I am confident we can win the economic argument facing the country, because we are showing both credibility and difference," Mr Miliband says. "We have shown we can make tough choices on things like ensuring Winter Fuel Allowance doesn't go to the wealthiest pensioners, and on the need for a cap on social security spending. We won't borrow more for day-to-day spending in 2015-16 and we want our manifesto commitments audited by the Office for Budget Responsibility."
The Labour leader insists: "We are showing how, by making different choices, we can tackle the cost of living crisis: closing tax loopholes for the privileged few to abolish the 'bedroom tax', increasing the bank levy to provide 25 hours of free nursery education for three- and four-year-olds whose parents are in work, freezing energy bills until 2017, cutting business rates. What we have seen over the [party] conference period is that Labour has set the economic agenda and only Labour has an answer to the biggest issue families are facing."
So will Labour match George Osborne's conference pledge to run a surplus in the 2015-20 parliament? "Nobody will believe the Tories' promises," Mr Miliband replies. "This is a desperate attempt by David Cameron and George Osborne to cover up their failure over the last few years. These are the people who said they would balance the budget – and move into surplus – by 2015. But their failure on growth and jobs over the last three years means they are forecast to borrow over £90bn in 2015."
Although we will have to wait until much nearer the election for Labour's plans, Mr Miliband suggests he will offer to wipe out the deficit but not run a surplus – a potentially important dividing line with the Conservatives. "We have already gone further than other oppositions at this stage of the parliament and said that for 2015-16 – the only year the Government has set out plans for – there will be no more borrowing for day-to-day spending. And we have said we will set out in our manifesto tough fiscal rules to get the current budget back to balance," he says.
Register for free to continue reading
Registration is a free and easy way to support our truly independent journalism
By registering, you will also enjoy limited access to Premium articles, exclusive newsletters, commenting, and virtual events with our leading journalists
Already have an account? sign in
Join our new commenting forum
Join thought-provoking conversations, follow other Independent readers and see their replies