Ed Miliband: Labour would introduce nine regional ministers to devolve Westminster's power
Andrew Grice
Tuesday 08 April 2014 18:11 Comments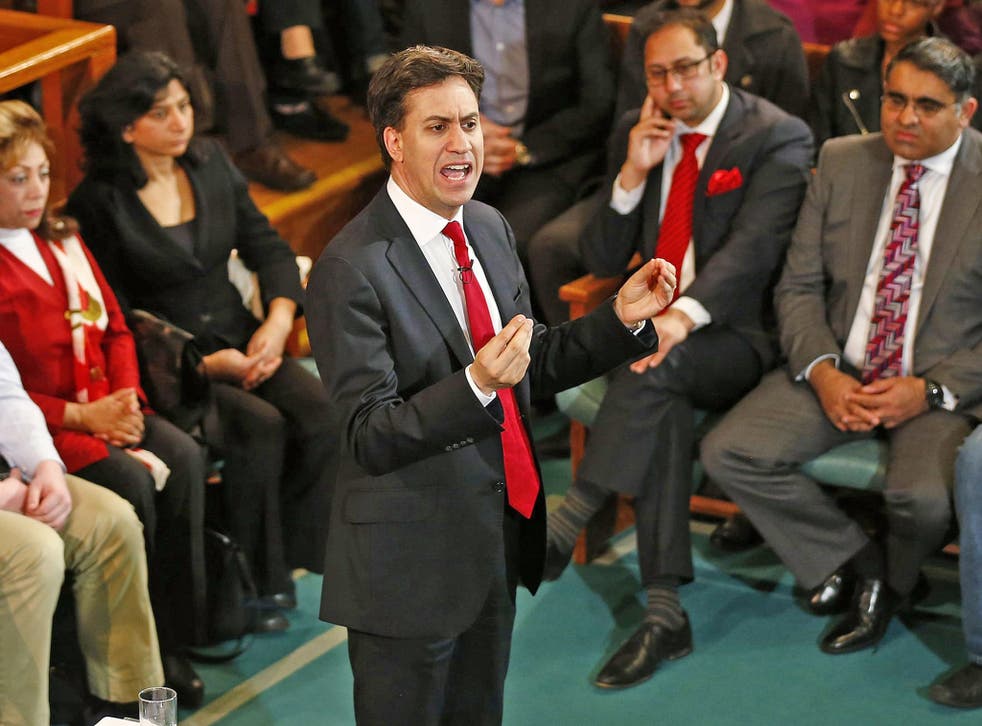 The network of "regional ministers" would form part of Ed Miliband's drive to devolve power from Whitehall and bridge the north-south divide. They would champion their areas and supervise plans to transfer £20 billion to "city regions" over five years for council and business leaders to spend on job creation, housing and transport projects.
Ministers would be appointed for London; the South East; South West; West Midlands; North East; North West; Yorkshire and Humber; East Midlands and the Eastern region. They would sit on a new "regional committee," based in the Cabinet Office, designed to give the regions a powerful voice in government and ensure policies were not skewed towards London and the South East.
David Cameron scrapped regional ministers after the 2010 election, although he has a "minister for cities" and appointed Michael Fallon, a Business and Energy minister, as "Minister for Portsmouth" in January after shipbuilding job cuts were announced there. Under Labour, the regions would be represented by ministers with other departmental jobs who would normally have links with the area.
The new ministers would seek to attract private sector investment to their areas and ensure bids for schemes such as the Regional Growth Fund met the Government's objectives to improve their chance of success. They would develop an industrial strategy to encourage " key sectors" in their areas and create "the jobs of the future".
The move was announced by Michael Dugher, the shadow Cabinet Office Minister. He told the IPPR think tank: "Regional ministers will put the voice of the English regions at the heart of Labour decision-making. They will help to shape policy around local and regional interests with a view to correcting the regional inequalities that have arisen under the Tories."
He said Labour believed that economic growth in the regions had to be driven and coordinated by initiatives at a regional level rather than by central government.
Mr Dugher accused Mr Cameron of neglecting the regions since abandoning the "One Nation Conservatism" he espoused before becoming prime minister. He claimed: "David Cameron now clings to the outdated ideology of 'trickle-down' economics - a model whereby growing prosperity of a few at the top eventually benefits others, in spite of growing inequalities between classes, ages and regions."
Register for free to continue reading
Registration is a free and easy way to support our truly independent journalism
By registering, you will also enjoy limited access to Premium articles, exclusive newsletters, commenting, and virtual events with our leading journalists
Already have an account? sign in
Join our new commenting forum
Join thought-provoking conversations, follow other Independent readers and see their replies