Ed Miliband launches Labour's 'long election' campaign, warning that re-elected Tories would strip public services to 'bare bones'
Party leader says it would protect interests of working people against those of millionaires who 'have reaped huge benefits'
Oliver Wright
Monday 05 January 2015 12:53 Comments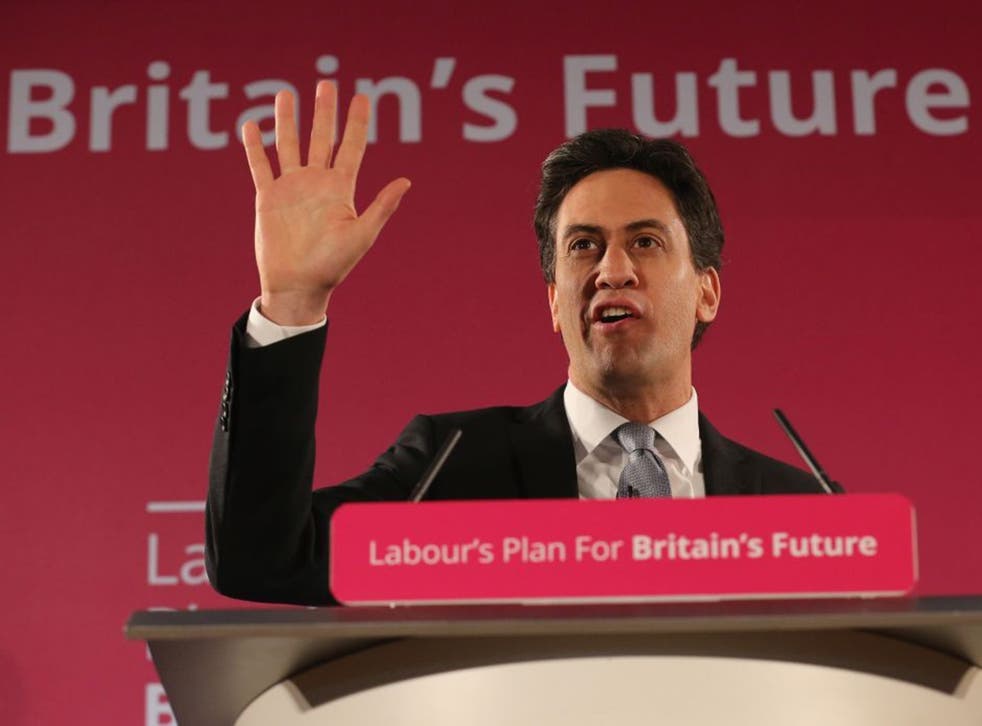 Five more years of Conservative rule would "strip" public services to their "bare bones" and give huge tax cuts to the very wealthiest, Ed Miliband claimed today.
Launching his party's 'long election campaign' in Salford Mr Miliband promised Labour would fight to protect the interests of working people against those of the millionaires who "have reaped huge benefits" from Tory rule.
But Mr Miliband himself arrived 30 minutes late for his speech at the Labour rally and had to restrain his audience of supporters when they shouted "pilluck" and "get back to London" to a BBC correspondent who asked if Mr Miliband was exaggerating concerns about a winter crisis in the NHS.
Mr Miliband sought to contrast Labour's economic policies with those of the Tories, which he claimed, were ideologically driven to reduce the size of the state.
"Imagine what another five years would mean for you and your family," he said.
"The Tories telling you about the good economic news. But you and your family not having enough to pay the bills at the end of each month.
"The Tories telling you that there has never been more opportunity for young people.
"But your son or daughter can't afford to go to university and the only other option is a zero hours job.
"The Tories telling you there is a housing boom. But you "not being able to afford a home of your own.
"The Tories telling you that the NHS has been protected.
But you not being able to get your operation in time, and the only choice on offer is to go private."
The Labour leader claimed his party would responsibly tackle the deficit – while protecting public services.
"Our plan is based on one simple truth - a truth so different from the Tories' idea - that when your family succeeds, Britain succeeds too," he said.
"That means raising the minimum wage to over £8 an hour and dealing with the scandal of zero hour contracts.
In pictures: Ed Miliband trying to look normal

Show all 18
"It means supporting the wealth creating businesses of the future, in Green industries, that create those good jobs that reward hard work.
"In an era of hard choices, it means putting cuts in business rates for small firms that will create most of the jobs of the future, ahead of further tax cuts for large corporations."
The NHS is set to be one of the key electoral battlegrounds, and it is an issue on which Labour is confident it has an advantage over the Conservatives.
Setting out his plans for more integration between health and social care, Mr Miliband insisted that his party's proposals for a £2.5 billion annual funding boost paid for by a mansion tax, a levy on tobacco firms and a crackdown on tax dodgers would ensure the NHS is sustainable.
"It's not just a plan to hire more doctors, nurses, midwives and carers, it's also a plan to start to transform the NHS," he told the BBC.
"I do think the NHS has got to change in the future. Let me give you an example: if we hire homecare workers to keep elderly people in their own home, that's better for them and it's better for the NHS because it relieves some of that pressure of elderly people going into hospital."
Deputy Prime Minister Nick Clegg will use his first press conference of the year to brand Tory plans to tackle the deficit "a con" as he continues to attempt to distance the Liberal Democrats from their coalition colleagues.
At the same time, he will warn that Labour's policies represent a "clear and present danger" to the economic recovery as part of his party's strategy of positioning itself as a moderating force on either of Westminster's two main powers in a future coalition.
Register for free to continue reading
Registration is a free and easy way to support our truly independent journalism
By registering, you will also enjoy limited access to Premium articles, exclusive newsletters, commenting, and virtual events with our leading journalists
Already have an account? sign in
Join our new commenting forum
Join thought-provoking conversations, follow other Independent readers and see their replies