Ed Miliband speech: Embattled Labour leader comes out fighting after failed coup
Miliband makes up for disasterous Labour conference speech
Andrew Grice
Thursday 13 November 2014 19:15 Comments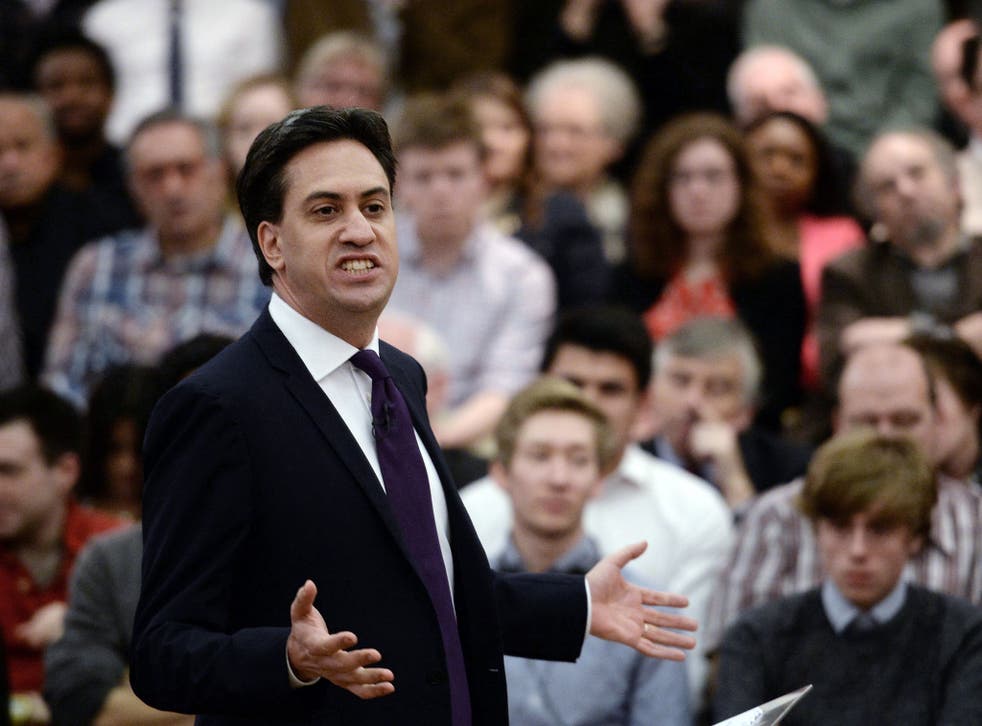 Ed Miliband came out fighting today as he vowed that criticism of his performance would not divert him from Labour's mission to make the country more equal.
In a combative and passionate speech, Mr Miliband tried to draw a line under the unsuccessful attempt by some Labour MPs to force him to stand down as party leader. He put the spotlight on his party's policies in a tacit acceptance that the Labour brand – rather than his credentials as a prime minister – offer the best of hope of victory at next May's general election.
Labour MPs rallied behind him, but one said: "If he had made this speech at the party conference [in September], we wouldn't be in this mess. He's been in his box ever since."
In what was a disastrous conference address, the Labour leader forgot to mention the deficit when he spoke without notes. In London, he took no chances and read his speech on an autocue. He looked tired after working on what was billed as a make-or-break speech late into Wednesday night. It went through 24 drafts.
Mr Miliband tried to turn his recent troubles to an advantage. He said anyone who thought his job was hard should think about people doing "really hard jobs" like shift or night work, being on a zero-hours contract, doing 60 hours a week in two or three jobs to make ends meet.
"For me, this election is about them. And let me just say this: I am willing to put up with whatever is thrown at me, in order to fight for you," he said."That's my duty, that's my responsibility, not to shrink from the fight. Not to buckle under the pressure, but to win."
In pictures: Ed Miliband trying to look normal

Show all 18
Demanding loyalty from his Labour critics, he said: "Our task, the task for every person in this party, is simple. To focus our eyes on the prize of changing this country."
He dismissed the idea that no one knew what Labour stood for, saying the party's mission was to reform a country that was "too unequal." His prescription was "big ideas, not the old ideas [that] won't work anymore."
Mr Miliband conceded that the need to pay down the deficit would mean "big reform, not big spending". In an important change of language, he stressed that Labour had to be "wealth creators, not just wealth distributors" and facilitate "good, private-sector jobs at decent wages".
Abandoning Labour's reluctance to attack Ukip head on, Mr Miliband said: "I think it is time we levelled with people about Ukip. They've got away with it for too long. It is time we had a debate about where they really stand. They do have a vision of the past. But I say to working people in this country, let's really examine their vision. Because when you stop and look at it, it is not really very attractive.'
During a question-and-answer session, Mr Miliband was asked whether he was paranoid after he suggested that "vested interests" were trying to destabilise his leadership.
He replied: "There are vested interests in this country like the banks, like the energy companies, and we need to change Britain. That is what my project is about. I am showing a willingness to take on those forces and make reform. I make absolutely no apology for that."
Asked about his poor opinion poll ratings, Mr Miliband replied: "I believe that if we go out and fight for what we believe in, we will win the election. You don't declare the result of the match until the final whistle."
Register for free to continue reading
Registration is a free and easy way to support our truly independent journalism
By registering, you will also enjoy limited access to Premium articles, exclusive newsletters, commenting, and virtual events with our leading journalists
Already have an account? sign in
Join our new commenting forum
Join thought-provoking conversations, follow other Independent readers and see their replies