Ex-Tory minister Ed Vaizey claims 'quite a few' MPs think Theresa May should resign after conference speech
Prime Minister's position could be in doubt after a chaotic conference speech where she was interrupted by a protester and plagued by coughing fits throughout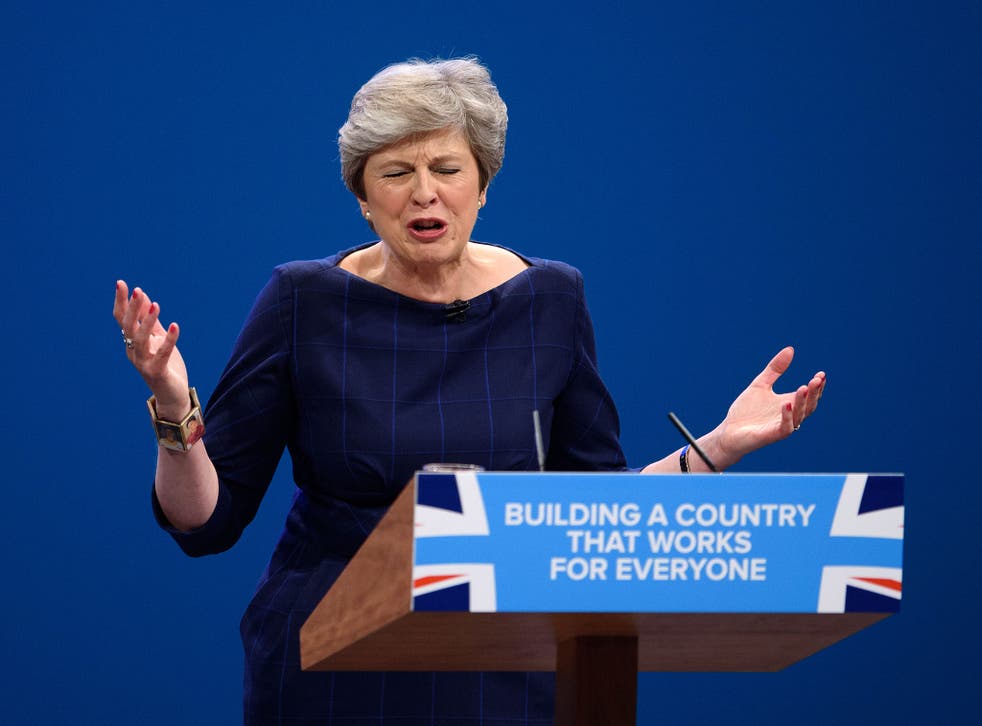 A former Tory minister has cast doubt over Theresa May's position after her chaotic conference speech amid reports backbenchers are plotting her demise.
Ex-culture minister Ed Vaizey said "quite a few" Tory MPs were "pretty firmly of the view that she should resign" and admitted he was concerned about the future of the party.
Billed as a fightback after the disastrous election result, the Prime Minister's main conference speech was marred by her persistent coughing and a prankster clutching a P45 form, while the signage in the background fell apart as she spoke.
Senior Tories spoke out to defend Ms May and warned against a damaging leadership contest but reports suggest up to 30 backbench MPs could be plotting against her.
To trigger a Tory leadership election, 48 MPs would need to write to the party's backbench 1922 Committee expressing no confidence in Mrs May.
Mr Vaizey, who was sacked by Ms May when she became Prime Minister in 2016, told BBC Oxford: "I think there will be quite a few people who will now be pretty firmly of the view that she should resign.
"I'm bad at political predictions. I didn't predict Brexit, I certainly didn't predict the election result... but the Tory party conference was a great opportunity to reboot the party and therefore reboot the country to give a clear sense of direction and that didn't happen so yes, I am concerned.
Asked if Ms May should step aside, he said: "I am finding it increasingly difficult to see a way forward at the moment and it worries me."
It comes as backbenchers reportedly turned on the Prime Minister, saying she was "limping like a broken horse into oblivion", according to The Telegraph.
Business Secretary Greg Clark led calls in support of Ms May as he said there as "huge warmth" for her for carrying on with her ill-fated speech.
Tory conference 2017 – in pictures

Show all 23
He told the Today programme: "A lot of the people who were there in the hall and watching it on TV will have admired, frankly, the guts and the grace the PM showed.
"One of the things that established itself very clearly was that the view of the party - of both parliamentary colleagues and activists - is that they regard, correctly, the responsibility of the Conservative Party to be effective and cool-headed in government.
"They have got not patience for distractions from that."
A number of Tories are understood to have called Ms May after the speech to show their support.
The chaos mostly overshadowed the speech's policy announcements, including a £2 billion to boost council home building, a shake-up of organ donation rules and a new law to cap energy prices.
Register for free to continue reading
Registration is a free and easy way to support our truly independent journalism
By registering, you will also enjoy limited access to Premium articles, exclusive newsletters, commenting, and virtual events with our leading journalists
Already have an account? sign in
Register for free to continue reading
Registration is a free and easy way to support our truly independent journalism
By registering, you will also enjoy limited access to Premium articles, exclusive newsletters, commenting, and virtual events with our leading journalists
Already have an account? sign in
Join our new commenting forum
Join thought-provoking conversations, follow other Independent readers and see their replies