EDL leader Tommy Robinson turns his back on his own party over 'dangers of far-right extremism'
30-year-old has held discussions with a former jihadi working for anti-extremist organisation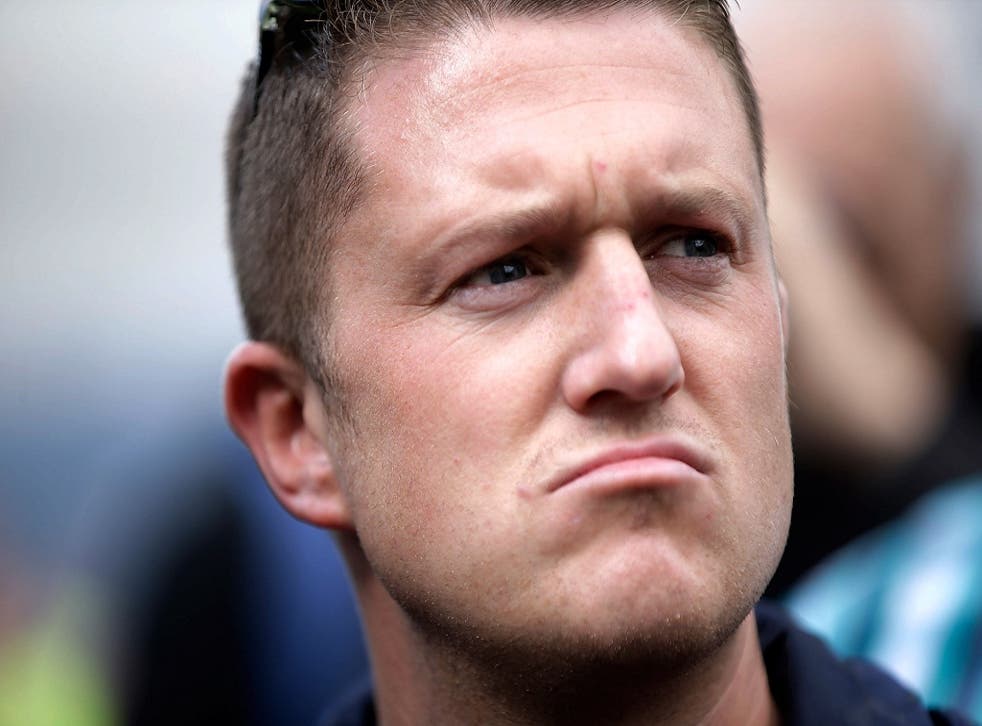 English Defence League leader Tommy Robinson has announced his intention to set up a new anti-Islamist movement after he dramatically stepped down from the party he founded, branding it too extreme.
The 30-year-old, who has become a familiar figure leading anti-Muslim protests around the country characterised by racist chanting and frequently scarred by violence, said street protests were "no longer effective" and that he "acknowledged the dangers of far-right extremism".
Robinson, from Luton, made the surprise announcement through an anti-extremist organisation, the Quilliam Foundation, which said it had been helping the EDL founder and his co-leader, Kevin Carroll, who is also leaving the party. It called on extremists on all sides to follow suit.
At a press conference, Robinson - sat alongside two former Islamist extremists from Quilliam - said he now hoped to influence policy in combating extremism and wanted to try "new tactics" away from street protests by lobbying government, local authorities and other organisations.
It emerged that as part of their new links with Quilliam, forged in recent weeks, Robinson and his co- leader would take lessons in Islam from Usama Hasan and training in lobbying institutions.
Mr Carroll said: "We are making a leap of faith. If we fail then we are handing down the mess. And it is a catastrophic mess. I would ask people to give this a chance."
The Independent can reveal that Robinson, who is currently facing charges of obstructing police officers at a demonstration in the aftermath of the death of soldier Lee Rigby this summer, has held discussions with a former jihadi working for Quilliam.
Usama Hasan, a one-time mujahideen who fought in Afghanistan in the late 1980s, said Robinson had shown a willingness to modify his views about Britain's 2.7 million Muslims and their faith. He said: "Tommy is guilty of stirring up anti-Muslim hatred...But I get the impression he does listen and he's been doing his reading."
The EDL founder said his leaving the group was a "step forward, not a step back" and represented his desire to lead a "revolution" against Islamic extremism rather than the Muslim mainstream. He told BBC Radio 5 Live: "When some moron lifts up his top and he's got the picture of a mosque saying 'boom' and it's all over the national newspapers, it's me.
"It's when I pick up my kids from school the parents are looking at me, judging me on that. And that's not what I've stood for and my decision to do this is to be true to what I stand for. And whilst I want to lead a revolution against Islamist ideology, I don't want to lead a revolution against Muslims."
The announcement by Robinson, who said he felt he could no longer keep extremist elements within the EDL at bay, divided his own movement, with some supporters applauding his move and others deriding it.
An EDL spokesman said the group "will not die because they're walking away".
Join our new commenting forum
Join thought-provoking conversations, follow other Independent readers and see their replies