Election 2017: Student voter registration rockets with most vowing to back Jeremy Corbyn's Labour
Polls show students bucking the national trend by continuing to reject Theresa May – who is the least popular party leader
Rob Merrick
Deputy Political Editor
Thursday 04 May 2017 14:16 Comments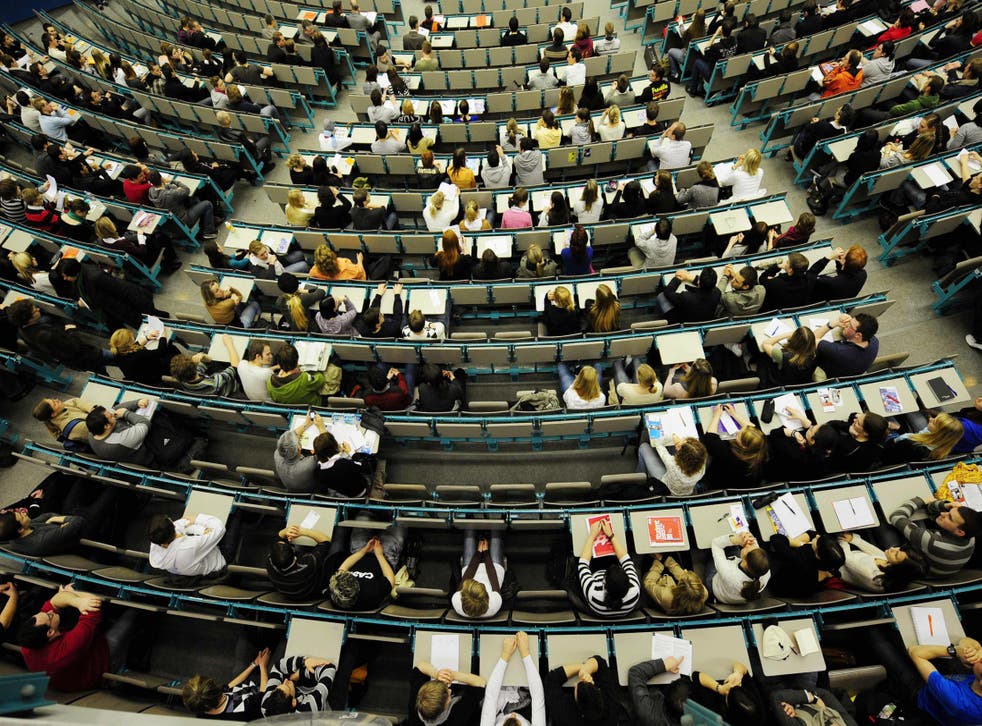 Voter registration among students has seen a huge increase ahead of the general election, with most vowing to vote for Jeremy Corbyn's Labour.
Backing for Labour remains strong among students, with two surveys putting support at 55 per cent and 35 per cent respectively.
In contrast, the Liberal Democrats are failing to gain ground, despite their firm anti-Brexit stance and young people mainly voting to Remain in last year's referendum. Nick Clegg's "betrayal" when the Coalition trebled tuition fees appears to be still stalking the party, with Lib Dem support as low as 9 per cent.
Students are bucking the national trend by continuing to reject Theresa May – who is the least popular party leader, with a rating of minus 33 per cent in one survey.
Support for the Conservatives stands at 17 per cent in the poll conducted by the UNiDAYS student network and at 18 per cent with the Higher Education Policy Institute (Hepi).
Significantly, 78 per cent of students said they planned to vote, which would be a higher turnout than at the election two years ago (69 per cent), but lower than in the Brexit referendum (87 per cent).
And – despite fears of a plunge in registration, after controversial changes to electoral rolls – 93 per cent who are entitled to vote said they had registered.
UK General Election 2017

Show all 47
Two issues largely ignored in the current election campaign – education and the NHS – are the most crucial in determining how students plan to vote, they said.
Both were described as "most important" by 76 per cent of respondents to UNiDAYS, ahead of equality issues (55 per cent), Brexit (52 per cent) and the economy (52 per cent).
Despite warnings of lengthening NHS waiting lists and huge cuts to school funding under Conservative plans, neither issue has featured strongly in the Brexit-dominated election campaign.
Mr Corbyn's leadership – strongly opposed by his own MPs – appears to have boosted student support for Labour, which fell to just 23 per cent in 2005.
However, Labour hopes of capitalising on that backing to retain "university seats" it won two years ago may be thwarted by the timing of the election, on 8 June.
Most students said they planned to vote in their home constituencies, rather than where they are studying, because their exams will have finished.
Ms May appears to have won over more male students (25 per cent) than she has managed with young females (just 11 per cent).
UNiDAYS, which carried out the larger survey (3,400 respondents), put "undecideds" in second place, at a striking 32 per cent.
Nick Hillman, the director of Hepi, which polled 1,000 students, said: "Students have registered to vote in large numbers but they are less likely than the electorate as a whole to back the Conservatives.
"An overall majority of students who have made up their mind support Jeremy Corbyn. But it is not a forgone conclusion that this will win Labour extra MPs on 8 June.
"This is partly because students want more information, partly because their vote could be more dispersed than usual and partly because many students are willing to vote tactically."
Register for free to continue reading
Registration is a free and easy way to support our truly independent journalism
By registering, you will also enjoy limited access to Premium articles, exclusive newsletters, commenting, and virtual events with our leading journalists
Already have an account? sign in
Join our new commenting forum
Join thought-provoking conversations, follow other Independent readers and see their replies