Election: Tories accused of 'dog-whistle anti-migrant' politics over £4bn welfare bill claim
Work and pensions secretary Therese Coffey claimed continued free movement would see 837, 000 EU nationals come to the UK in next decade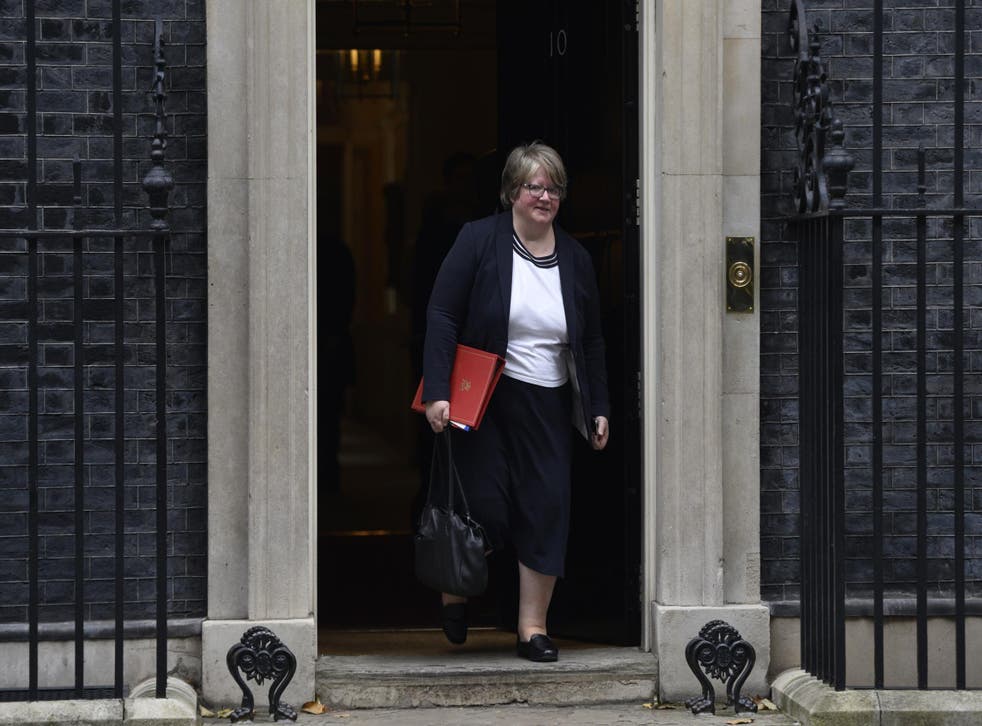 The Conservatives have been accused of "dog-whistle anti-migrant" politics after claiming that continued free movement with EU countries would cost the taxpayer more than £4bn in extra benefit costs over the next 10 years.
And Liberal Democrats responded with their own calculations that Boris Johnson's plan to end free movement will cost the Treasury £7bn over the same period in lost tax revenues.
The Lib Dems challenged Mr Johnson to explain how he would fill the gap in his coffers left by the loss of EU migrants, who studies by the government's own migration advisers show pay more in tax than they receive in benefits.
Work and pensions secretary Therese Coffey claimed continued free movement would see a total of 837, 000 EU nationals come to the UK by 2029, with a likely cumulative cost of £4.1bn over that period in payments of benefits such as universal credit and disability support, but not including child benefit. She accused Jeremy Corbyn of failing to include this expense in his costing of Labour's manifesto.
"This analysis highlights the cost of Corbyn's immigration policy to our public services," said Ms Coffey. "The shocking thing is that this is yet another line item in Labour's long list of uncosted pledges that will mean higher taxes for all of us."
General election: On the campaign trail

Show all 114
But Lib Dem home affairs spokeswoman Christine Jardine said that the Conservatives had failed to cost in their manifesto the lost tax revenues from EU nationals under their plans, which she said would dramatically decrease the money available for public services.
"This is the nasty party at its nastiest, whipping up anti-immigrant sentiment in a desperate attempt to win votes," said Ms Jardine.
"No wonder Donald Trump and Nigel Farage support Boris Johnson. The Conservative Party really is the Brexit Party now.
"The Tory claim that free movement costs the UK is completely and utterly wrong.
"The government's own Migration Advisory Committee has stated categorically that EU citizens pay more in taxes than they get in benefits. And that's before you consider the huge contributions of the 65,000 who work in our NHS, and the thousands more who work in other public services."
She added: "Attacking Labour on this is also completely misplaced, given that Jeremy Corbyn refuses to stand up for free movement. His manifesto makes clear that it would be on the table when he negotiates his Labour Brexit deal.
"Only the Liberal Democrats will stop Brexit, save free movement and safeguard the rights of EU citizens in the UK and UK citizens in the EU."
Shadow home secretary Diane Abbott said: "Dog whistle anti-migrant nonsense is the Tories' fallback position.
"The truth is Conservative immigration policy is a toxic mess. They deported our own citizens and want to use the immigration system to create a two-tier workforce to benefit their billionaire friends.
"They also cut public services, homes and schools to fund handouts for the richest – and then blame migrants for the consequences of their own policies.
"This is just dodgy Tory accounting on our plans, when they are unable to put a figure on their own. They cannot be trusted. Most European migrants come here to work and are large net contributors to public finances."
Register for free to continue reading
Registration is a free and easy way to support our truly independent journalism
By registering, you will also enjoy limited access to Premium articles, exclusive newsletters, commenting, and virtual events with our leading journalists
Already have an account? sign in
Register for free to continue reading
Registration is a free and easy way to support our truly independent journalism
By registering, you will also enjoy limited access to Premium articles, exclusive newsletters, commenting, and virtual events with our leading journalists
Already have an account? sign in
Join our new commenting forum
Join thought-provoking conversations, follow other Independent readers and see their replies