General Election: Lib Dems hopeful of 'Portillo moment' as party puts Dominic Raab in its crosshairs
First-time candidate Monica Harding hopes Brexit discontent can help her unseat the foreign secretary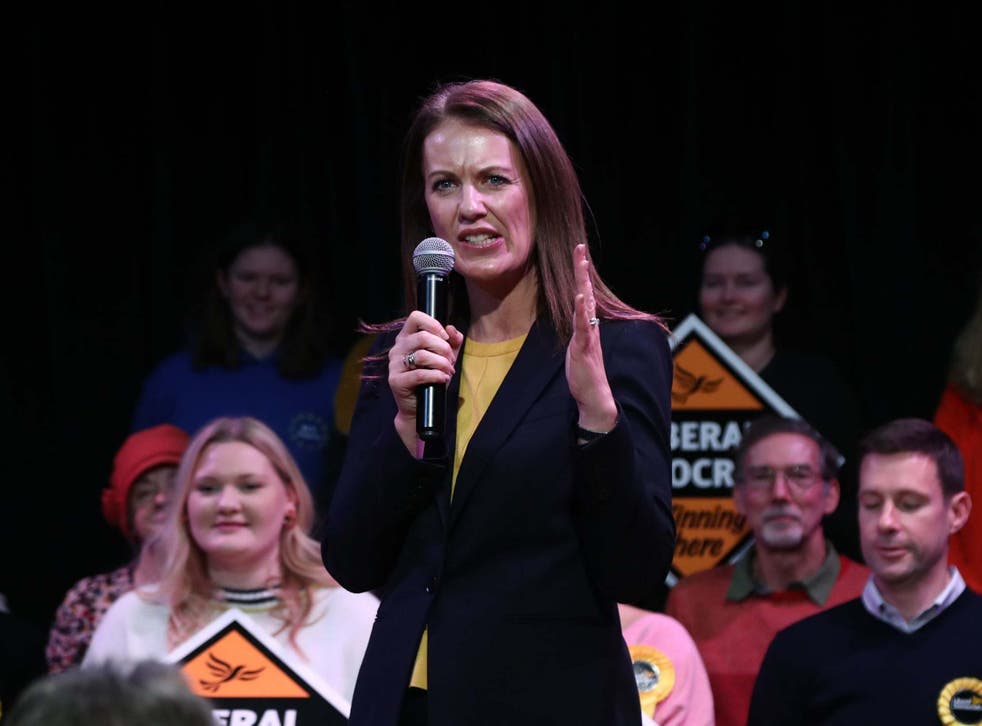 "I wouldn't have done this if I didn't think we could win," says Monica Harding, the Liberal Democrat candidate, hoping to claim the scalp of a Tory cabinet minister on Friday morning.
In other times, this would seem extraordinary. But there appears to be something in the crisp Surrey air that is putting a spring in the step of Lib Dem activists.
Harding, a first-time candidate, is hoping to snatch Esher and Walton from Dominic Raab, the foreign secretary and erstwhile Tory leadership contender, in what is being seen as this election's potential "Portillo moment".
Prosperous and leafy, the Surrey seat has been faithfully sending Tory MPs to parliament since its creation in 1997. Indeed, the area has not elected an MP who was not a Conservative for more than 100 years.
Raab, who has held the seat since 2010, is defending a 23,000 majority on 12 December but his hardline Brexit stance has put him at odds with his voters, who backed Remain by over 58 per cent.
Yet Raab is one of the cabinet's most hardline Brexiteers. In his tilt for the Tory leadership, he was relaxed about a no-deal Brexit and first mooted the idea of proroguing parliament.
A recent Deltapoll survey put Harding just five points behind Raab on 41 per cent to the Tory minister's 46 per cent, suggesting Labour voters – who took their party to second place in 2017 – were switching to the Lib Dems.
When asked who they would support if only the Tories and the Lib Dems had a realistic chance, the parties were tied on 48 per cent.
Veteran pollster Peter Kellner wrote at the time: "Dominic Raab's fierce enthusiasm for Brexit could cost him dear in a constituency that voted Remain in the 2016 referendum."
Tactical voting is likely to play a part here, with the Green candidate standing aside for Harding in the seat. Labour are standing by their candidate Peter Ashurst but Remain campaigners have been piling pressure on Jeremy Corbyn to also fall in line.
Over lunch in the Wheatsheaf pub, near Sandown racecourse, Harding tells The Independent that discontentment with Raab over Brexit and local services is galvanising voters.
"The membership has gone through the roof in a year," she says. Some of the near 900 members are former Conservatives, who have defected out of discontent with their MP.
She says: "There was one lady that I met who said, 'Be very gentle with us'. She said, 'I've been leafleting for the Conservative Party since I was four-years-old, and this is the first time that I have not only not voted for the Conservative Party, but I'm actually now joining another party. So it's a big deal for me'."
Many voters in the area feel alienated and disenfranchised by Raab's Brexit stance, she says. "I was one of them which is why I am standing. Because I felt I had no voice."
"Our MP hasn't moderated his position one little bit in the last three years and in fact he was the first of the Tory leadership to suggest prorogation of parliament and he's been touting no deal for a long time. Of course, it's resonating here."
She is confident that she has a good chance of winning, with Brexit the catalyst to a wider picture of discontent.
Harding says: "There's been a huge amount of disquiet in the constituency for a long time.
"I think that's got bigger over the last three years because of the shambles the government have made of Brexit. Because of this position, what was once a moderate, One Nation Conservative Party has moved so far to the right, people are very uncomfortable with that.
"They are very uncomfortable with the prorogation of parliament, very uncomfortable with the kind of language that's coming out of the government at the moment and the misinformation that's coming on a daily basis. That lands very badly here."
General election: Constituency profiles

Show all 28
Harding, a management consultant who has lived in Thames Ditton for more than a decade, sees this as a local fight rather than a national one. Her campaign literature is emblazoned with commitments on Brexit, schools, the NHS and the environment issues.
A school governor and a mother-of-four, Harding is also preoccupied with cuts to education funding and provision for children special educational needs (SEN), as well as community policing and hospitals.
She says: "What you have got here is a battle between me and Dominic Raab and what we're saying to voters is you know, you've got two very, very different choices here."
When asked if she is worried about taking on a big beast at the polls, she laughs.
She says: "Dominic Raab is my MP. At the end of the day he's answerable to the constituents and I'm a constituent ... I have no problem going up against my local MP who I disagree with – foreign secretary or not."​
One thing that seems to be resonating on the doorstep for Harding was the surprise endorsement of Ian Taylor, the former Tory MP who represented the constituency for 23 years.
Taylor, a former minister, urged Tory voters to abandon a party he "no longer recognises" as he condemned Johnson for allowing the "damaging threat" of a no-deal Brexit to remain on the table.
As well as his endorsement, Harding has been received help from some big names, with Tory grandee Michael Heseltine and ex-Lib Dem leader Sir Vince Cable visiting the constituency.
Hugh Grant, the Love Actually star, joined her to canvas in Walton-on-Thames at the weekend, while Gina Miller, the Remain campaigner, also joined Harding for a lunchtime canvas session in Cobham.
"If there is no tactical voting there will be a Tory majority," she told The Independent. "If there is a Tory majority then a referendum is gone.
"A hung parliament takes us to a second referendum. If there is a Conservative majority, all routes are closed."
Activists are confident – if a little bemused – by the turn of events.
"Leafy Surrey, genteel Surrey. People are standing up and shouting, 'Enough!', says Saira Ramadan, a lawyer who joined the Lib Dems in May.
"People are fed up of Raab. Our activists are hearing voters are saying they voted Tory all their lives but Dominic Raab doesn't represent them anymore."
A Conservative Party spokesperson said: "No matter what they say, a vote for the Liberal Democrats would risk putting Corbyn in Downing Street.
"A vote for the Liberal Democrats would mean we keep on arguing about Brexit whilst important issues – like the NHS, schools and police – don't get the attention they deserve.
"Only voting for the Conservatives in Esher and Walton will keep our economy strong, meaning we will be able to invest in the people's priorities and unleash Britain's potential."
Register for free to continue reading
Registration is a free and easy way to support our truly independent journalism
By registering, you will also enjoy limited access to Premium articles, exclusive newsletters, commenting, and virtual events with our leading journalists
Already have an account? sign in
Register for free to continue reading
Registration is a free and easy way to support our truly independent journalism
By registering, you will also enjoy limited access to Premium articles, exclusive newsletters, commenting, and virtual events with our leading journalists
Already have an account? sign in
Join our new commenting forum
Join thought-provoking conversations, follow other Independent readers and see their replies