Government criticised over 'draconian' election changes after figures reveal only one person prosecuted for electoral fraud last year
Electoral Commission finds 'no evidence' of widespread double voting, prompting claims ministers' tightening of voter ID is 'unnecessary and heavy-handed'
Benjamin Kentish
Political Correspondent
Saturday 03 March 2018 19:12 Comments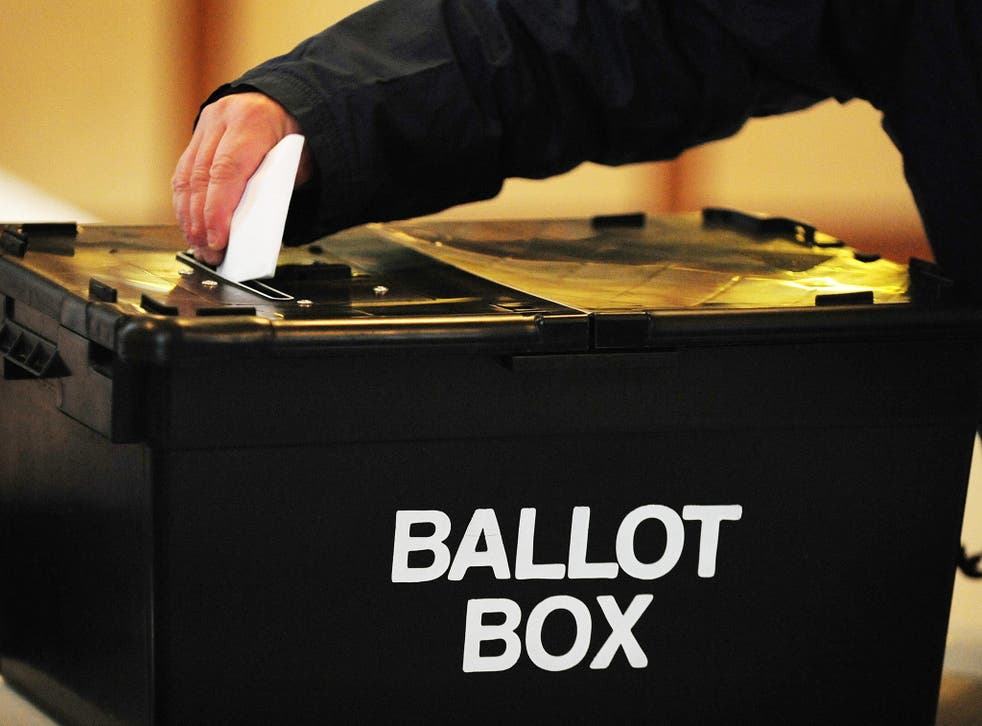 Fresh doubts have been cast over government plans to tighten voter identification measures after official figures revealed only one person was prosecuted for electoral fraud last year.
A study by the Electoral Commission found just 28 allegations of someone having lied about their identity at a polling station in 2017, despite almost 45 million votes having been cast.
Only one of these allegations resulted in a conviction. The man in question was fined after admitting to voting twice for Labour.
The figures suggest public concern over voter fraud is overblown, and led critics to suggest "draconian" government proposals to force members of the public to show ID before voting are not justified by any evidence of a problem.
The Electoral Commission received more than 1,000 emails from members of the public about electoral fraud, as well 60 letters from 47 MPs voicing concerns. However, the commission's analysis found "no evidence" of a major problem.
Across the country, there were 405 allegations of all types of electoral fraud last year. In addition to the one conviction, eight people received police cautions. Nearly four-fifths (79 per cent) of cases resulted in no further action or were dealt with locally.
The commission concluded: "Based on the data recorded by police forces, there is currently no evidence of any large-scale cases of proven electoral fraud relating to the polls held during 2017."
The finding is likely to place fresh pressure on ministers to back down over attempts to tighten identification of voters at polling stations.
A pilot study to be conducted in several areas of the country at May's local elections will force people to take ID to polling stations in order to vote. Critics say the change is unnecessary and will lead to people being unable to vote. Poorer people are thought to be disproportionately affected by the changes.
Figures suggest 3.5 million people – 7.5 per cent of the electorate – do not have access to any form of photo ID, while even more (11 million) do not have a passport or driving license,
Opponents of the Government's approach leapt on the new figures as highlighting the need for a rethink.
UK news in pictures

Show all 50
Darren Hughes, chief executive of the Electoral Reform Society, said: "These latest figures show just how over-bearing the Government's voter ID plans really are.
"The number of alleged cases of electoral fraud involving impersonation is actually falling – and yet the Government is intent on testing this draconian measure, which risks excluding many legitimate voters from our democracy.
"This will create an additional and significant barrier to legitimate voters – including the millions who do not have any form of photographic ID.
Calling the changes "heavy-handed and totally unnecessary", he added: "The Government is using a sledgehammer to crack a nut. They need to seriously reconsider their plans to put more barriers in the way of voters".
The trial taking place this May will see voters in Bromley, Gosport and Woking asked to show photo ID or several forms of non-photo ID in order to vote.
A less stringent approach being tested in Swindon and Watford will force people to show their poll card before casting a ballot.
Responding to the Electoral Commission figures, Cat Smith, Labour's shadow minister for voter engagement and youth affairs, said: "Electoral fraud is a serious crime and every allegation needs to be investigated fully.
"However, this analysis shows that there is simply not enough evidence to justify the Tories' cynical plans to introduce voter ID.
"Rather than putting up unnecessary barriers to voting off the back of very little evidence, this Conservative Government should focus on improving the democratic engagement of marginalised groups."
A Cabinet Office spokesperson said: "We already ask that people prove who they are in order to collect a parcel from the post office, rent a car, or travel abroad - and we believe it is right to take the same approach to protect voting rights.
"Local authorities are working with partners to ensure that everyone eligible to vote will be able to do so."
Register for free to continue reading
Registration is a free and easy way to support our truly independent journalism
By registering, you will also enjoy limited access to Premium articles, exclusive newsletters, commenting, and virtual events with our leading journalists
Already have an account? sign in
Join our new commenting forum
Join thought-provoking conversations, follow other Independent readers and see their replies