Elliott Johnson was 'in a relationship' with me, claims Tory activist he accused of 'betrayal' in suicide note
Conservative activist Andre Walker claims the pair were an item 'until the day he died', it has emerged
Kayleigh Lewis
Monday 29 February 2016 13:58 Comments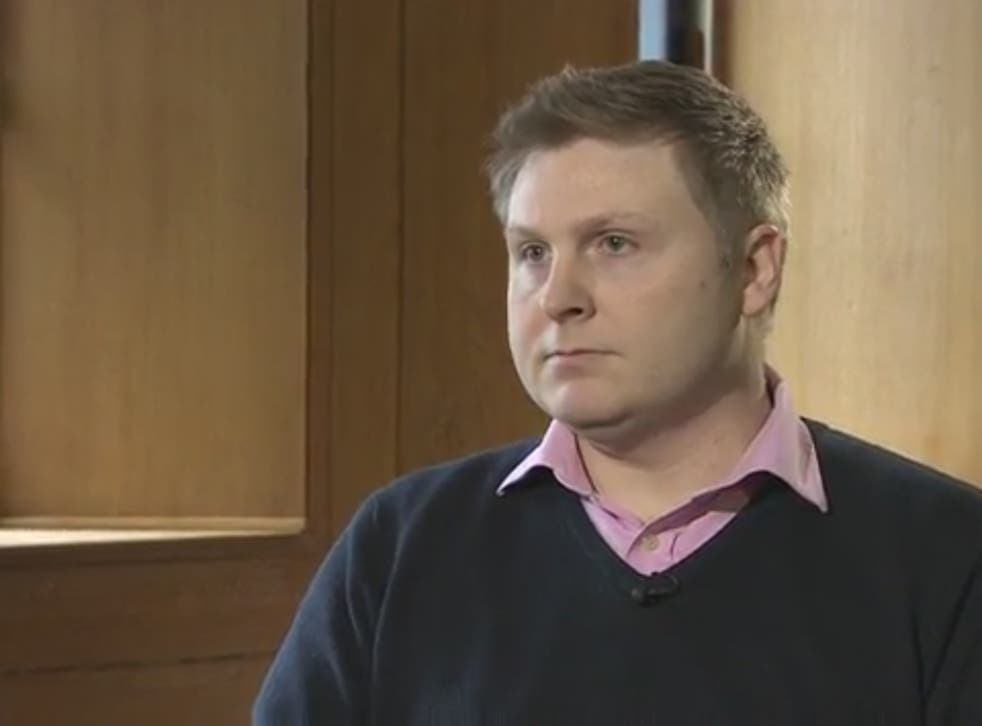 The man young Conservative Elliott Johnson accused of "betraying" him in an apparent suicide note has said that the pair were in a relationship.
Mr Johnson was 21 when he died on train tracks on September 15 last year, amid claims of bullying by former parliamentary candidate Mark Clarke.
In a note addressed to "Mum and Dad" the young Tory said journalist and fellow activist Andre Walker had "betrayed" him and the former chair of Conservative Future Mark Clarke had "bullied" him.
However, speaking to BBC show Sunday Politics in his first interview since the young activist's death, Mr Walker said he and Mr Johnson were in a relationship.
He said: "We hit it off straight away and the relationship started pretty soon after that and it lasted until the day he died, as far as I was concerned.
"The reason that I have been coy about that is because I know that saying that will upset the family and I'm very sorry about that."
He continued: "It's not my intention to go out and upset and offend people.
"But we've got to discuss this issue, we've got to discuss the issue of homophobia and we've got to discuss why people, even as close to him as me weren't told about the mental health problems."
This week a coroner will rule whether there should be an inquest into the bullying claims made in Mr Johnson's note.
Mr Clarke has already been suspended from the Conservative Party and Grant Schapps resigned as the Party co-chairman over the issue.
Current Party chair Lord Feldman has also been under pressure regarding the handling of the bullying claims, and an internal investigation within the Conservative Party is currently underway.
Both Mr Clarke and Mr Walker strenuously deny bullying allegations.
It recently emerged Mr Johnson had struggled to come to terms with his sexuality and had suffered with depression.
A report by the British Transport Police suggested that he felt guilty about being unable to give his parents grandchildren, while the Daily Mail said another note written by Mr Johnson described how his parents also had difficulty coming to terms with his homosexuality.
But his father Ray, from Wisbech, Cambridgeshire, told Sunday Politics: "It is a travesty for anyone to blame us or his past troubles for his death.
"There is only one place to look for the real blame: the Conservative Party. Elliott took his life because he had been picked on and bullied ... and let down by other organisations around the [party]."
In the note, released by his parents on Sunday, Mr Johnson thanked his parents, saying: "'I love you so much I can't explain. I failed in life despite your help, for which I am very thankful.
"These past few weeks have been the worst of my life. I find myself on the work scrapheap. My choice is end it now or wait till the death of my career when the money runs out.
"I have also been involved in a huge political issue. I have been bullied by Mark Clarke and betrayed by Andre Walker. Now all my political bridges are burnt."
Register for free to continue reading
Registration is a free and easy way to support our truly independent journalism
By registering, you will also enjoy limited access to Premium articles, exclusive newsletters, commenting, and virtual events with our leading journalists
Already have an account? sign in
Join our new commenting forum
Join thought-provoking conversations, follow other Independent readers and see their replies