EU referendum: David Cameron closes in on deal to allow 'red card' veto on EU laws
Donald Tusk announced he would table proposals for a 'new settlement' over Britain's relationship with Brussels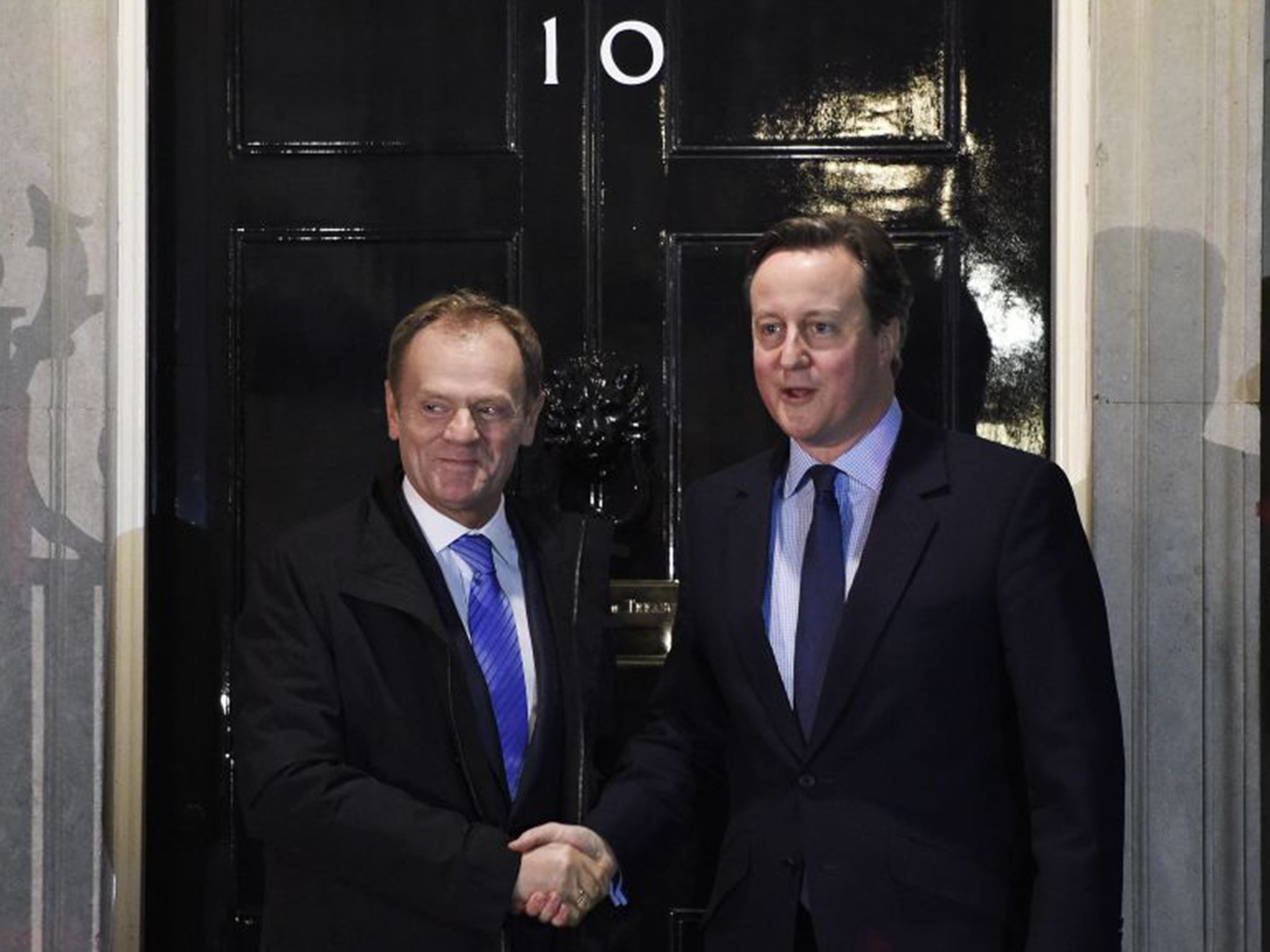 David Cameron is edging towards a deal over his European Union renegotiation demands, which would pave the way to a membership referendum in June.
He won backing from EU leaders for the House of Commons and other parliaments to be given a "red card" to veto legislation from Brussels.
European Council president, Donald Tusk, announced he would table proposals on 2 February for a "new settlement" over Britain's relationship with Brussels. He said there had been "good progress" in talks, but warned there were "still outstanding issues".
However, there was growing optimism in London and Brussels that Mr Cameron and the other 27 EU leaders could reach a deal at a summit on 18-19 February. That would be essential for the PM to stick to his preferred timetable of staging the referendum on 23 June. Failure to negotiate agreement then would mean the poll would be delayed until September at the earliest.
Both sides warn there are several hurdles to be cleared before a deal can be struck, with his demand for restricting EU migrants' benefits the most difficult issue.
Downing Street sources indicated that Mr Cameron had secured agreement over his call for a mechanism to block "unnecessary and unwanted" laws proposed by the European Commission.
The PM had pressed for the power for 55 per cent of parliaments – equivalent to 16 parliaments in the 28 member states – to be able to block or rewrite the proposed such legislation. "This will strengthen the power of Westminster to stop unnecessary EU laws and addresses concerns that the current 'yellow card' system has not proved strong enough. It ensures the EC cannot just ignore the will of national parliamentarians and delivers greater democratic control over what the EU does," a Number 10 source said.
Mr Tusk held talks in Downing Street on 31 January which ended with him declaring there had been "no deal" and suggesting there were just 24 hours to put together a proposal to present to EU leaders in 16 days' time.
His announcement of a proposed agreement over Mr Cameron's demands indicated that further progress had been made in talks in Brussels with British officials. Mr Tusk's draft text will now be circulated to EU leaders, triggering a further period of intense diplomatic activity ahead of the Brussels summit.
It will contain his proposed solutions to British concerns over migration, protection for countries outside the Eurozone and competitiveness. The deal over protecting the sovereignty of national parliaments means one of Mr Cameron's four key demands has been met.
Downing Street said he had secured an assurance that a proposed "emergency brake" on welfare payments to EU workers could be triggered immediately after a vote to remain in the EU, on the basis of existing levels of immigration.
It remained unclear how the proposed emergency brake would operate. The mechanism has been put forward by Brussels as an alternative to Mr Cameron's plan to impose a unilateral four-year curb on benefits which other states ruled out as discriminatory and breached the freedom of movement principle.
A cross-party group of MPs has called for the membership referendum not to be held in June. They argued there should be more time for debate on the issue, and said they were worried it would clash with elections across the UK in May.
A Commons motion calling for a delay has been put down by SNP Europe spokesman Stephen Gethins and has also been signed by Tory, Labour, Plaid Cymru and the DUP MPs. The Conservative signatory is the former minister, David Davis.
Join our commenting forum
Join thought-provoking conversations, follow other Independent readers and see their replies