New EU migrants to UK could be sent home to avoid rise in immigration ahead of Brexit, claims David Davis
Minister says any judgement would be made on 'reality not speculation'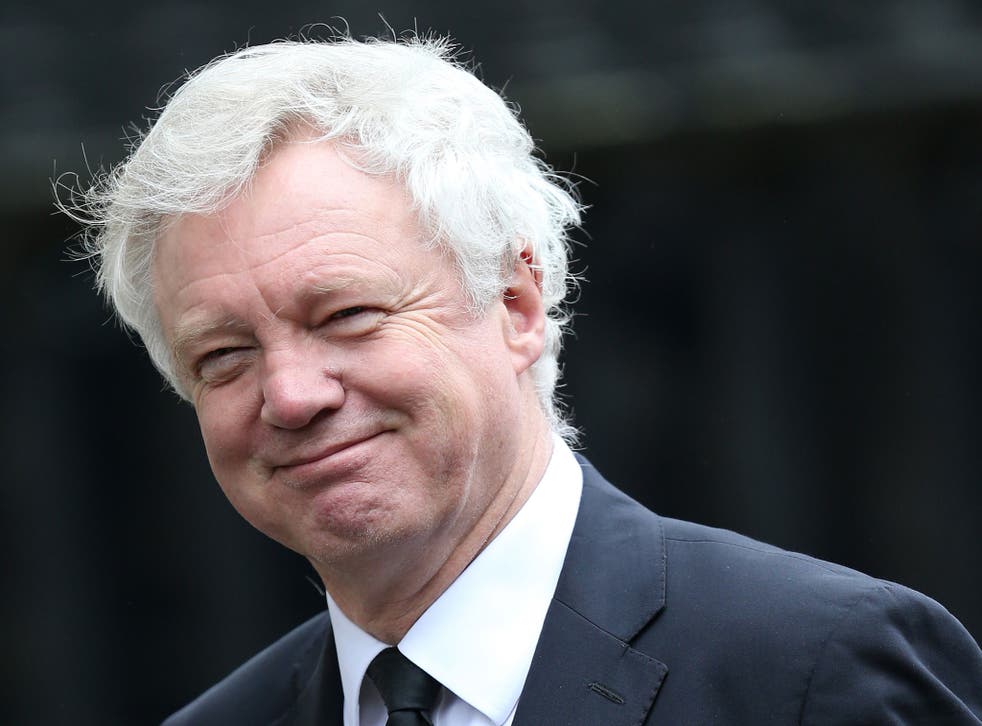 The new Brexit minister has suggested that new EU migrants who head for Britain could be sent home to avoid a spike in immigration ahead of a withdrawal from the bloc.
David Davis, the Secretary of State for Exiting the European Union told the Mail on Sunday Braitain "may have to deal with" a potential increase in those travelling to Britain, adding that "there are a variety of possibilities."
He said: "We may have to say that the right to indefinite leave to remain protection only applies before a certain date".
However, he said that such judgements would have to be made in "reality" and "not speculation".
He stopped short of guaranteeing the status of EU nationals already in the country. Mr Davis said: "We will get a generous settlement for EU migrants here now and a generous settlement for British citizens in the EU."
He rejected concerns foreign nationals could be used as leverage by Britain in negotiations.
"If you do it all together nobody is a bargaining counter. It is based on the presumption that they [the EU] will be rational about their own citizens interest, which they will be," he told the newspaper
Introducing the new Cabinet

Show all 23
Elsewhere, Foreign Secretary Boris Johnson has reassured the people of Gibraltar the government will take "whatever action is necessary" to safeguard the overseas territory amid fears of Spanish incursion following the vote to leave the EU.
Citizens on 'The Rock' voted overwhelmingly to remain in the European Union and its Chief Minister has called for an opt-out of Brexit so it can keep access to the single market and the free movement of people. And within hours of the EU referendum vote being declared Spanish ministers once again tried to lay claim to the territory.
Mr Johnson met with Chief Minister Fabian Picardo to tell him Britain will would never let Gibraltar pass into Spanish control without the consent of the people.
Following the London meeting, Mr Johnson said: "I was delighted to meet Chief Minister Picardo. I reassured him of both our steadfast commitment to Gibraltar, and our intention to fully involve Gibraltar in discussions on our future relationship with the EU.
"The people of Gibraltar have repeatedly and overwhelmingly expressed their wish to remain under British sovereignty and we will respect their wishes.
"We will never enter into arrangements under which the people of Gibraltar would pass under the sovereignty of another state against their wishes.
"Furthermore, the UK will not enter into any process of sovereignty negotiations with which Gibraltar is not content.
"We will continue to take whatever action is necessary to safeguard Gibraltar, its people and its economy including maintaining a well-functioning Gibraltar-Spain Border."
Press Association contributed to this report
Register for free to continue reading
Registration is a free and easy way to support our truly independent journalism
By registering, you will also enjoy limited access to Premium articles, exclusive newsletters, commenting, and virtual events with our leading journalists
Already have an account? sign in
Register for free to continue reading
Registration is a free and easy way to support our truly independent journalism
By registering, you will also enjoy limited access to Premium articles, exclusive newsletters, commenting, and virtual events with our leading journalists
Already have an account? sign in
Join our new commenting forum
Join thought-provoking conversations, follow other Independent readers and see their replies