EU cuts budget after 56 years of spending spikes
Victorious Cameron claims historic deal is 'good for UK and Europe' after leaders reach agreement after all-night talks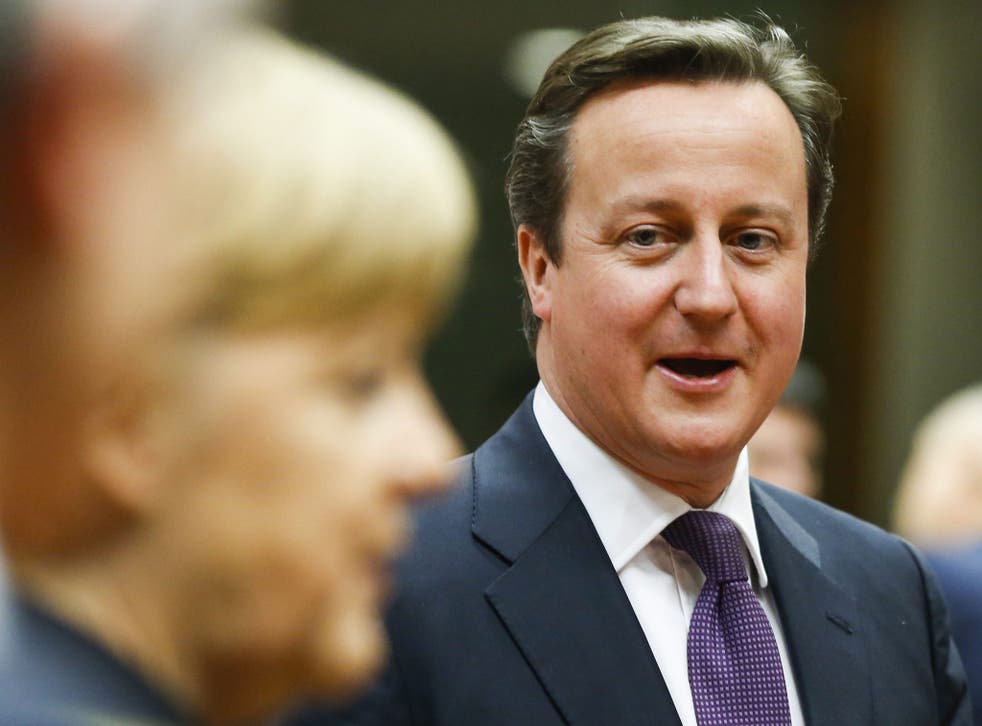 David Cameron hailed an historic victory tonight as European Union leaders agreed to cut their seven-year budget for the first time after marathon all-night talks in Brussels.
The Prime Minister, who had demanded "at best a cut, at worst a freeze" in EU spending, claimed he had achieved the higher of his two objectives after working with like-minded leaders to win budgetary restraint.
Today's agreement still needs to be approved by the European Parliament, where the spending cuts are opposed by leading figures.
Martin Schulz, its president, said: "The European Parliament will not accept this deficit budget if it is adopted in this way. That is certain."
Hannes Swoboda, leader of the European Socialists, the second largest group, said: "The agreement of the European Parliament for the figures discussed is not imaginable."
After more than 25 hours of tense negotiations, the 27 EU leaders agreed to set a headline commitments figure of €960 bn for 2014-20, a three per cent cut on the €994bn sum for the current 2007-13 period.
A second figure on actual payments, dubbed the EU's credit card limit, will fall from €943bn to €908.4bn over the same period. It will be the first cut in 56 years of ever-increasing spending as the Union expanded.
Fifteen hours after a draft budget for 2014-20 was due to be discussed by the 27 leaders, firm figures were finally presented to them at 5am today by Herman Van Rompuy, who chairs the talks as president of the European Council. The deal was finally signed off at 3.15pm.
Mr Cameron told a press conference he had "fought off" repeated attempts "from every side" to dilute the €3.5bn-a-year rebate on Britain's contributions won by Margaret Thatcher. "The rebate is safe," he said.
But he admitted Britain's annual payments to EU coffers will still rise in the coming years. Mr Cameron blamed Tony Blair, who in 2005 agreed to reduce the value of the rebate as central and eastern European nations joined the bloc.
The Prime Minister claimed Britain's payments would have been even higher had he not acted to "slash" at least €24bn off EU spending. "At last someone has come along and said this has got to stop," he said. "The British public can be proud we have cut the seven-year credit card limit for the first time ever."
Mr Cameron described as "slightly baffling" plans for the Parliament to hold a secret ballot on the budget deal, a move needing the support of only one fifth of MEPs.
Martin Callanan, leader of the Conservatives and Reformist group which included Tory MEPs, said: "If MEPs want to reject an agreement made by their own Prime Ministers then they should have the courage of their convictions and not try to cower behind a procedural technicality."
He regretted the failure to rein in further the Common Agricultural Policy (CAP), saying French President Francois Hollande's "obstinacy over agricultural spending means that we must continue to spend an unjustifiable amount on French cows."
Insiders said MEPs were unlikely to veto the deal, but could seek some concessions as they flex their muscles ahead of elections to the Parliament next year.
Mr Van Rompuy said the agreement was a budget of moderation that reflected straitened times. "We simply could not ignore the extremely difficult economic realities across Europe, so it had to be a leaner budget," he said.
The spending cuts included €11bn on cross-border transport, energy and telecoms projects. About €1bn was cut from Brussels administration, a Cameron target, including two-year pay freeze for 55,000 officials.
EU sources warned that job cuts through early retirement would reduce UK influence in the European Commission, since Britain would lose senior officials who would not be replaced.
"The Brits will become an endangered species in Brussels,"one diplomat said.
An extra €1.5bn was found for rural development to placate Mr Hollande, who opposed Mr Cameron's drive for restraint.
But EU sources insisted the CAP would take only 28 per cent of the total budget by 2020, down from 35 per cent in the current seven-year period.
Nigel Farage, leader of the UK Independence Party, said:"This is a dud deal which is already out of date because the debate in Brit-ain has moved on from EU reform to EU exit.
"It does not really matter if the British taxpayer pays in £50m or £51m per day for membership of the EU's political union."
Register for free to continue reading
Registration is a free and easy way to support our truly independent journalism
By registering, you will also enjoy limited access to Premium articles, exclusive newsletters, commenting, and virtual events with our leading journalists
Already have an account? sign in
Register for free to continue reading
Registration is a free and easy way to support our truly independent journalism
By registering, you will also enjoy limited access to Premium articles, exclusive newsletters, commenting, and virtual events with our leading journalists
Already have an account? sign in
Join our new commenting forum
Join thought-provoking conversations, follow other Independent readers and see their replies