David Cameron warns warring Tory Party to accept result of EU referendum – no matter how close the result
The Prime Minister warned his colleagues 'Britain will not want to go through this again'
Oliver Wright
Political Editor
Wednesday 22 June 2016 08:04 Comments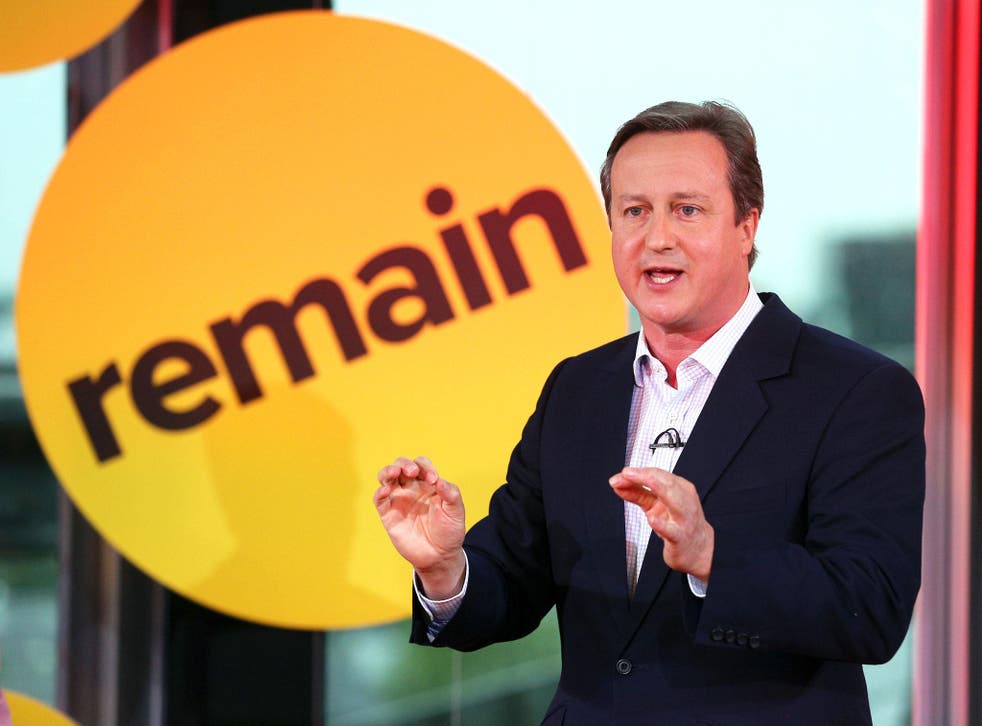 David Cameron has warned his warring Tory Party colleagues that he expects them to accept the result of the EU referendum – no matter how close the result.
In one of his last interviews of the campaign Mr Cameron said "Britain will not want to go through this again" and that he expects them to back his Government's and "get on with it".
He is planning to roll out a series of policies to change the agenda – and is scheduling a vote to renew Britain's Trident nuclear deterrent to try and unite the Tory party.
But some Tories expect Mr Cameron to face a challenge regardless of the result. All that would need to happen is 50 letter from Tory MPs calling for a contest to be sent to head of the backbench 1922 Committee.
In an attempt to see off this Mr Cameron has made clear that prominent Government Brexit supporters will not be punished despite the bruising nature of the campaign.
"Political parties are teams, broad churches," he told the Financial Times.
"You have to put your best players on the pitch, you have to bring parties together. It has been very hard and very tough. But referendums are always difficult
"As far as I am concerned this referendum should settle the matter," he says, in a clear warning to Eurosceptic Tory MPs to accept the verdict of the people, not carry on fighting the same war.
"I believe it will one way or another be decisive. Britain will not want to go through this again. On the other hand if we vote to leave, this really is irreversible."
The most scaremongering arguments for Brexit

Show all 7
Mr Cameron will also travel to Brussels next Tuesday for an EU summit to examine the referendum's entrails. He claims a Remain vote will make him a "strengthened" figure in Europe, better able to promote a British agenda.
He said he would push for new trade deals and new co-operation in fighting terrorism — Britain holds the EU presidency next year — as well as for wider economic reform.
"We are the reformers," he says. "Reform ends if we leave, not just for us but also our friends in Europe who want our voice heard in Europe."
Register for free to continue reading
Registration is a free and easy way to support our truly independent journalism
By registering, you will also enjoy limited access to Premium articles, exclusive newsletters, commenting, and virtual events with our leading journalists
Already have an account? sign in
Join our new commenting forum
Join thought-provoking conversations, follow other Independent readers and see their replies