EU referendum: Controversial Leave.EU co-founder Arron Banks on why he's happy to put noses out of joint
The Bristol-based millionaire who has bankrolled Ukip intends to use his fortune to spearhead the 'Brexit' campaign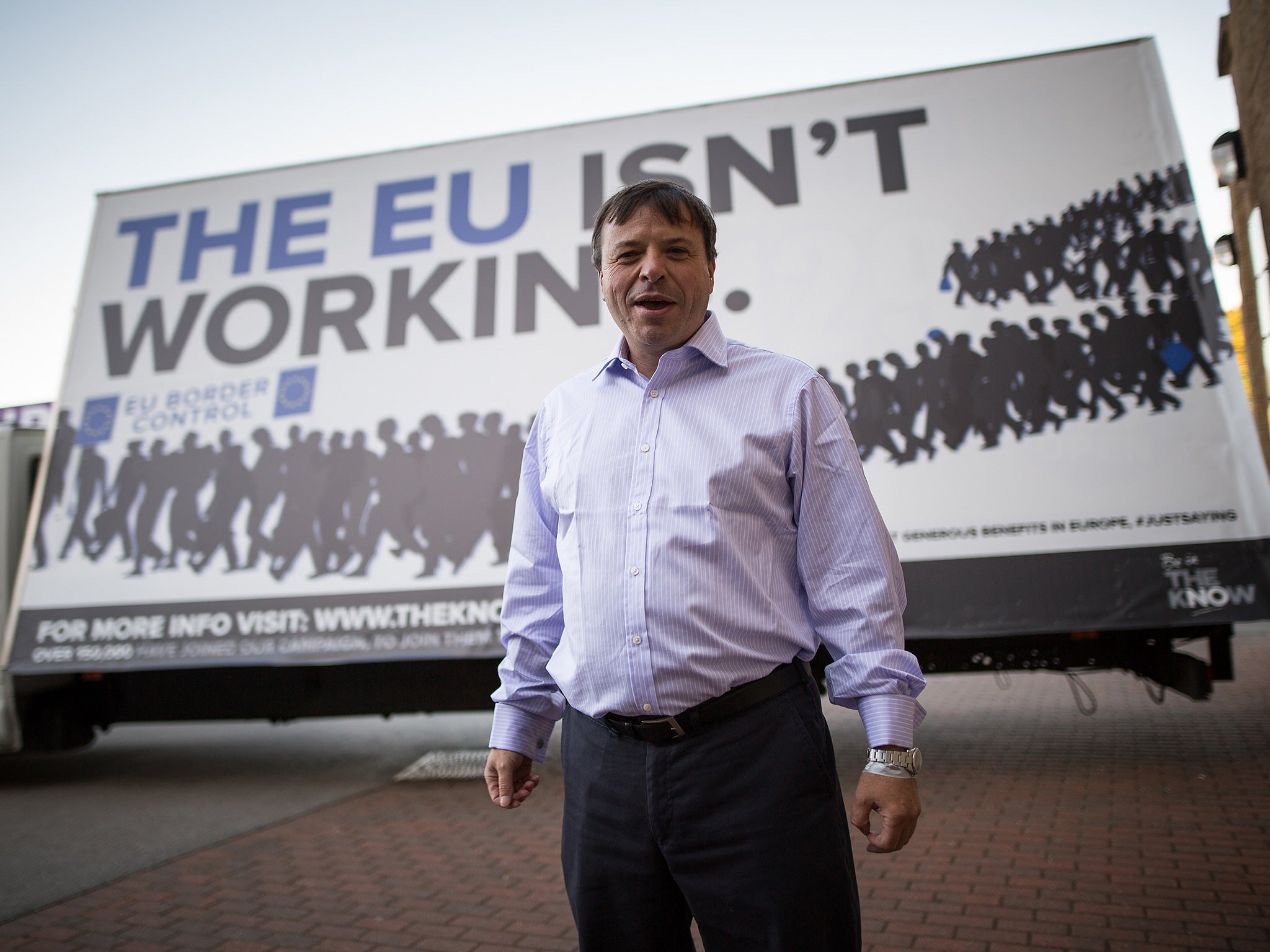 The controversial businessman who has bankrolled Ukip and now intends to use his fortune to spearhead the campaign for Britain's exit from the European Union does not shy away from speaking his mind.
After all, Arron Banks – the millionaire co-founder of what has quickly become the largest Brexit group – recently described Ukip's sole MP Douglas Carswell as "borderline autistic with mental illness wrapped in".
He later apologised – claiming that although Mr Carswell was "appallingly rude and provocative" towards him, it did not justify his outburst. Nevertheless, he seems surprised at the reaction to his words.
"That was an interesting insight into politicians," he says. "He was walking down a corridor and, when I walked by, he flew at me, shouting. I said 'good morning, Douglas, how are you?' and he just stomped off. Do I regret the comments? Well, I regret offending autistics," he says.
Mr Banks is just as straight-talking on his plans for the fast-growing Leave.EU campaign. Pro-EU supporters cite many reasons to stay in Europe, including security issues such as the use of the European Arrest Warrant and cross-border data-sharing on terrorists, as well as human rights and trade. But all of these arguments are dismissed by Mr Banks as either "nonsense", "a load of old rubbish" or, simply, "bollocks".
"Will France not want to see and use intelligence we get from GCHQ? Of course it would," he says. "Given that Turkish citizens will be given visa-free access to the EU, and bearing in mind Turkey has a porous border with Syria and Iran, I'm not too sure the collective security of Britain is best served in the European Union."
Alan Johnson's Brexit warning
The Bristol-based businessman tells The Independent he has gathered a trio of experienced heavy-hitters from the world of politics to ensure victory in the in/out referendum, which will be held by the end of 2017 and is expected to take place next year.
Cambridge Analytica, a data-modelling firm that employs "psychographic profiling" and who US Republican presidential hopeful Ted Cruz recently spent $750,000 on, has helped boost Leave.EU's social media campaign.
"In three months we've signed up nearly a third of a million people and [they] continue to sign up in huge numbers," says Mr Banks. "We've got almost 270,000 people to our Facebook page, so the speed at which we've been growing is phenomenal."
Thanks to "sophisticated, targeted advertising on issues that are important to different people," the Leave.EU online support is growing by about 3,000 a day. In contrast, the Britain Stronger in Europe campaign has just 60,000 Facebook supporters – and although former Labour Home Secretary Alan Johnson launched his party's "in" campaign last week, the stay campaigners appear to have a lot of catching up to do at what is a critical time in the EU debate.
The most recent opinion poll for The Independent also showed a slim lead for those who favour an exit, and other polling data also suggests the result is on a knife-edge. A study by the National Centre for Social Research, published this week, said Britain's continued EU membership may rely on "yes" voters in Northern Ireland, Scotland and Wales, where support is much higher, outweighing a Eurosceptic majority in England.
The centre's analysis of the latest polls shows that the final referendum result could depend on whether at least 47.5 per cent of English voters support remaining in the EU – a vote seen as the current "tipping point". Despite its momentum, Leave.EU is leaving nothing to chance.
"We have backed up [our social media support] with a call centre of nearly 60 people who are calling people and collecting money because, ultimately, the point is that our campaign will be funded by the people," says Mr Banks. "The idea behind Leave.EU is to become like the Countryside Alliance, with two to three million people backing it, and then to harness that backing by using sophisticated technology to get people to donate money and start to build a base."
The millionaire says that more than 300 groups based around the UK are also out delivering leaflets. The Washington DC-based public affairs firm Goddard Gunster, which has run dozens of referenda campaigns over the past 30 years, is also being employed. The firm's success rate is more than 90 per cent and it is believed to have persuaded Leave.EU not to use Ukip leader Nigel Farage as the face of its campaign.
"A referendum campaign, unlike a candidate campaign, is won by people," Gerry Gunster, the company's president, said recently.
Mr Banks, who says he has donated £1m to Ukip in either cash or services to date, says his campaign's spokespeople will be "normal people" who will undergo media training and be put forward to be the faces of the referendum debate. "It has to be a genuine coalition of people who are not seen as the usual suspects," he says.
Another string to the campaign's advisory bow is Ian Warren, a self-taught election forecaster, who runs the Election Data blog. He worked with Ukip for last year's Heywood and Middleton by-election, which the party narrowly lost to Labour, but then joined Labour for the 2015 general election after a bidding war to secure his services.
Mr Warren, 45, had spent the previous 10 years working as a sole trader betting on election outcomes in the UK and the US. Like blogger Nate Silver, he correctly predicted the electoral college in the 2008 and 2012 American elections, earning big contracts from his secretive corporate clients.
"He's an expert on the working-class Labour vote, and he knows that to win the referendum you have to win some of those four million voters," says Mr Banks. "Adding up the Ukip and Eurosceptic Tory vote will not be enough."
White working-class votes "haemorrhaging away from Labour" will be key, he says. "Those are the sorts of people who are patriotic and feel a bit left behind by the whole thing. That's the kind of area we have to target pretty heavily. Ian is working hard on the demographics of how we actually do that. It's a powerful team."
By contrast to Mr Banks' efforts, the rival Eurosceptic campaign, Vote Leave, has had a stuttering start. Its campaign chief Richard Murphy quit last month in an alleged row over claims the group wanted to focus on digital rather than "on the ground" campaigning and leafleting.
Mr Banks has written a letter to the group offering a potential merger, but says he cannot comment any further as the groups have decided to "conduct things privately".
One point he is happy to discuss, however, is the proposed Transatlantic Trade and Investment Partnership. The EU is currently negotiating with the US over what will be the largest-ever trade treaty , but critics say the proposals have been discussed largely in secret.
"TTIP is a disaster," Mr Banks says. "It's a charter for corporations to go outside of laws of different countries. Companies, such as Starbucks and Google, can avoid paying proper rates of corporation tax by going to countries such as Ireland. The only way Europe can get round this is to harmonise everything – income tax, corporation tax. Where you have imbalances, people will trade against those imbalances. That's why firms such as Starbucks and Google pay no tax, which is completely wrong.
"If you move outside the EU, you could quite happily insist that these companies pay corporation tax on the trade they are doing. There is a misconception that the EU is somehow about the people of Europe when it's about corporations, big politics and big banks. We saw that when the Germans trampled all over the Greeks to lend them more money so they could pay back Germany. Where was the solidarity in that move?"
In a stunt that likely indicates how the Leave.EU campaign will play on humour and publicity tricks to win voters' attention in the run-up to the referendum, Mr Banks has ordered 10,000 fudge bars bearing a cartoon David Cameron. They will go on sale next week, with the proceeds of the £5 bars going to care homes across the UK.
"We're calling them the 'Great British Fudge Off' bars," he says. "Once the public has had a chance to buy them, we'll deliver a palette to Downing Street ahead of the Prime Minister's next round of renegotiations in Brussels a couple of weeks."
Mr Cameron has said he wants the UK to stay in a reformed European Union, and listed his key demands, such as a benefits cap for migrants, but has not ruled out recommending leaving if he cannot secure the change he wants.
"Power should be with Parliament," says Mr Banks. "European law is currently superior to British law, and we want that reversed. If [Mr Cameron] was to return power to Westminster [the government's renegotiation would be a success], but he's not asking for those things and he knows perfectly well he can't get them."
Join our commenting forum
Join thought-provoking conversations, follow other Independent readers and see their replies