EU referendum: David Cameron dodges question over whether he'll resign if he loses EU vote
PM insists he is giving British voters the 'very best choice' by changing the 'status quo' in the EU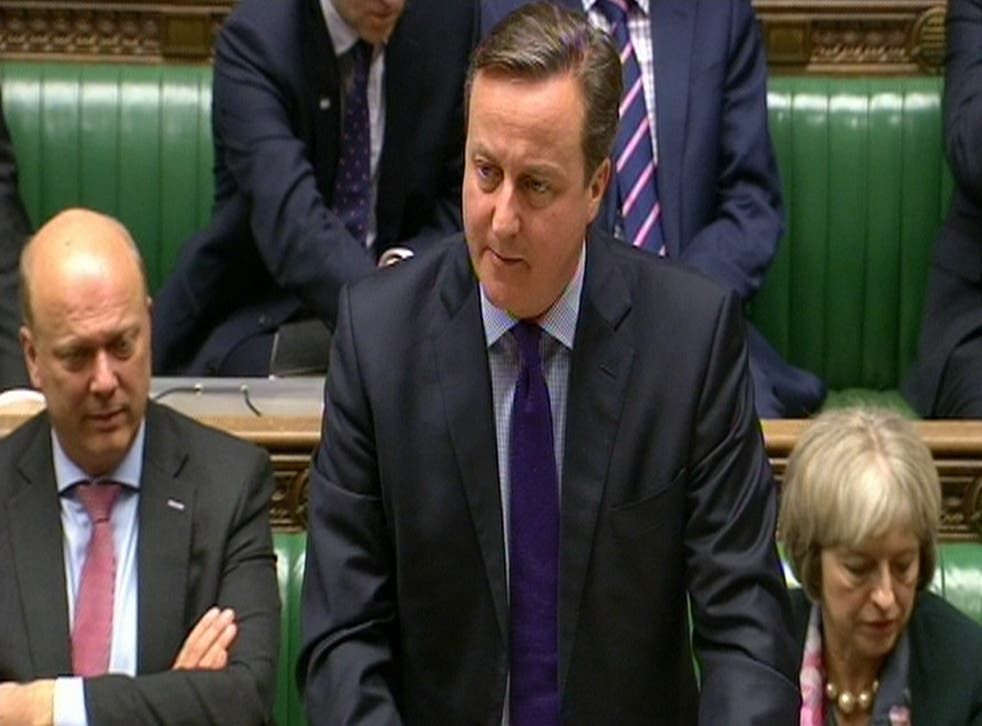 David Cameron has dodged the question of whether he will quit as Prime Minister if he loses the EU referendum.
He pledged to campaign for Britain to remain in the 28-state bloc if he secures key reforms and insisted he was giving British voters the "very best choice" by changing the "status quo" in the EU as he updated MPs about his EU renegotiation.
Last month he failed to reach an agreement with EU leaders over his plans to block EU migrants from claiming in-work benefits for up to four years.
Asked by veteran Labour MP Dennis Skinner whether he will resign if Britain votes to leave the EU referendum, the Prime Minister said: "This referendum is the Government's policy and the country will decide whether we stay in the European Union or leave the European Union.
"What I'm doing is giving the country the very best choice there can be by an amendment – the vital amendment – to the status quo we face.
"But in the end it will be Britain's choice."
Later, when asked the question again by shadow minister Barry Gardiner, Mr Cameron insisted he would stay as Prime Minister regardless of the result.
"Come what may, I will continue to lead the government in the way I have," Mr Cameron said.
But if he were to be on the wrong side of the vote he would come under intense pressure to stand down.
He admitted that he would have resigned if he had lost the referendum on Scottish independence in 2014.
Mr Cameron was also asked about which dates he is considering for staging the EU referendum, but the Prime Minister said he "cannot guarantee an agreement in February" and therefore a summer referendum could not be assured because the Government needs to give four months' notice before holding a referendum.
Eurosceptic Tory MPs

Show all 7
Mr Cameron also announced that Government ministers will be allowed to campaign for Britain to leave the European Union.
As many as half of Cabinet ministers are thought to favour leaving the EU, including senior figures such as Iain Duncan Smith, Sajid Javid and Theresa May.
"There will be a clear government position, but it will be open to individual Ministers to take a different personal position while remaining part of the government," Mr Cameron told MPs.
"Ultimately it will be for the British people to decide this country's future by voting in or out of a reformed European Union in the Referendum that only we promised and that only a Conservative majority government was able to deliver."

Join our new commenting forum
Join thought-provoking conversations, follow other Independent readers and see their replies