EU referendum: David Cameron's credibility is on the line, says Michael Gove
'This promise is plainly not achievable as long as the UK is a member of the EU and the failure to keep it is corrosive of public trust in politics'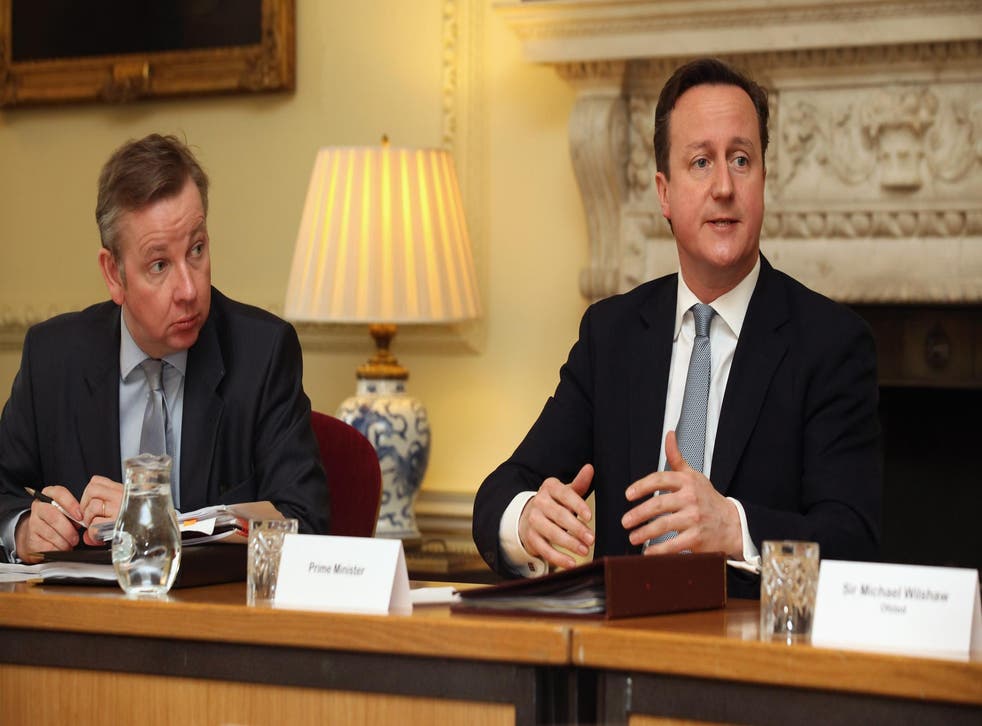 Tory infighting on Europe heightened further as Cabinet heavyweight Michael Gove issued a stark warning that the Prime Minister's credibility is now on the line and his failure to limit migration is "corrosive" to public trust.
The Justice Secretary has written to David Cameron urging him to tell the truth about the impact of staying in the EU, The Sun on Sunday reports.
As the bitter internal Tory war turns more personal, Mr Gove said the Prime Minister's "apocalyptic warnings" on Brexit would test his credibility if they turned out to be false, as he accused Mr Cameron of having a "corrosive" impact on public life, the newspaper reports.
In the letter to Mr Cameron, co-signed with Boris Johnson, they write: "There is also the basic lack of democratic consent for what is taking place. Voters were promised repeatedly at elections that net migration could be cut to tens of thousands.
"This promise is plainly not achievable as long as the UK is a member of the EU and the failure to keep it is corrosive of public trust in politics."
In another dig at the Prime Minister, the Justice Secretary ridiculed Mr Cameron's insistence that Turkey was not set to join the EU, by stating: "You're having us on."
Mr Gove indicated this was the latest in a series of "lies" regarding EU membership.
"People are fed up with being told 'don't worry, this thing isn't going to happen' and then they wake up a year or two later and it has.
"They were told in 1975 when we joined the Common Market that it wasn't going to mean anything for our democracy and our Parliament and for all of us. That was a lie.
"Now we're being told 'don't worry, Turkey won't join'.
"But we are spending £2 billion to get Turkey and these other four countries to join. People understandably say how can you tell us there are no plans for Turkey to join when we are paying money we could be spending on the NHS in order to get these countries in the EU," Mr Gove told The Sun on Sunday.
Mr Gove said: "All we've heard from his side so far is that all the risks are if we leave. But there are real risks of remaining in the EU and every citizen needs to be aware of these before they vote.
"Let's not have a situation where people are misled or not told the full truth about what will happen if we vote Remain."
The Justice Secretary also hit back at claims the Leave campaign is fuelled by prejudice.
"When people fling the charge of racism, what they are actually doing is attacking working-class people for wanting to maintain a decent standard of living. I think that's wrong.
"If you're wealthy, you can move to the leafy suburb or get your child into a private school. If you are
relying on a good local state school, whether it's in Aberdeen or Rotherham, and migration makes it more difficult to get your children into the good schools. It also increases class sizes, too."
Mr Gove insisted all was still to play for with 25 days to go until the vote.
"The polls show broadly that it's a dead heat. It's basically half-time in the campaign and it's 1-1," he said.
Register for free to continue reading
Registration is a free and easy way to support our truly independent journalism
By registering, you will also enjoy limited access to Premium articles, exclusive newsletters, commenting, and virtual events with our leading journalists
Already have an account? sign in
Register for free to continue reading
Registration is a free and easy way to support our truly independent journalism
By registering, you will also enjoy limited access to Premium articles, exclusive newsletters, commenting, and virtual events with our leading journalists
Already have an account? sign in
Join our new commenting forum
Join thought-provoking conversations, follow other Independent readers and see their replies