EU referendum: David Cameron warned he could face 'serious roadblock' over reforms
European Parliament Martin Schulz says proposal to curb EU migrant benefits would run into opposition from MEPs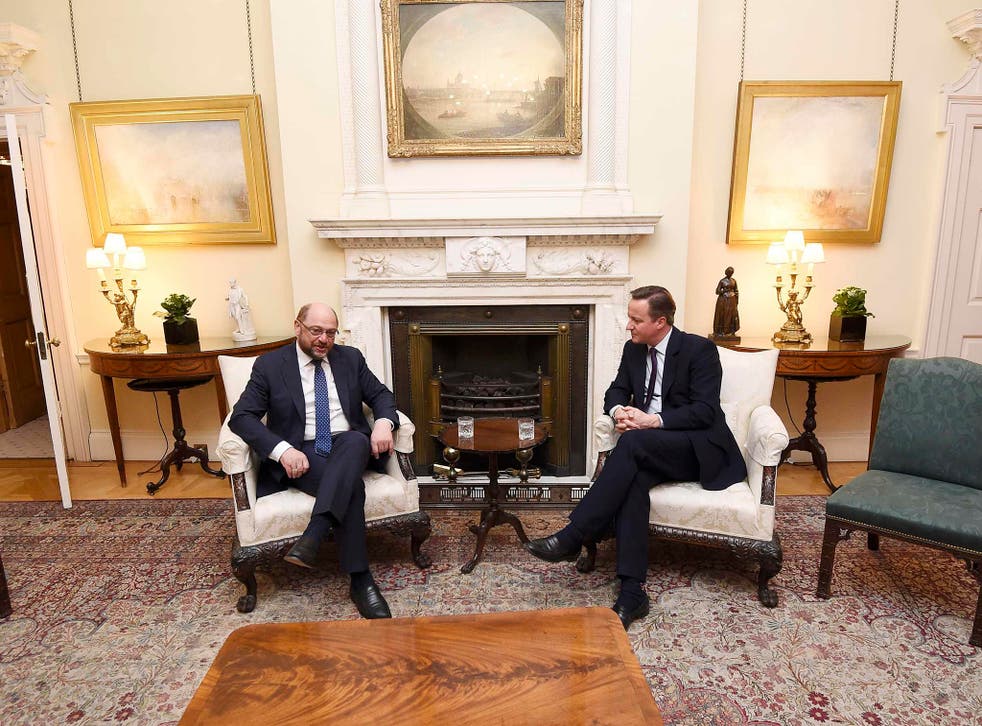 The European Parliament could present a "serious roadblock" to David Cameron's drive to renegotiate Britain's membership of the EU, the Prime Minister was warned as he stepped up efforts to win other leaders' support for his reform plans.
His most contentious demands, including limiting the entitlement of European migrants to in-work benefits, need to be approved by MEPs as well as EU leaders before they can come into force.
The parliament's president, Martin Schulz, warned that Mr Cameron's proposal to curb benefits would run into opposition from MEPs who fear it could amount to discrimination.
Mr Schulz said: "The European Parliament needs to see its concerns addressed early on to avoid a serious roadblock later on when legislation will need to be debated and adopted in the European Parliament."
Speaking at the London School of Economics, he said: "Solutions cannot come at the price of discriminating against EU citizens. This is a fundamental principle of our Union. The European Parliament will support all proposals which fairly address real problems which may emerge from free movement – as long as they do not cause discrimination and undermine European values."
Mr Schulz, who stressed he wanted Britain to remain in the bloc, also said that the UK makes "continuous demands" on Brussels and many EU politicians believe "if the Brits want to leave, let them leave".
In further remarks, which will be seized upon by Eurosceptics, Mr Schulz argued that Mr Cameron's reforms could still be undone even if they are agreed by EU leaders at a Brussels summit on 18-19 February.
"Nothing in our life is irreversible. Legally binding decisions are also reversible," he said.
His comments were swiftly dismissed by Mr Cameron, speaking at a press conference in Copenhagen after flying visits to Denmark and Poland.
The Prime Minister insisted: "If it is agreed it will be agreed as a legally binding treaty deposited at the United Nations. It would only be reversible if all 28 countries, including Britain, agreed to reverse it."
Mr Cameron has less than a fortnight to win the support of the 27 other EU leaders for his reform blueprint if he is to clinch a deal in Brussels and hold his promised EU membership referendum on his preferred date of June 23.
A source close to the negotiations has been quoted as saying he is yet to secure the support of any of the leaders to his plans as they stand.
He flew early on Friday to Warsaw for talks with the Polish Prime Minister, Beata Szydlo, who has said she does not "see eye to eye" with him over cutting the benefits of EU nationals.
After their meeting she said: "There are always topics that need to be ironed out. Over one million Poles live and work in Britain. Their work is growing Britain's GDP and we want them to enjoy the same kind of opportunities for development as Britons."
He travelled on to Copenhagen, where the Danish Prime Minister, Lars Lokke Rasmussen, offered his help to secure a deal.
Mr Rasmussen said the reform package was a "good basis for negotiations" and contained "many elements which Denmark strongly supports".
An opinion poll has suggested the support for Britain to leave the EU had grown since Mr Cameron detailed his reform proposals.
The YouGov survey for The Times found 45 per cent of people backed leaving the EU, while 36 per cent would vote to remain. Excluding "don't knows", that produced a 56-44 majority in favour of Brexit.
Lord Rose, who is leading the Britain Stronger in Europe campaign, has forecast a victory for the Remain camp by a "substantial margin".
Join our new commenting forum
Join thought-provoking conversations, follow other Independent readers and see their replies