EU Commission president Jean-Claude Juncker 'quite confident' that David Cameron will get a deal at summit
David Cameron is in Brussels for talks but faces a number of hurdles to a deal on EU reform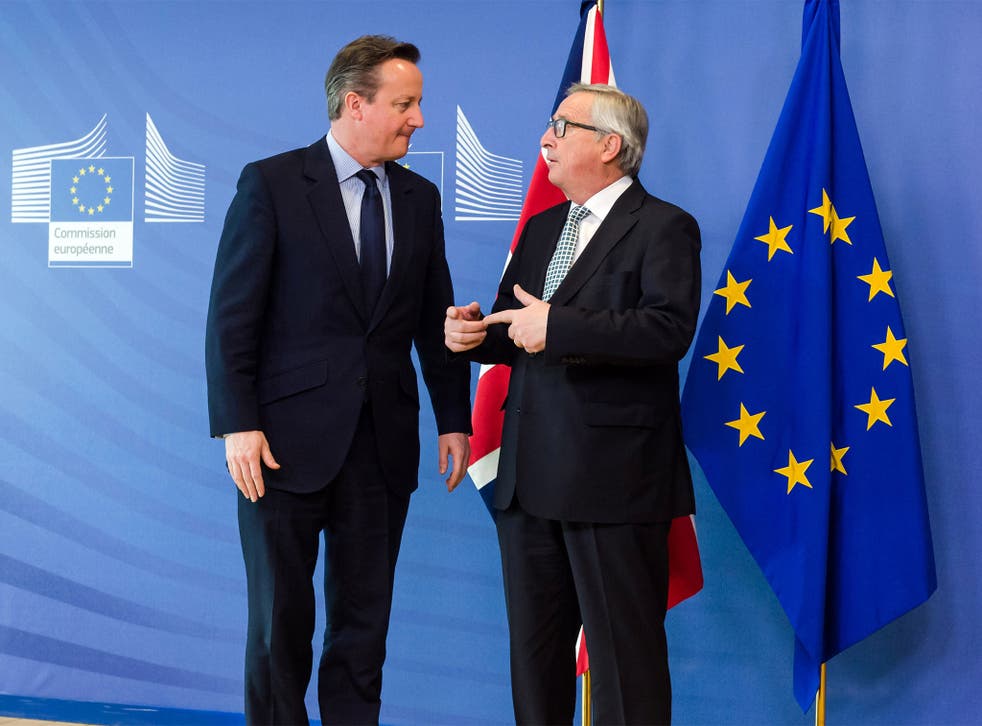 David Cameron has admitted it will "be hard" to secure some of his key demands as he seeks to make a deal with European leaders over reforms to the EU.
The Prime Minister arrived at the Brussels summit, billed as a "make-or-break" moment for the UK's renegotiation agenda, insisting he would not accept a deal that fell short of what he wanted.
He has been forced to head off objections by some central and eastern European nations to plans to restrict benefits for EU migrants.
He said: "We have got some important work to do today and tomorrow and it's going to be hard. I will be battling for Britain; if we can get a good deal I will take that deal but I will not take a deal that does not meet what we need.
Earlier, the president of the European Commission, Jean-Claude Juncker, said he was "quite confident" that an agreement could be reached.
"I'm quite confident that we will have a deal during this European Council," Mr Juncker told reporters in the European Union capital.
"We have to sort out a certain number of questions... and I'm convinced that Britain will be a constructive and active member of the European Union."
The four pillars of Mr Cameron's EU renegotiation are an opt-out for Britain from "ever closer union", protections for non-eurozone countries, cuts to red tape in the single market, and restrictions on in-work benefits for EU migrants.
Of these, the benefit restrictions are the most high-profile and also the most contentious.
Mr Cameron had demanded a four-year waiting period before EU migrants could claim in-work benefits in the UK, but a draft deal drawn up by the European Council president Donald Tusk proposed less strict controls.
Under those plans, the waiting period would be one year and gradually phase in over the next three.
MPs in Mr Cameron's own party branded the proposals "thin gruel" and "watered down" – with several polls showing large majorities of the public believe the draft is a "bad deal for Britain".
What has the EU ever done for us?

Show all 7
But Poland and its allies have also raised concerns about the proposal, even in its weaker form.
Other potential stumbling blocks in the negotiations include claims that single market protections are in fact back-door advantages for the City of London – and disagreement about whether changes should be immediately written into EU treaties.
The PM has pleged to renegotiate the terms of Britain's membership of the bloc and then hold a referendum on whether to leave before the end of 2017.
That plebiscite is now currently expected to be held as early as June this year, however.
Polls are mixed but recently surveys have shown a narrowing of the lead for the "remain" camp since the release of Mr Cameron's draft deal.
By contrast, a poll released yesterday by Lord Ashcroft found that large majorities of people in almost all EU countries want Britain to remain in the bloc.
Join our new commenting forum
Join thought-provoking conversations, follow other Independent readers and see their replies