EU referendum: Department of Health tells Vote Leave campaign to stop using official NHS logo in its Brexit literature
Exclusive: Campaign told that using trademark is in breach of DoE guidelines
Paul Gallagher
Thursday 03 March 2016 19:54 Comments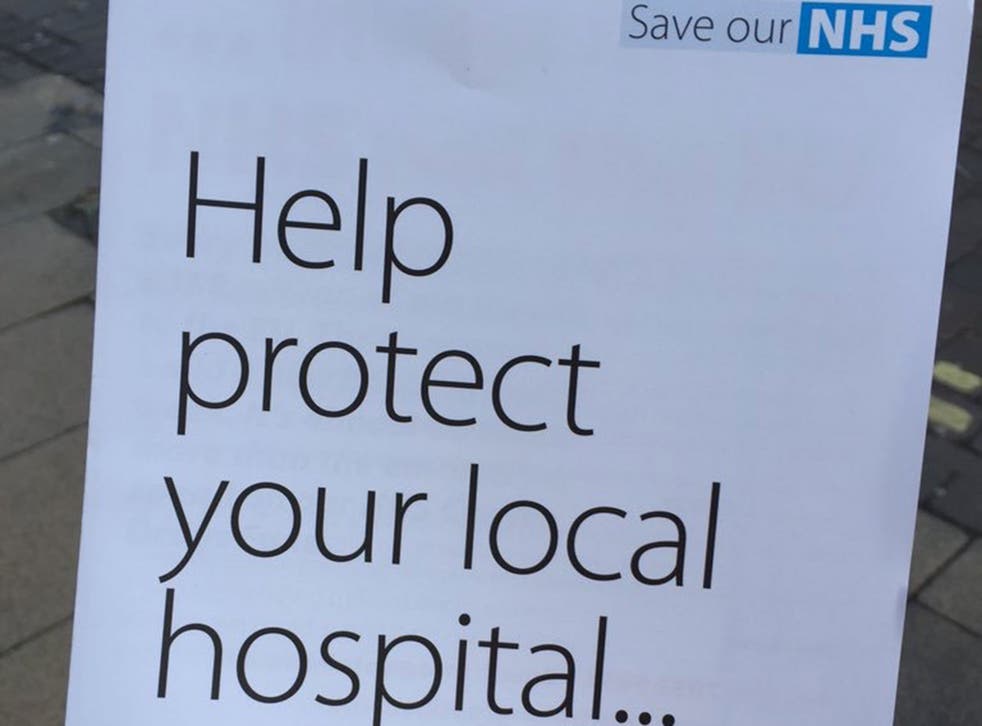 The Department of Health has told the Vote Leave campaign to stop using the official NHS logo in its Brexit literature as using the trademark breaches their guidelines.
The anti-EU group have distributed leaflets and letters bearing the famous white capital letters on a blue background with the message to "Save our NHS" in the top right corner. Underneath a large message to "Help protect your local hospital…" is the group's slogan to "Vote Leave, take control" next to a red ballot box.
However, the NHS logo and letters are registered trademarks owned by the Department of Health to be used in accordance with its brand guidelines.
They can only be used in official NHS communications in support of NHS "core principles and values", which include being "clear and professional", "straightforward" and "honest" to avoid misleading information and false promises.
NHS Brand Guidelines, the body that manages the marks on behalf of the Health Secretary, state: "This is to protect the NHS from being seen as the source of materials that have not originated from the NHS."
Replying to an email asking if it would be acceptable to use the logo as presented on Vote Leave's leaflet, the NHS Brand and Identity Helpline advised the "layout should not be used".
They said: "The trademark cannot be used by other organisations without our authorisation. Its use is strictly enforced to ensure clarity and to guard against misuse. It is therefore important that we protect it from any unauthorised use or adaptation, and any use of the NHS marks has to be approved by our team. Use of the NHS logo or an approximation of, used in this manner is in breach of the NHS Trademark."
One of Vote Leave's central arguments is that it wants to "stop sending £350m every week to Brussels and instead spend it on our priorities, like the NHS and science research".
A spokesman for Britain Stronger in Europe said: "It's shameless of Leave campaigners to use the NHS's much loved brand in this cynical, grubby and underhand manner.
"It is utterly unacceptable that Vote Leave is trying to capitalise on people's trust in this country's most cherished institution for their own ends. If they have any respect for this great organisation, they should immediately desist using the NHS logo, repeal all campaign literature that uses it and apologise profusely."
A DoH spokesperson said: "We have informed Vote Leave this is an inappropriate use of the NHS brand."
A spokesperson for the Electoral Commission said it does not have a role in regulating the content or messages of referendum campaigns, and so we wouldn't be in a position to comment.
A Vote Leave spokesman said its version was a "mock up, not the official NHS logo".
He said: "We believe it's quite reasonable to question whether the money we hand to Brussels every week is better spent on our priorities, like the NHS. "
Register for free to continue reading
Registration is a free and easy way to support our truly independent journalism
By registering, you will also enjoy limited access to Premium articles, exclusive newsletters, commenting, and virtual events with our leading journalists
Already have an account? sign in
Join our new commenting forum
Join thought-provoking conversations, follow other Independent readers and see their replies