EU referendum: Why is there no exit poll that tells us if Brexit or Remain has won?
There will be no (public) exit poll following the EU referendum: our Chief Political Commentator explains why, and tells you what to look out for instead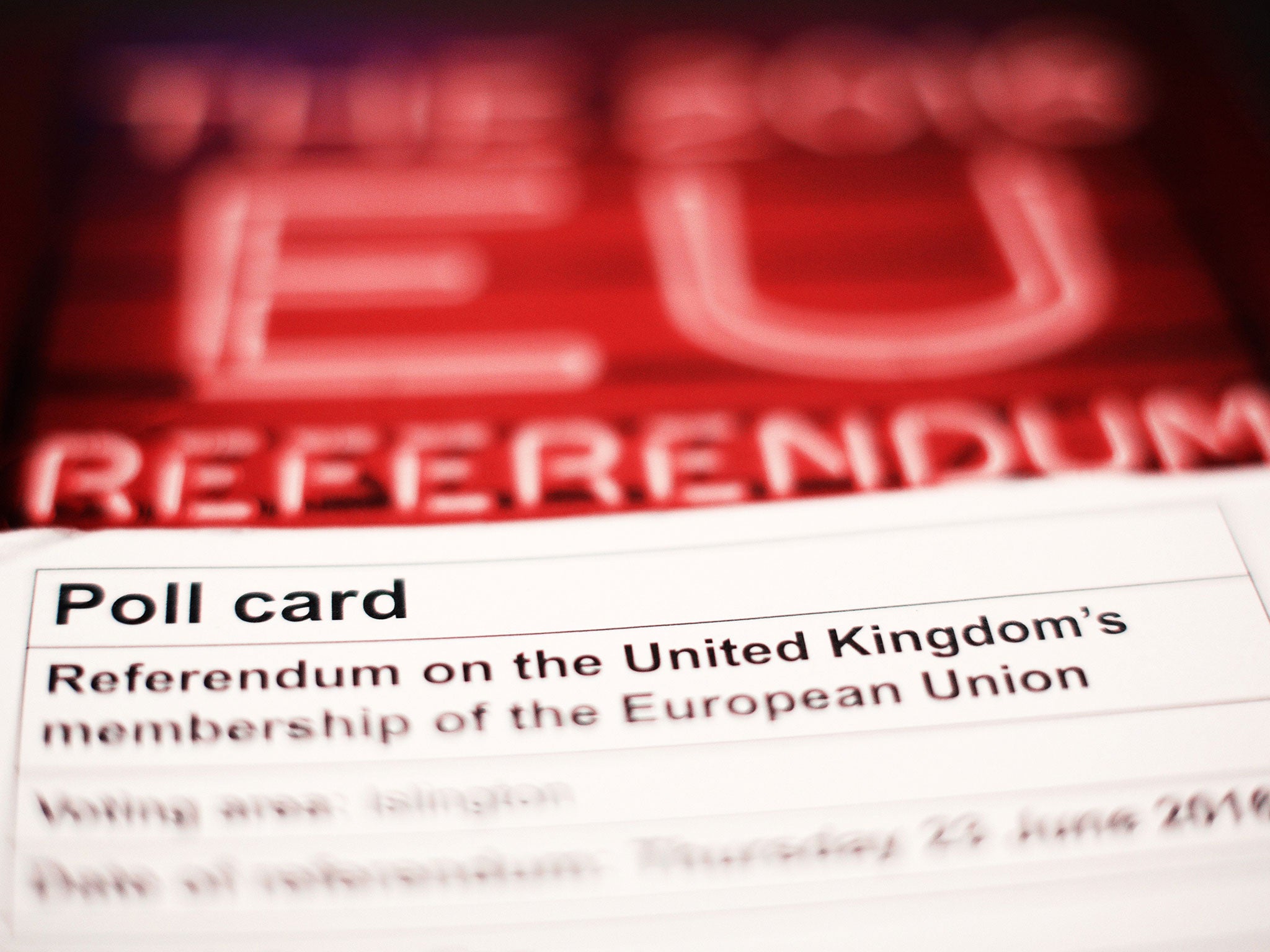 The exit polls at general elections, which are run for the BBC, ITV and Sky by Professor John Curtice of Strathclyde University, have built up a reputation for getting the result right over many election cycles.
The polls work by asking people how they voted at sampling points across the country, and comparing that with surveys at the same places in the previous election. The changes can then be projected to build up a national picture. Last year, the exit poll announced when the polls closed at 10pm put the Conservatives on 316 seats and Labour on 239: the Tories ended up winning 15 more and Labour seven fewer.
Follow the latest live updates on the EU referendum
However, there will be no exit poll published at 10pm when voting in the EU referendum closes because the broadcasters have no way of knowing how accurate it would be.
Brexit supporters urged to take own pens to polling station amid fears of MI5 conspiracy
Prof Curtice and his team couldn't do what they usually do, because the last referendum to compare today's with was 41 years ago – and there wasn't an exit poll then. There is, therefore, no baseline against which to measure how people have voted this time.
Some estimates have been made, extrapolating from opinion poll questions, of how pro- or anti-EU various places in the UK are. These will be useful on Friday morning for judging the significance of the early results. Chris Hanretty of the University of East Anglia estimates that if Leave is six percentage points ahead in Sunderland, expected to be one of the first councils to declare, that would mean the national vote is close.
YouGov has also produced a map of the UK showing how Eurosceptic the country is by parliamentary constituency.
But such estimates are not accurate enough to base an exit poll on, so the broadcasters decided not to go to the expense of commissioning one.
What about private exit polls?
That does not mean, however, that there will be no exit polling. The Independent understands that some financial institutions have commissioned exit polls, so that they can gain early intelligence of likely movements in the markets.
As we have seen, when polls have been published suggesting that Leave might win, the pound has fallen on the currency markets. Any trader with inside information on what the outcome of the referendum might be could, therefore, make a lot of money.
The problem they face is the same as that faced by the broadcasters: without a baseline it is hard – and expensive – to construct a sample of polling stations that is representative of the country as a whole. And they won't know if they are right until the actual results start to flow in from about 12.30am on Friday.
For that reason, any movements in the currency markets on Thursday should be treated with scepticism. They may be based on private exit polls, or they may be the result of rumours about them, and if they are based on exit polls those polls may be wrong.
21 maps and charts which will challenge perceptions of Europe
Show all 21
Remember, publishing exit polls before 10pm is illegal
Section 66 of the Representation of the People Act 1983 prohibits the publication, before the close of poll, of any forecast, survey or estimate of how people have voted.
This includes postal votes (opinion pollsters ask how people have voted but they are not allowed to publish the results) and any kind of exit poll or on-the-day poll, but not what individuals say about how they have voted.
And it includes social media. So you are allowed to say on Facebook how you have voted, but you may not count up how all your friends say they have voted and publish that.
So what will we know on Thursday?
The last normal opinion polls will be published today and tomorrow morning. Opinium this afternoon, ComRes and YouGov tonight and Ipsos MORI tomorrow morning.
What will be published at 10pm, when the polls close, will not be exit polls but at least two "on the day" polls. YouGov will publish a survey of its panel, recontacting what they hope is a representative sample of people to ask how they actually voted.
When YouGov did this on the day of the Scottish referendum in 2014, its prediction was within one percentage point of the result (YouGov predicted a No vote of 54 per cent as against the final result, 55 per cent).
Another polling company, TNS, will publish a similar exercise at 10pm on Thursday, but its "Election Day Voter Panel" consists of only 200 people, and is designed to pick up more on the reasons for any late swing, rather than to make a prediction.
Join our commenting forum
Join thought-provoking conversations, follow other Independent readers and see their replies