EU referendum expected next June or July, David Cameron signals
Mr Cameron said that 2016 would 'be the year' in which Britain's long-term relationship with the EU was resolved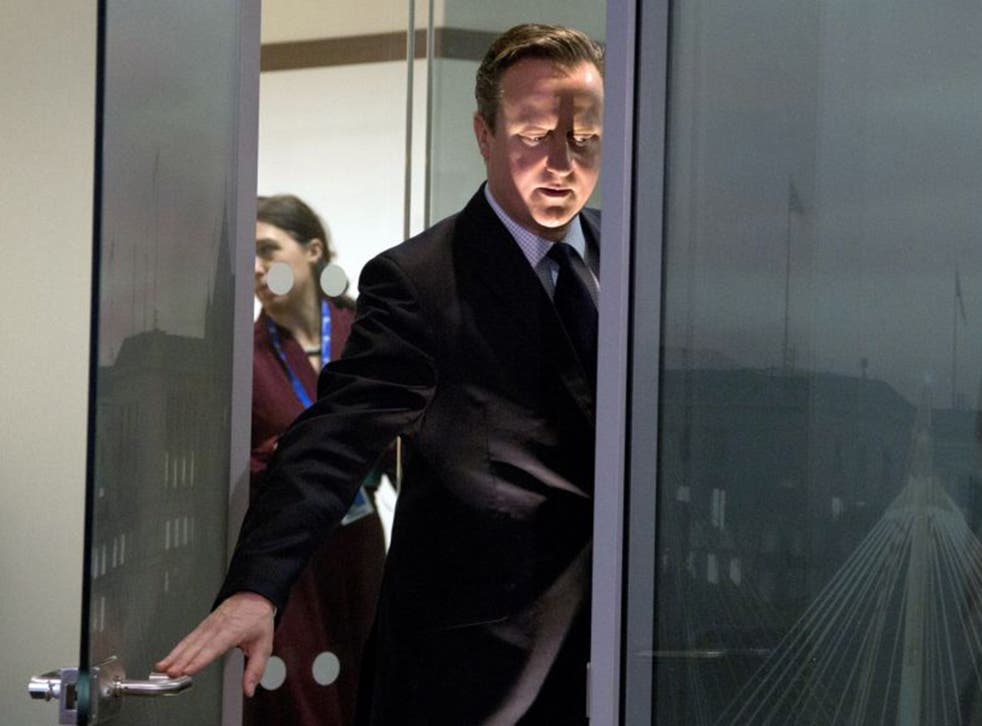 British voters will be asked to decide whether or not their country's future lies in the European Union by the end of next summer, David Cameron has signalled, claiming he is well "on the way to a deal" to present to the public in a referendum.
Following four hours of talks with other leaders over dinner in Brussels late into 17 December, the Prime Minister said that 2016 would "be the year" in which Britain's long-term relationship with the EU was resolved.
Mr Cameron struck an optimistic note, suggesting "good progress" had been made towards a final agreement on Britain's renegotiation in February. Government sources suggested this would pave the way for the Prime Minister to announce a referendum to take place in June or July on which he is likely to campaign for an In vote.
But in order to reach an agreement, Mr Cameron will almost certainly have to drop his demand to ban European workers in Britain from claiming in-work benefits for four years after united opposition from other leaders.
Speaking after the talks, the Polish Prime Minister Beata Szydlo told The Independent that Mr Cameron had been isolated on the issue in the council meeting and would have to "compromise".
"My position and the position of Poland is clear," she said. "It is not ambiguous. The proposals that have been presented by Prime Minister Cameron limiting [benefits] are not acceptable. Many well-educated Polish people live in the UK and work there and they are also contributing to building the growth of Britain.
"Right now there is an expectation for the UK to start discussions about [the] changes it wants. We have until the next summit and we are waiting for proposals from Great Britain."
The European Commission is understood to be working on a compromise plan that could allow the UK to impose an "emergency break" on paying in-work benefits to EU migrants if pressure on welfare payment and public services rose exponentially. This will not be enough to assuage Mr Cameron's critics who are certain to claim he has backed down on a key manifesto commitment.
But No 10 will be cheered by an ORB poll for The Independent that found people who want Britain to leave the EU are more open to changing their mind than those who want it to remain, with 23 per cent of those wanting to leave saying they are willing to listen to arguments from both sides, compared to 18 per cent of those who want it to stay in.
Overall 52 per cent believe that Britain should remain in the EU, while 48 per cent want it to leave. Last month, the figures were the other way round, with the Out camp enjoying a lead for the first time in our monthly poll.
However, the poll of 2,000 people carried out on 16 and 17 December, found almost two in three people do not believe Mr Cameron will win a better EU deal for Britain ahead of the referendum.
Speaking after the talks Mr Cameron said "fundamental change" to Britain's relationship with Europe on the four issues he has identified for reform would be achieved next year. He also gave the clearest sign yet that he will lead the In campaign, stressing that membership of a reformed EU would be best for the UK's economy and security.
"We've made good progress, we are a step closer to agreement on the significant and far-reaching reforms I have proposed," he said.
"It is going to be tough and there is a lot of hard work to do. But I believe 2016 will be the year we achieve something really vital, fundamentally changing the UK's relationship with the EU and finally addressing the concerns of the British people about our membership. Then it will be for the British people to decide whether we remain or leave.
"If we can get these reforms right – and I believe we can – for our economic security and increasingly for our national security, the best future for Britain is in a reformed European Union."
Dave Brown on Europe

Show all 9
Mr Cameron added: "We are well on the way to a deal, we have taken some good steps forward. Now we have got to bring it home."
Asked about the referendum's timing, he said: "What matters is that these changes are legally binding and irreversible. I believe we can find ways of setting that out, demonstrating that, in the coming months."
The earliest dates for a referendum is 9 or 16 June. The latter date is the day of the England v Wales match in the Euro 2016 football championships, a potential drawback. July is also a possibility. But Downing Street is known to want to hold the vote as early as possible amid fears that the unpredictable migration crisis might worsen by next autumn.
Asked about the suggestion that an "emergency brake" on paying in-work benefits could be offered if Brussels agreed that public services risked being overwhelmed, the Prime Minister insisted his proposal for a four-year ban remained on the table. "What happened last night is that the European Commission said that they were looking for solutions, not compromises, but we are in a negotiation. I am convinced that if we work hard between now and February we will find a good answer."
Donald Tusk, the European Council president, said the talks had been "make or break" but that he was now "much more optimistic" about the prospects for a deal given the "good atmosphere and goodwill" around the table.
He said that Mr Cameron would withdraw the demand on benefits because he had accepted the argument that discrimination is "unacceptable" in Europe's single market. "For me, the clearest message from David Cameron is that no one, including David Cameron, is ready to accept discrimination," he said.
German Chancellor Angela Merkel confirmed she would back Mr Cameron's push to enshrine any British deal in a postdated treaty. "We all agree this is something that cannot happen now but could take place later," she said.
Explainer: Cameron's demands
Competitiveness
David Cameron is pushing to extend the single market into areas such as services, where Britain is traditionally strong, as well as introduce new measures to cut the burden of EU regulation on business.
Fairness
Britain wants to ensure that countries outside the eurozone are not discriminated against within the single market. This means that all EU decisions will have to give due regard to all EU members – not just eurozone members – while Britain accepts that eurozone countries can move faster towards integrating their economic policies.
Sovereignty
Britain wants a largely symbolic opt-out from EU treaties committing countries to "ever close union". Mr Cameron also want national parliaments to be able to group together to block new EU legislation, giving them a greater say in the European decision-making.
Immigration
Mr Cameron says he wants measures to block the "pull factors" on migration. He wants to prevent EU workers from sending child benefit back to children in their home countries and a four-year ban in EU citizens claiming in-work benefits in the UK.
Register for free to continue reading
Registration is a free and easy way to support our truly independent journalism
By registering, you will also enjoy limited access to Premium articles, exclusive newsletters, commenting, and virtual events with our leading journalists
Already have an account? sign in
Register for free to continue reading
Registration is a free and easy way to support our truly independent journalism
By registering, you will also enjoy limited access to Premium articles, exclusive newsletters, commenting, and virtual events with our leading journalists
Already have an account? sign in
Join our new commenting forum
Join thought-provoking conversations, follow other Independent readers and see their replies