EU referendum: George Osborne invited Michael Gove for weekend away after Justice Secretary backed Brexit
Apparent bridge-building exercise indicates Chancellor is keen to ensure he retains Mr Gove's support for leadership bid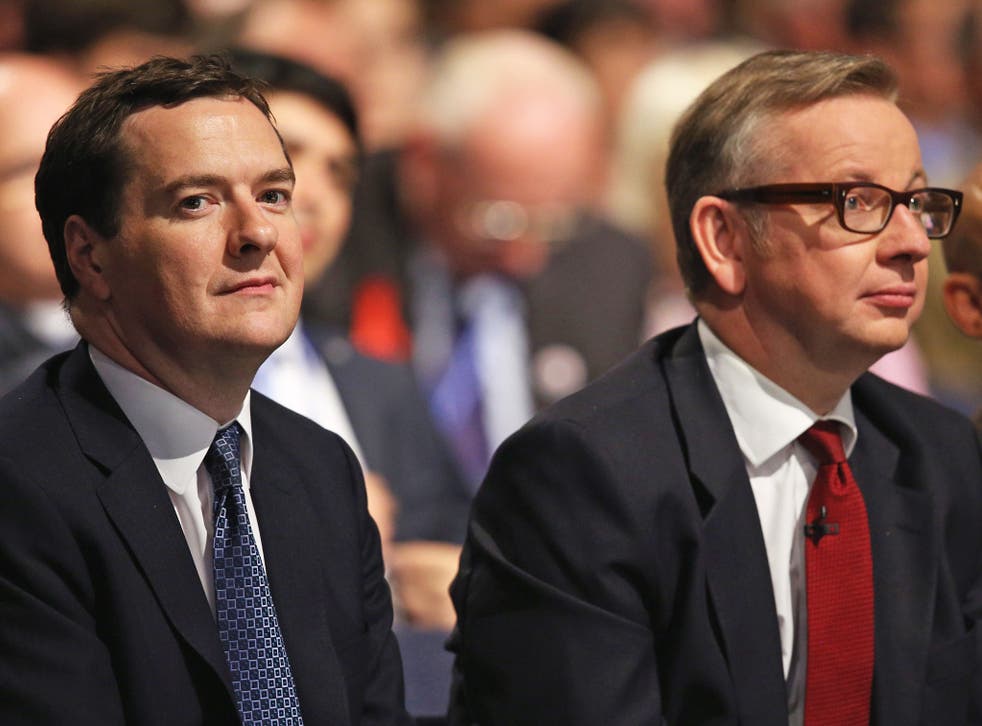 George Osborne invited Michael Gove to stay at his official country residence hours after the Justice Secretary announced he was to defy David Cameron and campaign to leave the European Union, it has emerged.
In an apparent bridge-building exercise, the Chancellor hosted Mr Gove and his wife, the Daily Mail columnist Sarah Vine, at Dorneywood last weekend shortly after Mr Gove told the Cabinet that he could not support Mr Cameron's renegotiation.
The Prime Minister himself is still said to be to "shocked and hurt" by Mr Gove's decision. Ms Vine admitted she didn't know if it would have a long-term effect on his relationship with Mr Cameron.
But Mr Osborne appears to be more sanguine and is keen to ensure that he retains Mr Gove's support for any future Tory leadership election.
The Chancellor's allies briefed details of the meeting to The Spectator, with one describing it as a "very happy occasion". "When George realised Michael was 'out' there was a moment of rage," one told the magazine. "But he's now in full reconciliation mode: George has adapted to the new reality."
In a sign of new hostilities, Downing Street wasted little time trying to rubbish Mr Gove's suggestion that Mr Cameron's renegotiation settlement could be challenged in the European Court of Justice.
Within minutes of the story breaking on the BBC, No 10 put out a statement claiming the Justice Secretary's remarks were "not true". The Attorney General, Jeremy Wright, was later put up to issue an official government rebuttal.
Meanwhile, the Remain campaign released details suggesting that British charities could lose nearly quarter of a billion pounds a year in funding as a result of a "leave" vote in the EU referendum.
Its analysis of European grant-giving revealed that organisations likely to be heavily hit included Oxfam, which could lose nearly 10 per cent of its annual income if the £38m a year it currently gets from EU coffers were to disappear. Save the Children would lose 5 per cent of its income, while the British Museum would lose about £5m of its annual £144m budget.
The figures were calculated by analysing EU grants made in 2014 – the latest year for which figures are available.
"A huge number of charities in Britain benefit every year from much-needed funding from the European Union. The money they receive helps people in need, both in Britain and across the world," said Caroline Lucas, a board member of Britain Stronger in Europe.
Boris: EU deal not enforceable
"Outside of the EU, there is absolutely no guarantee that this vital contribution to British charitable work could or would be continued."
Meanwhile, Ryanair's boss has pledged to campaign for the UK to remain in the EU. Michael O'Leary said the airline planned to run campaign advertisements in newspapers and on its own website, and is considering printing messages on to aircraft livery.
Mr O'Leary said Brexit would not be "the end of the world" but he warned there would "undoubtedly be three or four years of uncertainty and less economic growth".
Ryanair backs staying in EU
But he also lambasted those who argue that British politicians are "fantastic forward-thinking gurus" while those in Brussels are "terrible".
"They can't make a decision on a runway to save their lives… and the only impact they've had on air travel for the last 10 years, post-Gordon Brown, has been to raise taxes on air travel."
Mr Cameron has officially launched the Conservative Party's In Campaign at an event in London. Adopting the tieless, shirt-sleeves-rolled-up approach of the election campaign, he said the referendum would be a "battle for Britain" and urged Tory activists to campaign hard to sell his deal on the doorstep.
"This is about what sort of a country we are going to be – how wealthy we can be, [how] successful in a single market, or how much uncertainty you can have outside."
But in an interview with the BBC, Mr Gove said the EU "prevents us being a proper self-governing country".
"I've always been suspicious of a transfer of power away from the people of this country," he said. "Given the opportunity in a referendum to [decide whether] we should be a democracy or not, then I'm afraid I'm going to have to conclude that we need to leave."
UK news in pictures

Show all 50
In an article for the Daily Mail, Mr Gove's wife said he had agonised over his decision. "It's all been a bit of a nightmare," she wrote. "Michael has been like a cat on a hot tin roof, locked in an internal struggle of agonising proportions.
"When he eventually told David the truth about his feelings on the renegotiations – that he was not inclined to support the deal in its current form – the PM was genuinely, and quite naturally, shocked and hurt.
"Ultimately, his [Mr Gove's] view is that true friends can have differences of opinion without letting it affect their relationships. I hope and pray that will turn out to be true."
Join our new commenting forum
Join thought-provoking conversations, follow other Independent readers and see their replies