EU referendum: Nigel Farage to announce plans to head campaign for a British exit
The move comes despite concerns from Europhobes that Farage is 'toxic'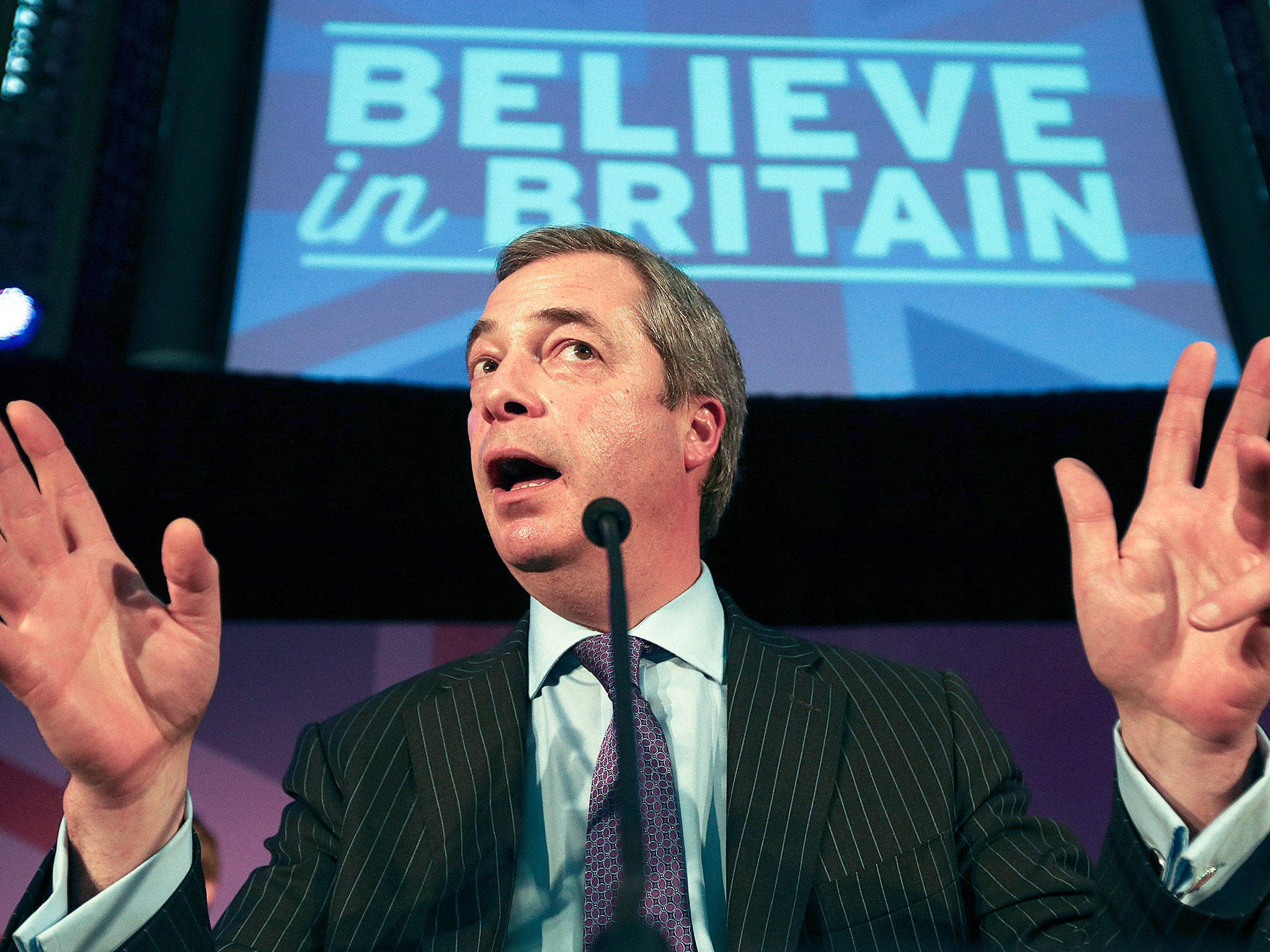 Nigel Farage is set to stake his claim to head the campaign for Britain to leave the European Union even though some fellow Europhobes want him to take a back seat because they claim he is "toxic."
The Ukip leader will fire the starting gun for his party's drive for an Out vote in the referendum David Cameron has promised by the end of 2017 but which could take place as early as next June.
A new poll by ORB for The Independent shows that 55 per cent of people want to stay in the EU, with 45 per cent wanting to quit. Pro-Europeans were pleased that the figures were unchanged on a month ago, despite unfavourable headlines about the debt crisis in Greece and immigration problems at Calais that might have turned British public opinion against the EU.
The latest survey shows that the most pro-EU age group is the 18-24 year-olds, 71 per cent of whom say Britain should remain in the EU club, with 29 per cent wanting to leave. In contrast, a majority (53 per cent) of those aged 65 and over want to quit and only 47 per cent want to remain.
In a speech in London, Mr Farage will criticise Conservative supporters of leaving the EU who want to "wait and see" the new membership terms Mr Cameron wins before launching the Out campaign. He will highlight the dangers of allowing the Prime Minister to carry out his "so-called renegotiation" unchallenged and without addressing the public's main concerns – control of borders, the sovereignty of parliament and the cost of EU membership.
The Ukip leader will argue that there is no time to waste in promoting the arguments against EU membership and pledge that his party will now "lead the charge" for an Out vote. He will urge fellow Europhobes to "get on" with the positive case for leaving the 28-nation bloc instead of "arguing amongst themselves" about who should lead the Out campaign.
His defiant statement comes as other anti-EU figures warn that Mr Farage would repel as many voters as he would attract if he headed the Out campaign. "Ukip is trying to seize control, but it is a busted flush," one critic said. "Nigel can be part of the team but if he fronted it, we would lose out."
On 29 July the Ukip leader told the BBC: "The so-called Eurosceptics in Westminster appear to want to sit on their hands and pursue a wait and see policy….Ukip is not prepared to do that. We will begin, from the first week of September, the biggest outreach campaign we as a party has ever attempted across this country to wake up Britain and to make sure that Mr Cameron is not allowed to go through this renegotiation without being challenged."
He added: "Ukip is the only Eurosceptic organisation that has a membership base and a structure on the ground. What we are saying is this: the Yes campaign is [already] in full flight, whether it's Tony Blair, President Obama, the CBI, Richard Branson, British universities. You name it, every day the Yes campaign is out there doing something."
Join our commenting forum
Join thought-provoking conversations, follow other Independent readers and see their replies