David Cameron on EU referendum: 'No chance' of change before Britain's in/out vote, PM says
His officials insisted that the new deal he intends to strike with its EU partners would be 'crystal clear' to the public and have 'legally binding' guarantees
Andrew Grice
Friday 26 June 2015 08:01 Comments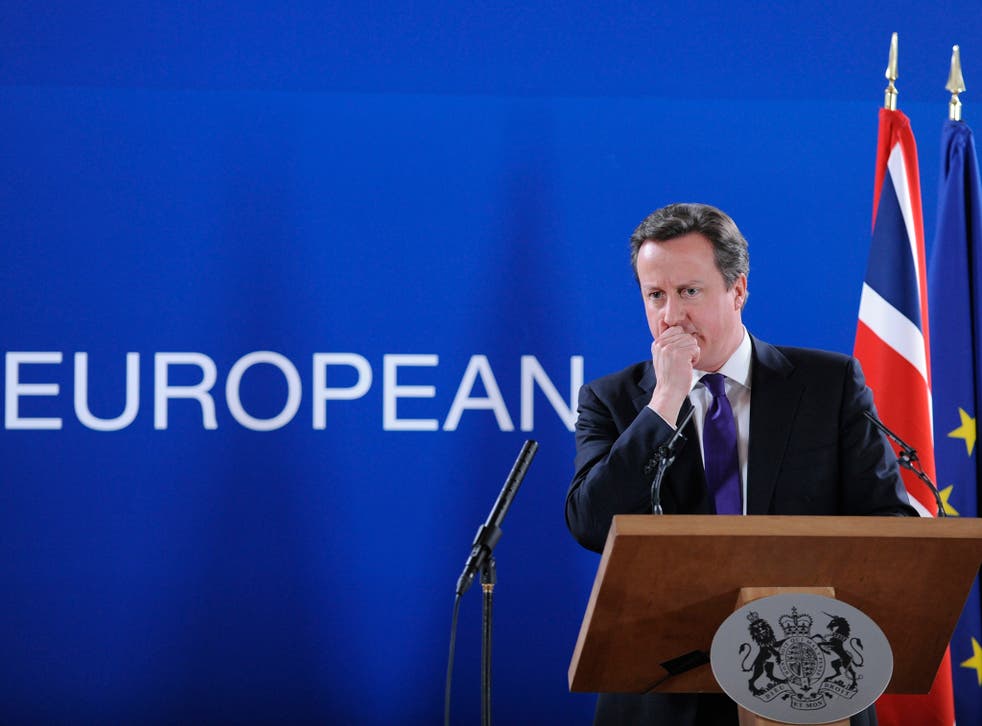 David Cameron has admitted that the referendum on whether Britain should stay in the European Union is likely to take place before the UK's new membership terms have been implemented in a new EU treaty.
His officials insisted that the new deal for Britain he intends to strike with its EU partners would be "crystal clear" to the public and have "legally binding" guarantees that would amount to an "irreversible lock."
Mr Cameron has promised an in/out referendum by 2017 and it could be held in October next year. Some changes he is seeking will require the EU's governing treaty to be rewritten – such as Britain opting out of the EU's commitment to "ever closer union" and denying tax credits to new EU migrants for four years.
But there is no chance of the EU approving a new blueprint by 2017. So Britain's new deal would be added to the next treaty, likely to bring in reforms to the Eurozone. But Brussels officials say that work might only start on that in 2017 and could take until 2025 to complete. Another cause of delay is that countries such as Ireland, France and Denmark would need to approve the new treaty in a referendum.
Eurosceptic Tory MPs

Show all 7
Conservative Eurosceptics will attack the delayed treaty change as a "post-dated cheque" that could bounce. They are worried that the European Court of Justice, which enforces the EU's rules, could "unpick" Mr Cameron's agreement with his fellow EU leaders before they are entrenched by a treaty.
John Redwood, the former Cabinet minister, said:"We should never trust what the EU says. They change their mind more often than I change my shirts, which is very often."
In January, Mr Cameron said he would demand "proper, full-on treaty change" in his negotiations with the EU.
British officials dismissed the possible threat caused by the timelag, insisting that ratifying the treaty after a UK referendum would be a "technicality" and a "formality."
At a summit of EU leaders in Brussels, Mr Cameron spelt out his proposals over a working dinner of asparagus, sea bass and strawberries. The meeting was expected to ask officials to look at Britain's reforms in depth – including the need for treaty change — and to report back to the leaders' summit in December.
The Prime Minister was expected to tell his counterparts that for many years there had been "widespread unease" in Britain about its EU membership. It was important to achieve his reforms so that people could be convinced that the 28-nation bloc served their interests, he argued.
His officials said that while Mr Cameron "ruled nothing out," he was not threatening to recommend an Out vote in the referendum if he did not get his way.
There were early signs that the Prime Minister faces an uphill struggle. Donald Tusk, President of the European Council - the 28 national leaders - was happy to discuss Britain's concerns, but warned: "One thing should be clear from the very beginning - the fundamental values of the EU are not for sale and so are non-negotiable."
Martin Schulz, President of the European Parliament, said: "Solutions in the EU usually are not brought about by one member state making demands and expecting the others to deliver."
The Queen has unintentionally been drawn into the referendum debate after she said in a speech in Berlin on 24 June that "division in Europe is dangerous and we must guard against it in the West as well as the East of our continent."
Buckingham Palace denied that the monarch was straying into politics but Nigel Farage, the Ukip leader, said: "The Queen has been very poorly advised. It's been a rotten week for the monarchy after the row with the SNP too. She must not let the government pressure her into saying things that appear to influence the referendum.
"She is after all the head of the Commonwealth as well as head of the UK, and there is a potential conflict of interests there."
Register for free to continue reading
Registration is a free and easy way to support our truly independent journalism
By registering, you will also enjoy limited access to Premium articles, exclusive newsletters, commenting, and virtual events with our leading journalists
Already have an account? sign in
Join our new commenting forum
Join thought-provoking conversations, follow other Independent readers and see their replies