EU referendum: Northern Ireland peace process could be set back by Brexit, says Lord Mandelson
'Hard border' in Northern Ireland could reinforce sectarianism, former minister claims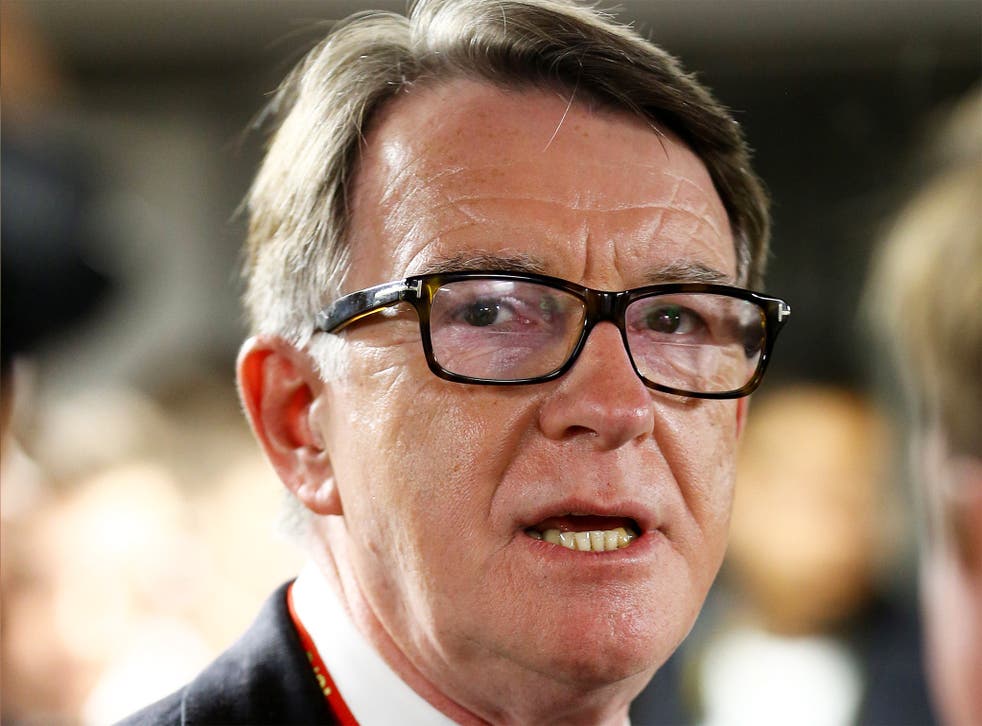 Leaving the European Union would mean the return of a "hard border" between Northern Ireland and the Irish Republic and risk "renewed sectarianism" and increased violence, Lord Mandelson has claimed.
The Labour peer, who served as both Northern Ireland Secretary and European Trade Commissioner, said Brexit threatened to "upset" the peace process and warned that a return to "border posts and elaborate checks" was possible. Arguing for continued membership in a speech at the British Irish Chamber of Commerce, Lord Mandelson said the EU had been "a fundamentally stabilising presence in Ireland's recent history".
"It is unclear what the border arrangements would be in the unprecedented situation of the UK leaving Europe," he said. "Everyone would want to avoid border posts and elaborate checks but who knows what would have to be imposed? Who knows what would have to be put in place on the re-creation of that hard border?
"Anything in my view that strengthened a sense of separatism between Northern and southern Ireland – physically, economically, psychologically – has the potential to upset the progress that has been made and serve as a potential source of renewed sectarianism that would always bear the risk of triggering further violence in Ireland, particularly in the North."
Lord Mandelson also claimed that Northern Ireland's GDP could drop by as much as 3 per cent, with up to 50,000 jobs at risk.
Sinn Fein's Martin McGuinness, Northern Ireland's Deputy First Minister, wants the country to remain in the EU and said last week that a vote to leave should then result in a referendum on a united Ireland.
UK news in pictures

Show all 50
But the Democratic Unionist Party (DUP), which is the largest party in the Stormont Assembly, is supporting the campaign to leave.
Sammy Wilson, the DUP MP for East Antrim, said that Lord Mandelson's comments were "not just spin, they would be credit to the most energetic acrobat".
"He knows full well that the common travel area between the UK and the Republic of Ireland is not dependent on EU membership," Mr Wilson said. "Indeed, it is as important to the Republic of Ireland as it is to us and the open border at present does not cause problems of large scale illegal immigration."
Meanwhile, David Cameron accused Boris Johnson and the Leave campaign of "making it up as they go along" in their arguments for an alternative trade agreement with the EU following Brexit.
On 15 March, Mr Johnson expressed interest in Britain adopting an "associate member" relationship with the EU, similar to that enjoyed by Turkey. Last week he had appeared to support a more detached trade deal along the same line as Canada's.
Villiers condemns Belfast bomb
But Mr Cameron said a Canadian-style agreement could take "the next seven years" to negotiate.
"The leaders of the Leave campaign are saying they don't really want a Canada deal at all, that they weren't right about that. They are literally making it up as they go along," the Prime Minister told a campaign event in Felixstowe on 15 March.
"They are rolling the dice, they are taking a risk and they are taking a risk with people's jobs, taking a risk with families' finances, and I don't think that is good enough for the British people."
But new research by the Vote Leave campaign group, based on Treasury figures, claims that the UK will pay nearly £100bn into the EU over the next five years.
Join our new commenting forum
Join thought-provoking conversations, follow other Independent readers and see their replies