EU referendum: Not all of Britain's EU spending would be redirected to NHS in event of Brexit, Vote Leave admits
Cabinet minister Chris Grayling waters down pledge and also backtracks on suggestion that £2bn would be cut from energy bills
Charlie Cooper
Whitehall Correspondent
Wednesday 01 June 2016 00:29 Comments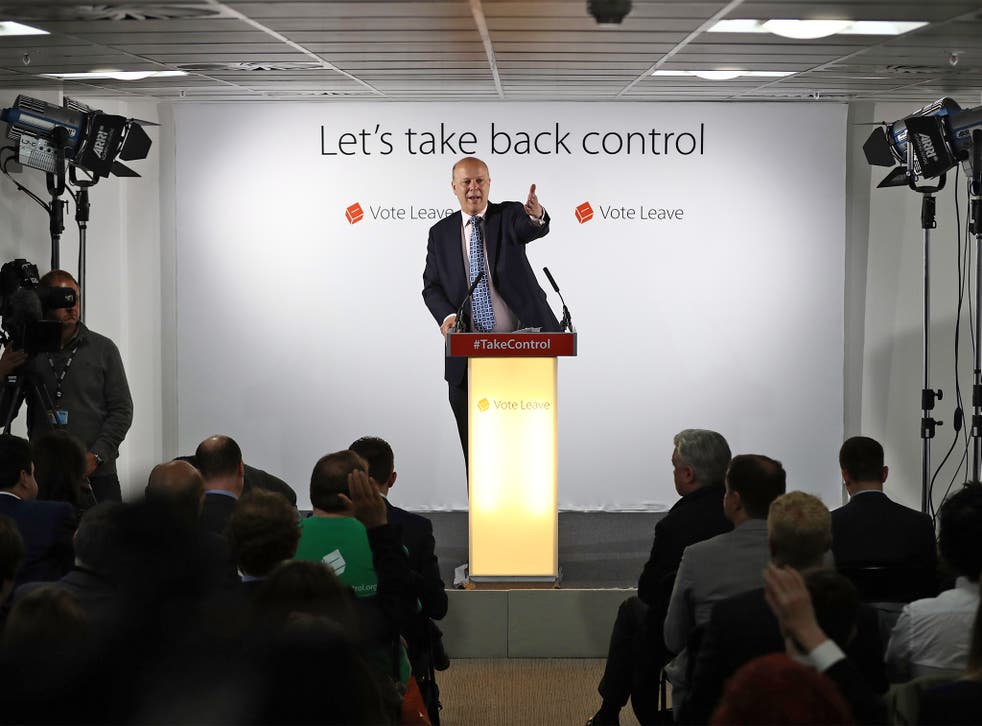 A post-Brexit government would not redirect all of Britain's EU spending to the NHS, a senior Leave campaigner has said.
Vote Leave has repeatedly claimed that Britain gives the EU £350m a week, and has released campaign videos pointing out that this sum would be enough to build a new hospital every week.
But Cabinet minister Chris Grayling said that the campaign had "never said every penny should go to the NHS" and also backtracked on a Vote Leave suggestion that £2bn would be cut from energy bills in the event of Brexit.
Speaking at a campaign event in Westminster, the Leader of the House of Commons said that Leave campaigners could only set out "options" for a post-Brexit government.
The £350m figure has been widely criticised, as it does not take into account funding Britain receives from the EU, or the UK's rebate. The Independent Institute for Fiscal Studies, which has called the figure "clearly absurd", estimates that Britain's net contributions are closer to £175m a week.
What has the EU ever done for us?

Show all 7
Vote Leave figurehead Boris Johnson defended the use of the figure, describing it as "legitimate". Speaking to the BBC, he said: "That is the sum that we do send to Brussels and over which we have no control. Because, after all, what happens is about half of that disappears never to be seen again, and some of it goes to a Greek tobacco farmers, and some of it goes to support Spanish bullfighting and heaven knows what. We don't know what happens to it."
Referring to claims from Mr Johnson, and fellow Vote Leave leaders Michael Gove and Labour's Gisela Stuart, that by leaving the EU, Britain would be able to scrap VAT on energy bills, Mr Grayling said: "If we choose to give the British people a bonus for voting to leave by cutting their fuel bills, that is of course only a small part of the money we would save from our annual contribution, money that should also be spent on other priorities such as the National Health Service... Vote Leave can only set out options for the country, because we are not the Government."
"We've never said every penny should go on the NHS," he added.
Labour MP Emma Reynolds, a member of the House of Commons Health Select Committee, said: "Chris Grayling has let the cat out of the bag. If these Tory Leave campaigners have their way and take us out of the EU, they won't spend another penny on our National Health Service. The truth is that leaving Europe would land us with less money, not more, to spend on the NHS."
Register for free to continue reading
Registration is a free and easy way to support our truly independent journalism
By registering, you will also enjoy limited access to Premium articles, exclusive newsletters, commenting, and virtual events with our leading journalists
Already have an account? sign in
Register for free to continue reading
Registration is a free and easy way to support our truly independent journalism
By registering, you will also enjoy limited access to Premium articles, exclusive newsletters, commenting, and virtual events with our leading journalists
Already have an account? sign in
Join our new commenting forum
Join thought-provoking conversations, follow other Independent readers and see their replies