EU referendum results tracker: Follow the results live as Brexit is confirmed
UKIP leader Nigel Farage called Vote Leave's victory as UK's 'Independence Day'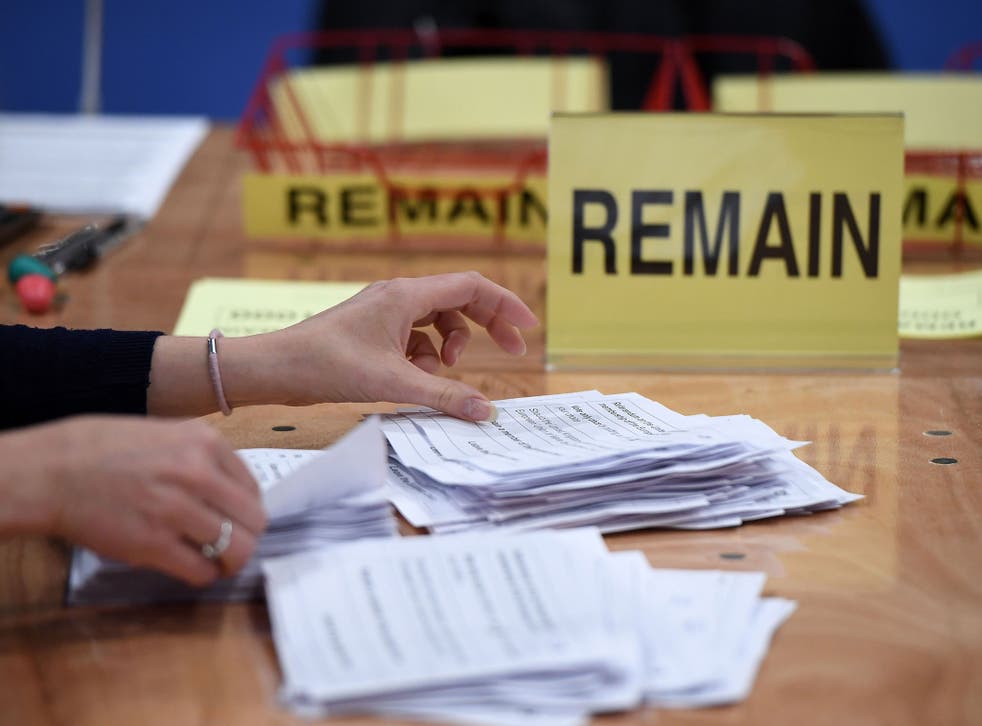 The UK has voted to leave the European Union after Leave won 52 per cent to Remain's 48 per cent.
Following 43 years in the EU, the British electrorate chose Brexit after a turnout of 71.8 per cent.
With more than 30 million voting, this is the highest turnout at nationwide vote since 1992.
Prime Minister David Cameron has announced his decision to stand down following the result. He said he will continue in Number 10 until a successor is voted as Conservative Party leader.
The chart below shows a running tally, with the map broken down into regions. You can also use the search tool to find out how your local area voted.
Follow the latest live updates from the EU referendum
England and Wales voted strongly for Brexit while Scotland and Northern Ireland supported Remain.
In Scotland, 62 per cent voted to remain with 55.8 per cent voting voting the same in Northern Ireland.
England voted 53.4 per cent to leave the EU with 52.5 per cent in Wales also voting for Brexit.
How the EU referendum result unfolded
The capital strongly voted to remain with 28 boroughs voting to stay in while only five boroughs voted for Brexit.
London Mayor Sadiq Khan said he believes Britain "can survive and prosper outside the European Union", as he called for calm after the vote.
"I want to send a clear message to the British people and to businesses and investors around the world this morning - there is no need to panic," he said in a statement.
Final opinion polls released as the voting booths shut at 10pm gave a four-point lead to Remain – but while conducted on the day, that was far from a conventional exit poll and subject to a similar set of accuracy issues as most polls.
The first major results to come in, from Newcastle and Sunderland, have showed much stronger performances for Leave than experts predicted.
EU referendum - in pictures

Show all 18
An hour ahead and with a small population, Gibraltar announced its result first shortly before midnight, giving a big lead to Remain – as was expected from a territory positioned on the other side of the EU.
European Council president Donald Tusk said there was "no way of predicting all the political consequences of this event, especially for the UK" and called for calm.
"It is a historic moment but for sure not a moment for hysterical reactions," he said.
Join our new commenting forum
Join thought-provoking conversations, follow other Independent readers and see their replies