EU referendum: Britain's future in the balance as top pollster says Brexit camp is 'just winning'
Count underway in historic referendum on Britain's future
Oliver Wright
Political Editor
Friday 24 June 2016 01:55 Comments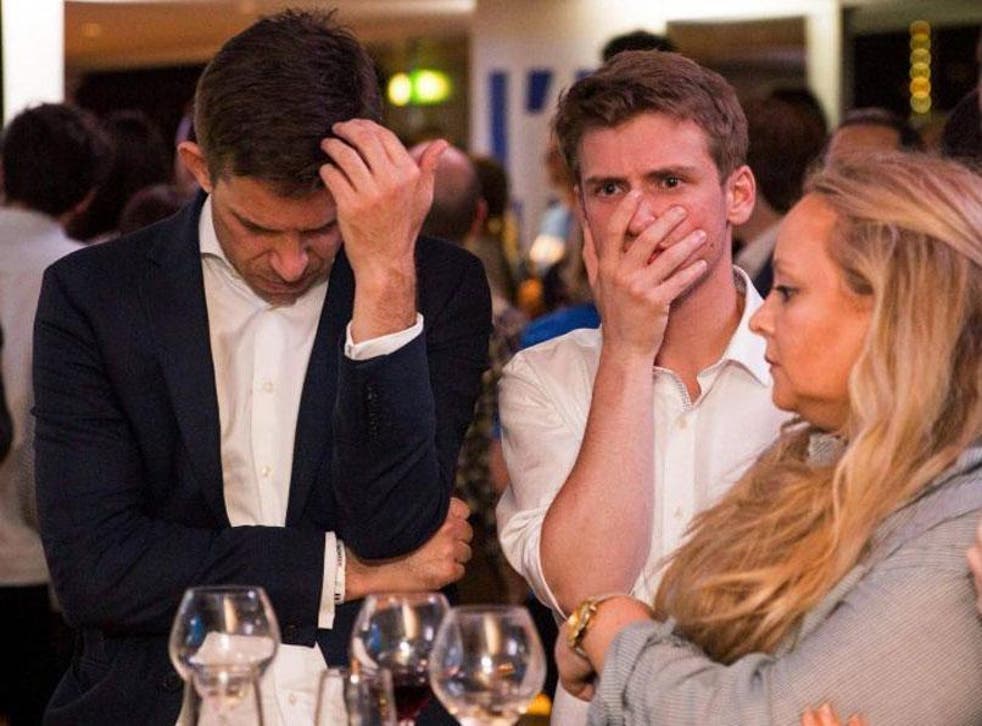 Britain could be on the verge of pulling out of the European Union after a surge in support for Brexit confounded pollsters and led to the sharpest one-day drop in the pound since the global financial crisis.
In early results the Leave campaign outperformed expectations across the country and in particular the North-east. In areas where Remain were expected to do well their margin of victory was smaller than expected.
The polling expert Professor John Curtice said that from the early results it appeared that the Leave campaign had the edge. He would not predict the result but added that based on his forecaster leave was outperforming while remain was so far doing less well than it should if it was going to win.
"We are looking at a close referendum", Professor Curtice said. "Probably at the moment the LEave side are a bit more the favourites in this referendum than the Remain side."
With 86 out of 382 local authority areas declared the Remain campaign was narrowly in the lead with 50.3 per cent of votes cast to 49.7 per cent for leave.
Follow the latest live updates on the EU referendum
Follow our live interactive results tracker
But based on predictions of the areas to declare so far, the Leave campaign appears to have the upper hand.
Bookmakers responded by slashing the odds of Brexit while the pound fell sharply against all other major currencies.
Among the first areas to declare was Sunderland – which Leave won by 22 per cent while Newcastle voted for Remain by a margin of 1 per cent – much tighter than predicted. There were also Leave wins in Swindon and Broxbourne.
How the EU referendum result unfolded
There was better news for Remain in London, Glasgow and Oxford – but polling experts warned this might not be enough to off set worse than expected results elsewhere.
If Britain does vote to leave it would confound a string of polls yesterday suggesting a comfortable win for remain.
A YouGov poll of 5000 people released at ten pm put Remain on 52 per cent (up one per cent on its last poll) and Leave on 48 (down one). An internal poll carried out by the campaign group Leave.EU of 10,000 people over the last 48 hours suggested the same headline result.
Senior Labour figures including Ed Miliband and Yvette Cooper suggested that the scale of support for Leave was fuelled by discontent with the way the country was heading on issues like wages, jobs and opportunities for the young.
"It's a nation divided and the PM will have a big responsibility - particularly if it's a Remain win - to show he understands what people are saying on the Leave side of the argument," said former Labour leader Mr Miliband.
"Labour faces that responsibility too. As far as Labour voters are concerned, there are two issues. There is obviously immigration, but beneath that there is a whole set of issues about people's lives and the fact that they don't feel politics is listening to them.
Lib Dem former Cabinet minister Sir Vince Cable said Mr Cameron's authority would be completely gone in Britain did vote for Brexit and he would have to stand down.
He described holding the referendum as a "very bad call" by the Prime Minister, who failed to understand what happens "when you just throw the cards in the air".
Shadow chancellor John McDonnell told BBC News that if it was a leave vote the Bank of England would have to intervene to prop up the pound.
"Chancellors and shadow chancellors can't comment on sterling but what we can do is have a mature approach to this and say whatever the outcome, we will negotiate the best deal we possible can with regard to our trading partners in Europe and in that way we might give some assurances to the market," he said.
In an attempt to unify the Tory party after the bruising and divisive campaign a letter was released after the polls closed signed by more than 80 Eurosceptic Tory MPs – including every Cabinet minister who voted Leave urging David Cameron to remain as Prime Minister regardless of the referendum result.
Andy Coulson: Cameron is safe
The letter stated: "We who are supporters of Vote Leave and members of the Conservative Party thank you for giving the British people a choice of their destiny on 23 June.
"We believe that whatever the British people decide you have both a mandate and a duty to continue leading the nation implementing our 2015 manifesto."
The leave campaigner and cabinet minister Chris Grayling said: "It's really important now that the Conservative Party unites and gets on with the job of governing the country.
"It has been a robust debate on a subject that both sides feel passionate about but we are facing a labour opposition that is more left wing and more extreme than any other in my lifetime. We must make sure that they don't get anywhere near power because of divisions in our ranks.
"There is a very strong view amongst conservative MPs that we need to move on and unite behind David Cameron."
There is unlikely to be a final declaration of the result much before breakfast time.
Register for free to continue reading
Registration is a free and easy way to support our truly independent journalism
By registering, you will also enjoy limited access to Premium articles, exclusive newsletters, commenting, and virtual events with our leading journalists
Already have an account? sign in
Join our new commenting forum
Join thought-provoking conversations, follow other Independent readers and see their replies