Europe poll pledge gives PM 5-point 'bounce'
David Cameron's referendum promise narrows the Labour lead to six points, down from 11 last month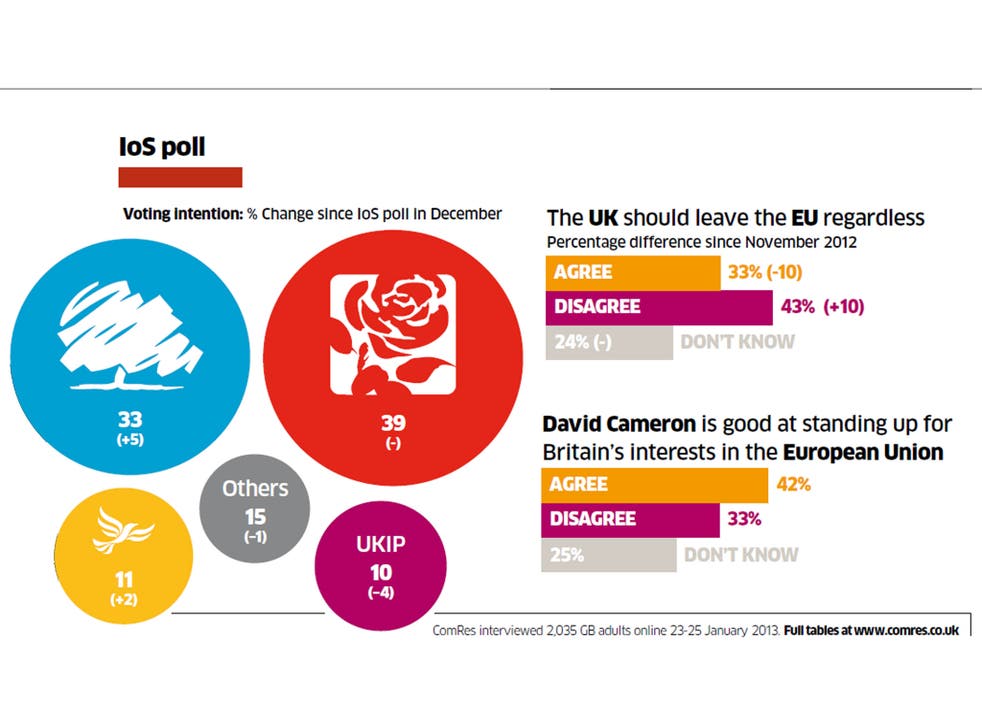 David Cameron's pledge to give Britain a referendum on Europe has given him a five-point "Brussels bounce" in a poll for The Independent on Sunday today.
The Conservatives have narrowed Labour's lead to six points, down from an 11-point gap last month, in the first comprehensive survey of public opinion since the Prime Minister's speech on Wednesday.
But the ComRes poll shows the Tories, up five points to 33 per cent, have taken votes directly from Ukip, who are down four points, while Labour has remained on 39 per cent. The poll shows 43 per cent would vote to leave the EU, compared to 31 per cent who want to stay.
But it is likely that Friday's GDP figures, showing Britain is on course for a triple-dip recession, will send the Tory poll rating falling again.
The poll comes as the Shadow Chancellor, Ed Balls, exposes the differences of view on Europe among those at the top of the Labour Party. In an interview with The IoS, Mr Balls said: "I'm not going to say no to a referendum at all." In the Commons last week, Ed Miliband said his party's position was "we don't want an in-out referendum", although this was later clarified that Labour would not say "never" to a public vote. Mr Cameron's referendum promise is also causing a rift inside the Lib Dems, with a senior figure telling The IoS that Nick Clegg's comments – that it wouldn't prevent a fresh Tory-Lib Dem coalition in 2015 – "wouldn't wash" with party members.
Today's poll shows the Lib Dems are up two points on 11 per cent. Ukip are on 10 per cent after reaching a high of 14 per cent a month ago. While Labour's six-point lead would leave them with a majority of 74 at the next election, the poll shows the effect of Mr Cameron's referendum pitch on voters. The PM's personal rating has also risen to its highest since June 2011, although still in negative figures: -14 per cent compared to -25 per cent last month.
A small proportion think if Mr Miliband were PM he would stand up for Britain's interests in Europe, including just half of Labour voters.
A substantial majority – 57 per cent – think that if some EU powers cannot be restored to the UK, Britain should leave. This figure is barely unchanged since November, when 58 per cent said the UK should withdraw from Europe unless there was reform. Some 21 per cent disagree and 21 per cent do not know. However, only a third of people believe Britain should leave the EU regardless, down from 43 per cent in November. Some 43 per cent disagree with this statement today.
A total of 38 per cent believe leaving the EU would be bad for the British economy, while 36 per cent disagree, and 43 per cent say Mr Cameron's referendum pledge will cause Britain "years of uncertainty".
In his interview, Mr Balls said Mr Cameron's Europe speech was not in the national interest but for internal Tory party reasons. But he added: "I'm totally for reforming Europe, if David Cameron in the next year or two can deliver progress and reform, that's a good thing; when he says he wants Britain to stay in a reformed Europe, then I agree with that as well." He said: "I'm not saying no to a referendum at all. If there's treaty change in the next Parliament, there should be a referendum.
Register for free to continue reading
Registration is a free and easy way to support our truly independent journalism
By registering, you will also enjoy limited access to Premium articles, exclusive newsletters, commenting, and virtual events with our leading journalists
Already have an account? sign in
Register for free to continue reading
Registration is a free and easy way to support our truly independent journalism
By registering, you will also enjoy limited access to Premium articles, exclusive newsletters, commenting, and virtual events with our leading journalists
Already have an account? sign in
Join our new commenting forum
Join thought-provoking conversations, follow other Independent readers and see their replies