European Commission's Jose Manuel Barroso backs David Cameron's call to slash EU red tape
Commission president Jose Manuel Barroso agreed that more should be done to bring in "common-sense regulation"
Geoff Meade
Saturday 26 October 2013 08:31 Comments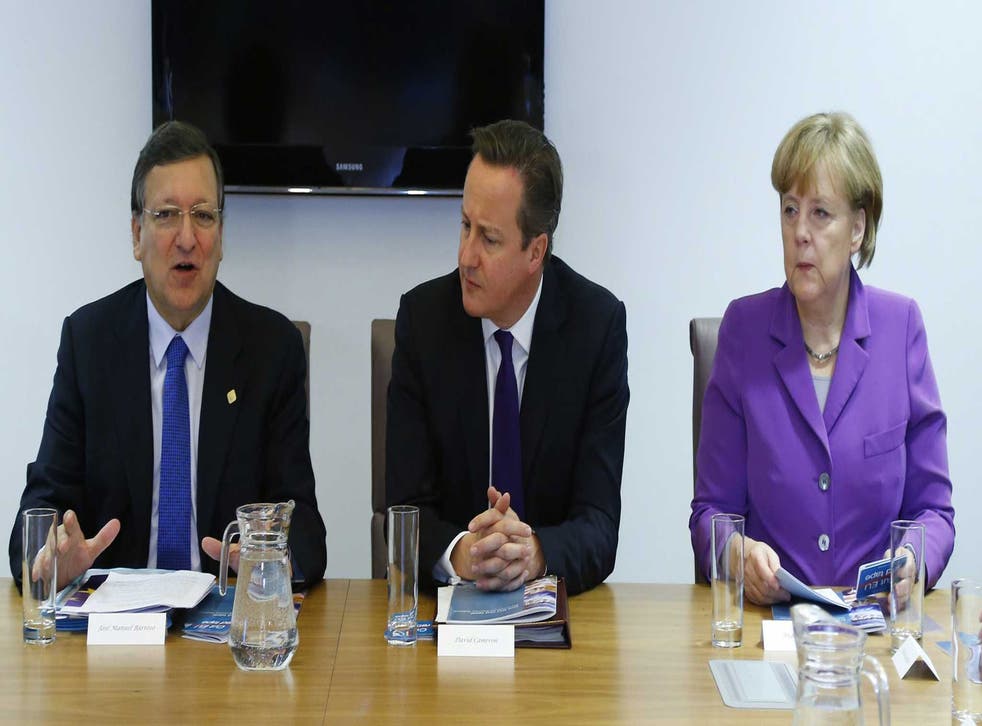 The European Commission has backed David Cameron's call to slash more red tape which is hampering businesses across the EU.
In a display of unity, the Prime Minister and Commission president Jose Manuel Barroso jointly chaired talks with seven EU leaders on the sidelines of a summit in Brussels, with Mr Cameron acknowledging the Commission's "excellent job" so far in repealing nearly 6,000 pieces of EU legislation since 2005.
In return, Mr Barroso agreed that more should be done to bring in "lighter, simpler, cheaper, common-sense regulation".
He insisted that EU action often meant replacing 28 different sets of national regulation with one set of rules for the whole union, something he said businesses needed in areas such as the single market and the growing digital agenda.
But he accepted that, without lowering standards of consumer protection, health and safety and environmental concerns, there were other areas where it was necessary to reduce the bureaucratic burden.
"That is why we have to slash red tape," he said.
The two men showed a united front at a private meeting with German Chancellor Angela Merkel and the prime ministers of Poland, Finland, Sweden, the Netherlands, Italy and Estonia. All are seen as close allies in the anti-red tape drive.
Also present were Marks & Spencer chief executive Mark Bolland and technology entrepreneur and "angel investor" Dale Murray - members of Mr Cameron's business taskforce team which recently delivered a report making the case for light-touch regulation and suggesting 30 recommendations to reduce companies' costs. The report said that relaxing rules on health and safety alone would save more than £2 billion across Europe.
The Prime Minister told the gathering that businesses now wanted more deregulation to cut costs and bureaucracy "to enable them to compete and succeed".
He added: "The Commission has done an excellent job in lifting the burden of bureaucracy. Now I want to get business engaged."
The question is whether Brussels and Britain can agree on exactly which areas now need targeting. Mr Barroso highlighted the digital agenda as an area needing common EU rules, but at the summit yesterday Mr Cameron singled out Commission plans for tighter data protection laws as an example of something threatening disproportionate additional costs, particularly on small firms.
The Commission insists it is sticking to a timetable of April 2014 to bring in the tougher data protection rules, and Britain has no veto.
Today the emphasis was on back-slapping and harmony, with Mr Barroso quoting French philosopher Montesquieu's dictum that "Useless laws weaken necessary laws".
But officials acknowledged that there are bound to be disputes in future between the two men over which EU laws qualify as "useless".
PA
Register for free to continue reading
Registration is a free and easy way to support our truly independent journalism
By registering, you will also enjoy limited access to Premium articles, exclusive newsletters, commenting, and virtual events with our leading journalists
Already have an account? sign in
Join our new commenting forum
Join thought-provoking conversations, follow other Independent readers and see their replies