European election results 2014: BNP leader Nick Griffin loses seat
Joe Churcher
,
Pat Hurst Comments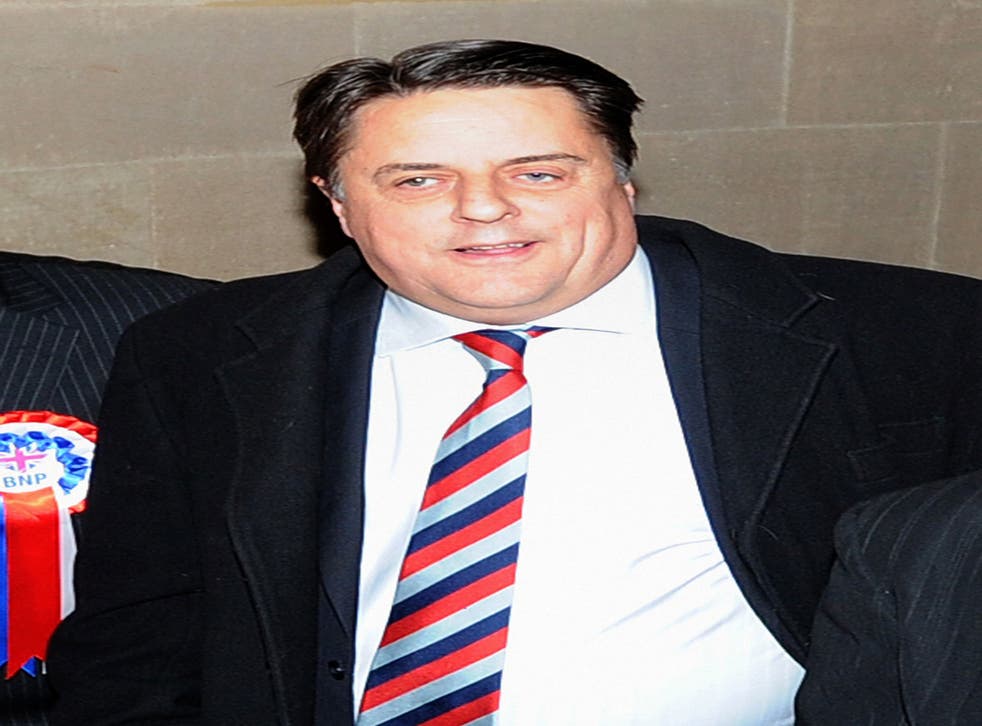 British National Party leader Nick Griffin has been ousted as an MEP - but said Ukip supporters were racists who would turn back to his party when they realised Nigel Farage would not "send them all home".
Mr Griffin was abandoned by voters in the North West four years after the BNP won two seats in the European Parliament - which was swiftly followed by a period of turmoil within the party.
After six months on taxpayer-funded severance pay, he said he intended to campaign in the region - partly by setting up food banks exclusively for "our people".
"I've lost count of the number I've spoken to who say, 'We really like the BNP but we are voting Ukip because there is more chance they will stop immigration and send them all home'," he told Sky News.
"As there is not a hope in hell of that, people are going to be very disappointed when they find out what Ukip really stands for and that huge vote is going to come back to us.
"Most of the voters are what the liberal elite call 'racist' - they want immigration stopped for good, the whole lot of them. They think they are going to get that with Ukip. They are not."
Scuffles broke out as Mr Griffin arrived at Manchester Town Hall for the count.
Protesters screaming, "Nazi scum" surrounded his car and dozens of police officers struggled to keep them separated from Mr Griffin and a handful of his supporters.
He had to duck placards hurled at him and dodge attackers who broke through police barriers, with officers rugby tackling some of them, before Mr Griffin was taken into the safety of the town hall.
Out of breath and breathing heavily, Mr Griffin said his reception at the town hall was "fairly typical".
Andrew Brons, who was elected for the BNP in Yorkshire and the Humber in 2009 but quit the party two years later, also lost his seat.
Admitting his party would be described as "racist", he said: "Ukip want to keep in white Poles but let in huge numbers of Pakistanis and Africans. That is a huge difference."
Asked what he would do next, Mr Griffin, who was declared bankrupt in January, said: "Well unfortunately for the British taxpayer, outgoing MEPs still get paid for another six months."
The BNP now had enough money again to pay him to campaign, he said.
Asked whether the food banks would be open to black and Asian people, he said: "Our food banks are there for our own people. Do you know how many charities there are for the English in Britain? Just one.
"There are thousands for immigrants so I think their own charities can look after them, there are mosques that can look after them, I'm sure Labour councils will look after them."
Mr Griffin departed with a warning that the "people are waking up" as other anti-immigrant groups scored victories across the EU.
He declared that the victory of the Front National in France was "good news" and drew a comparison with the rise of Ukip in Britain.
"While Front National is nearly as soft as Ukip, such votes show the people are waking up. Real change will follow," he said.
Register for free to continue reading
Registration is a free and easy way to support our truly independent journalism
By registering, you will also enjoy limited access to Premium articles, exclusive newsletters, commenting, and virtual events with our leading journalists
Already have an account? sign in
Join our new commenting forum
Join thought-provoking conversations, follow other Independent readers and see their replies