Conservatives and Labour suffer huge loses in EU elections
European election results: Conservatives and Labour hit hard as Brexit Party dominates
Tories suffer worst national election result in history, while Jeremy Corbyn's allies push for second referendum
The Conservatives and Labour both took a beating last night, with voters deserting them at the EU elections as punishment for their increasingly untenable positions on Brexit.
The Tories sank to fifth place, behind the Green Party, in a humiliating result that left them on a 9.1 per cent vote share and nursing the worst nation-wide election result in their 185-year history. Labour was pulled into third behind the Liberal Democrats, as shadow cabinet allies piled pressure on Jeremy Corbyn to back a Final Say referendum.
As the news of the lost seats rolled in, Mr Corbyn said his party would "reflect on these results", but stopped short of committing to another referendum. The shadow foreign secretary Emily Thornberry said her party had taken a "kicking" and should promise a referendum and campaign to stop Brexit.
Nigel Farage's Brexit Party landed a convincing victory, taking over the Eurosceptic mantle of Ukip, which had won the 2014 elections. Winning at least 28 seats, the Brexit Party took 32 per cent of the national vote share and topped the poll in nine of the 10 regions declared.
Across Europe established parties of the centre-left and centre-right also lost out to insurgents, with Green parties making major gains in countries such as Germany, France and Belgium, amid a backdrop of surging climate activism. In France, the far-right National Rally beat Emmanuel Macron's centrist outfit.
European election 2019 UK results

Show all 9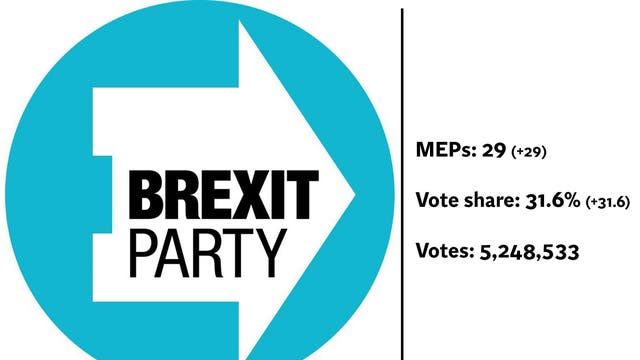 Mr Farage claimed his party's victory was a mandate for a no-deal Brexit and demanded input on the UK's negotiations with Brussels. He issued a warning: "If we don't leave on October 31 then the scores you have seen for the Brexit Party today will be repeated in a general election, and we are getting ready for it."
But the established parties faced pressure on both their Leave and Remain flanks. In Islington, the home turf of Mr Corbyn, Labour was down over 21 percentage points and fell behind the Liberal Democrats in an unprecedented result.
The outgoing Liberal Democrat leader Vince Cable said his party's "clear, honest, unambiguous message" has won them their best ever European election showing – in second place with 15 seats across England and Wales compared to Labour's 10. The Lib Dems took 20 per cent of the national vote share compared with Labour on just 14 per cent.
"We have shown ourselves as the strongest Remain force in British politics. Thank you to everyone who put their faith in us. We will stand up for you and keep campaigning to stop Brexit," Mr Cable said.
The Green Party, which also backs a referendum, was snapping at Labour's heels with seven seats and 12 per cent of the vote, while the Tories were far behind with just three seats, having lost 16 compared with the 2014 result. At the time, the polling five years ago was the Conservatives' worst nation-wide election result since the party's founding, only to be replaced by tonight's showing.
The Brexit Party was the runaway winner with 28 seats across England and Wales. Northern Irish and Scottish seats will be declared on Monday because Northern Ireland and the Scottish isles do not count votes on Sundays.
Tory leadership hopeful Jeremy Hunt called the result "painful" and warned there was an "existential risk to our party unless we now come together and get Brexit done".
Prominent Brexiteer and MEP Mr Hannan, who retained his South East seat, has also responded to the result, said it was "without question our worst result as a party ever."
Ms Thornberry was among the Labour figures picking over their party's losses. She said: "We should have said quite simply that any deal that comes out of this government should be put to a confirmatory referendum, and that Remain should be on the ballot paper, and that Labour would campaign to remain.
"I think that we will after these elections need to look very carefully at why it is that we got this result. Members of the NEC... will need to be listening carefully to the membership and learning from that."
Earlier in the day Shami Chakrabarti, Mr Corbyn's shadow attorney general, warned that it was "past midnight" and time for Labour to back a Final Say.
Responding to the result, Mr Corbyn himself said: "After three years of Tory failure to deliver a Brexit that works for the whole country, these elections became a proxy second referendum.
"With the Conservatives disintegrating and unable to govern, and parliament deadlocked, this issue will have to go back to the people, whether through a general election or a public vote. Labour will bring our divided country together so we can end austerity and tackle inequality.
"Over the coming days we will have conversations across our party and movement, and reflect on these results on both sides of the Brexit divide.
"We will not let the continuing chaos in the Conservative Party push our country into a no-deal exit from the EU. Parliament can and will prevent such a damaging outcome for jobs and industry in the UK."
Labour has voted for a second referendum in parliament twice, but the party says it is not its first choice – and that it only backs one if it cannot secure a softer Brexit or a general election.
The Conservative party is facing a tumultuous leadership contest – with the widespread assumption being that whoever replaces Theresa May will end up being a harder Brexiteer more open to leaving the EU without a deal.
Across Europe the centre-right European People's Party (EPP) preserved its status as largest group in the parliament, followed by the socialists (S&D).
There were substantial gains for the liberal and green groups at the expense of EPP and S&D, with the two buoyant outfits likely to act as kingmakers in choosing the next European Commission president. EU leaders are set to meet in Brussels on Tuesday to discuss who should get the top job and replace Jean-Claude Juncker; their choice will need the approval of the European Parliament.
Join our new commenting forum
Join thought-provoking conversations, follow other Independent readers and see their replies