European elections: Lib Dems pull ahead of Labour in YouGov poll but Farage's Brexit Party remains top
Vince Cable: Lib Dems are now "the only serious challenger" to Farage's party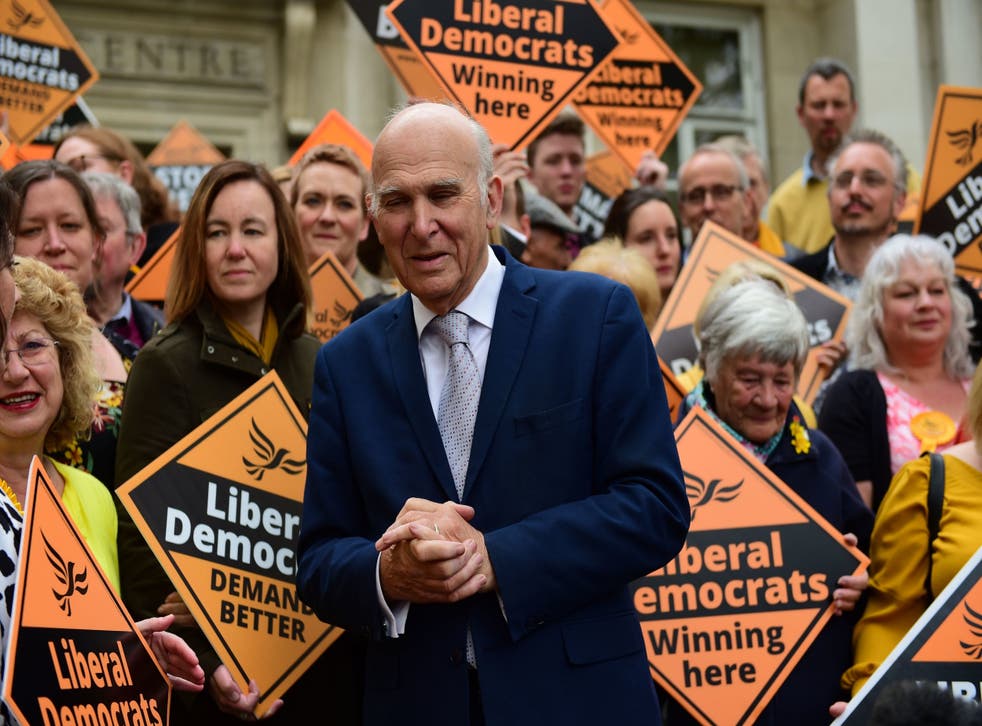 Sir Vince Cable has said Liberal Democrats are now the "only serious challenger" to Nigel Farage's Brexit Party in the European election, after they pulled ahead of Labour in the polls for the first time.
The YouGov survey for The Times put Theresa May's Conservatives on single figures at 9 per cent – in fifth place behind the Greens - as the Government continues to haemorrhage support to Farage's new party.
The survey suggests that the Lib Dems' uncompromising support for a Final Say referendum on Brexit has allowed them to poach votes from Jeremy Corbyn's Labour.
Sir Vince has appealed to Remain voters to unite behind his party in the May 23 election rather than split the anti-Brexit vote between Labour, Change UK and the Greens.
He told The Independent: "It's now clear we are the only serious challenger to Nigel Farage's Brexit party. We can give them a run for their money if the other Remain voters get behind us."
The YouGov poll of 7,192 voters put Lib Dems on 16 per cent - up one point on the previous week – ahead of Labour on 15 per cent (down one).
Nigel Farage dodges questions surrounding funding from Arron Banks
The Brexit Party maintained its comfortable lead on 35 per cent (up one), while Tories slumped to 9 per cent (down one) and fell behind the Greens on 10 per cent (up one).
Change UK had 5 per cent support and Ukip 3 per cent – both unchanged on the week before – in the poll of 7,192 votes taken between Sunday and Thursday this week.
Register for free to continue reading
Registration is a free and easy way to support our truly independent journalism
By registering, you will also enjoy limited access to Premium articles, exclusive newsletters, commenting, and virtual events with our leading journalists
Already have an account? sign in
Register for free to continue reading
Registration is a free and easy way to support our truly independent journalism
By registering, you will also enjoy limited access to Premium articles, exclusive newsletters, commenting, and virtual events with our leading journalists
Already have an account? sign in
Join our new commenting forum
Join thought-provoking conversations, follow other Independent readers and see their replies