Tommy Robinson loses European elections prompting laughter-
Resounding defeats for Tommy Robinson and Ukip as UK overwhelmingly rejects far right in European elections
Robinson says he does not 'trust the result' after running campaign with no manifesto
British voters overwhelmingly rejected the far right in the EU elections, despite concern that anger over Brexit, terror fears and low turnout could gift extremists seats in the European parliament.
While nationalists were victorious in Italy and France and populist groups saw gains in other parts of Europe, Tommy Robinson and Ukip suffered dismal results.
Robinson lost his £5,000 deposit after receiving just 2 per cent of the vote in North West England, blaming his removal from social media sites and "conspiring" media for the defeat.
The English Defence League founder, who could be jailed in a fresh court case, had been doused with milkshakes and his appearances sparked brawls during a chaotic tour of town centres and housing estates.
Robinson, who hails from Luton and claims to have never voted himself, targeted areas with high social deprivation and low political engagement.
European election 2019 UK results

Show all 9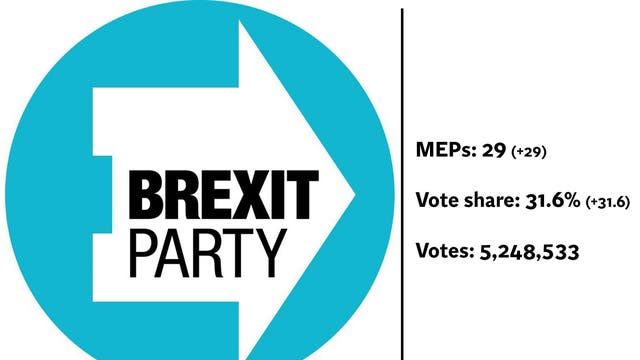 "I'm going to be your MEP," he had told counter-protesters, laughing. "I'm going to come knocking on your door when I'm your MEP."
His campaign's core slogan urged people to vote for Robinson to "take our country back" and "send them a message they'll never forget".
Robinson variously portrayed "them" as Westminster politicians, mainstream media, established parties and "elites".
In rallies he condemned serving politicians as "traitors" and urged his supporters to "wipe the smiles off their faces", adding: "Our country is disappearing, our culture is disappearing."
Thousands of people attended his campaign events but Robinson secured less than 39,000 votes, despite issuing instructions on how to register and get to the polls.
A letter on his campaign website claimed he would represent the working class by cutting immigration, "taking back national sovereignty" and "fighting to preserve our national identity against Islamification".
But Robinson had no manifesto and offered no explanation of how being an MEP – for as little as five months before Britain leaves the EU – would achieve any of his stated aims.
Ukip candidate Carl Benjamin, also known as his YouTube name Sargon of Akkad, was also hit with milkshakes (and fish) on the campaign trail.
His policies were overshadowed by controversy over rape "jokes" he directed at Labour MP Jess Phillips, for which he refused to apologise.
UKIP's Carl Benjamin says he has had kippers and milkshakes thrown over him because the media is "radicalising people by lying about me"
Mr Benjamin appeared with right-wing provocateur Milo Yiannopoulos, who has been condemned for his remarks on subjects including feminism, paedophilia, trans people, race and religion, and has called for journalists to be shot.
He failed to win a seat in South West England, where Ukip won just 3 per cent of votes.
Party leader Gerard Batten lost his own London seat, which he had held since 2004, after Ukip plummeted to seventh place in the capital and ninth nationally.
Mr Batten, who has repeatedly called Islam a "death cult" and labelled the prophet Muhammed a "paedophile", sparked an exodus from Ukip last year over his shift to the far right.
He hired Robinson as an adviser on grooming gangs and brought in Mr Benjamin and fellow YouTuber Mark Meechan, who was prosecuted over a video showing a pug appearing to perform Nazi salutes in response to slogans including "gas the Jews".
A wave of resignations culminated in Nigel Farage leaving Ukip in December, going on to create the Brexit Party and effectively wiping out his former group.
Despite longstanding accusations that Mr Farage had capitalised on xenophobia and racism with stunts including the 2016 "breaking point" poster, he cultivated a more moderate image for his new party.
He accused Mr Batten of being "obsessed with the issue of Islam" in December, adding: "The brand has now been so damaged, so tarnished, that it is not able to pick up and won't be able to pick up the political opportunity that is there staring it in the face."
Sunday night's election results appeared to prove him right. Ukip polled just 3.3 per cent of votes in the UK, losing all of its European parliament seats just five years after topping the polls in 2014.
Meanwhile the Brexit Party, with an array of candidates including former Tory minister Ann Widdecombe, won 32 per cent of the vote and will send 28 MEPs to Brussels.
The Liberal Democrats came second with 20 per cent of votes and 15 MEPs, Labour third with 14 per cent and 10 MEPs, the Greens fourth with 21 per cent and seven MEPs, followed by the Conservatives with 9 per cent and three MEPs and Plaid Cymru with one MEP.
The Liberal Democrats, Greens and Change UK – who all campaigned for remaining in the EU – together secured 35 per cent of the vote.
There was silence from Mr Batten on Monday morning, while Ukip's official social media accounts posted a short statement saying: "It's time for reflection and planning and figuring out how we can all best serve our country."
It was unclear whether the party would ditch Robinson, Mr Benjamin and Mr Meechan in an attempt to recover a less extreme reputation.
Defectors told The Independent that Ukip had already been turned into an "anti-Islamic party" and said the membership had "changed dramatically in character and style".
Mr Batten defended Robinson's appointment, but in December admitted: "I do wonder if I made a wise decision, but I've asked him to do this for us and what he can bring to the table is access to a million Facebook followers."
That access was taken away when Facebook deleted Robinson's account and permanently banned him from the site earlier this year.
The anti-Islam activist has also been banned by Twitter, Snapchat and had his personal YouTube channel restricted.
After storming out of the election count on Sunday night, he blamed his lack of mainstream social media accounts for his defeat and suggested a wider conspiracy.
"That's the power they have and there's only one answer to it – to carry on fighting," Robinson said.
"Am I happy with the results? No. Do I trust any of the results? No. Do I trust anything to do with it? The media all working together and conspiring together."
Many of Robinson's followers on the encrypted messaging app Telegram called the vote a "fix" and suggested the count had been "tampered with".
The English Democrats, a nationalist party with far-right links, won just 0.6 per cent of the UK vote after unsuccessfully contesting four regions.
The racist British National Party, whose former leader Nick Griffin was elected as an MEP from 1999 to 2014, did not contest the elections.
Sabby Dhalu, of Stand Up To Racism, said: "The failure of Ukip and Tommy Robinson in these elections shows the effectiveness of exposing and confronting the far-right and their racist, Islamophobic and misogynistic agenda.
"The return of Nigel Farage to centre-stage is of serious concern. Stunts such as the racist 'Breaking Point' billboard, and the outrageous demand that no HIV positive migrants should be allowed into Britain were a major factor in the rise in hate crime over the last few years.
"As hatemonger-in-chief Donald Trump is set to be given a state visit, and candidates such as Boris Johnson compete for far-right votes in the Tory leadership contest, it is vital that anti-racists redouble our efforts to challenge and turn back the continued rise in racism."
Join our new commenting forum
Join thought-provoking conversations, follow other Independent readers and see their replies