MP Brandon Lewis says EU citizens should go back to 'home countries' to vote in European Parliamentary election
European elections: Government faces legal challenge amid fears millions of EU citizens could lose right to vote
Exclusive: Citizens say they are being treated as 'an afterthought' by the government
The government is facing a legal challenge over its preparations for the upcoming European parliament elections amid fears that millions of EU citizens in the UK could be deprived of their vote.
Under current rules, EU citizens must register to vote and also sign a special form stating that they are not also voting in any other EU country, known as a "UC1", by 7 May.
But chaos surrounding the date of the UK's departure from the EU means the form was only sent to 2 million European nationals on the electoral register a few weeks before the deadline – instead of the usual four-month period.
A leading organisation, representing EU citizens in the UK, has urged ministers to take immediate action to remedy the situation – or face potential legal action.
Roger Casale, secretary general of the New Europeans, said: "Because of the very tight timetable, we would urge the government to allow those EU citizens on the electoral roll, who miss the current 7 May deadline, to fill in the required UC1 declaration forms when they arrive at their local polling stations on 23 May."
Opposing protesters flock to parliament on would be date of Brexit

Show all 30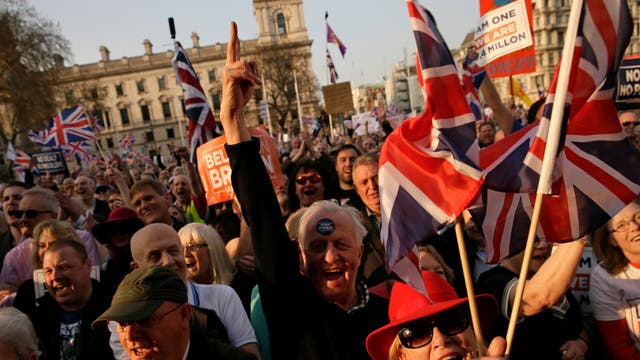 He said: "We hope that the government will rapidly see the wisdom of taking these actions – and that it will not be necessary for us to consider seeking judicial review to ensure that people are able to fully participate in the democratic process.
"But if the government does not take rapid remedial action, we will of course have to consider taking legal action."
Maike Bohn, a co-founder of EU citizens group the3million, said they were being treated as "an afterthought" by the government.
She told The Independent: "I find it really disappointing that the UK makes it so hard for EU citizens to register and to kind of blame Brexit.
"I just think it is an afterthought and I think it's very problematic that so many millions of people still have no voice in their home country."
Ms Bohn, a German citizen who has lived in the UK for 25 years, added: "We do become voiceless. In a country where we pay taxes, I do think that's really problematic.
"It also is very telling about how removed the EU is from the mind of British politicians."
The issue was raised in the Commons by Labour MP Catherine West who expressed concern the rule will "disenfranchise" EU citizens as the majority of EU registers are now closed, meaning people will be unable to vote if they don't register in the UK in time.
She said: "These unusual circumstances and the government's complete lack of action have helped create an artificial barrier to the enfranchisement of EU citizens.
"We are already hearing reports of a formal legal challenge to the government. Yet another Brexit mistake."
Ms West called for an end to "government-sanctioned barriers" to voting and demanded EU citizens be automatically registered if they had signed up to vote in local government elections on 2 May.
Cabinet office minister Brandon Lewis defended the plan in the Commons, saying: "It is important that we ensure that everyone is aware of what they can do to make sure they are able to exercise their right to vote, should that opportunity arise."
He added: "It is to ensure EU citizens do not vote twice, both here and in their EU state of origin. Obviously it is illegal to vote twice in the same election."
Support free-thinking journalism and attend Independent events
The row stems from Theresa May's insistence that Brexit would be delivered on time, which would have seen the UK leave the bloc on 29 March and removed the need for the UK to send MEPs to Brussels.
But parliament repeatedly rejected her Brexit deal, forcing the prime minister to seek a delay to the UK's departure until October.
In reality, UK participation has been a distinct possibility since December when it became increasingly clear that Ms May might not win parliamentary approval for her deal.
But the government insisted on denying that there was any possibility of UK participation and even went as far as refusing to help with contingency planning, according to the organisation representing local authority electoral officials​.
"We approached civil servants on a number of occasions to discuss key potential European parliament election registration and organisational challenges, but they were unwilling to engage with us on the subject as, in their view, there was not going to be an election in the UK, " said Laura Lock, deputy chief executive of the Association of Electoral Administrators (AEA).
The Electoral Commission gave assurances to a Commons committee in 2014 that there would be changes to the system but plans were scrapped after the Brexit vote in 2016.
It told the Political and Constitutional Affairs committee (PACAC) that it would "continue to work with the UK government, electoral registration officers and organisations representing citizens of other EU member states in the UK to identify what can be done to simplify the system and remove unnecessary administrative barriers to participation so that this problem does not affect electors at the next European parliament elections in 2019".
If the government now fails to take remedial action (by substantially extending the UC1 form completion deadline, potentially till polling day), it could lay itself open to legal challenge.
David Howarth, professor of law and public policy at the University of Cambridge, believes that the government might face legal action for not having given enough time for EU nationals to complete their UC1 declaration forms.
Any challenge "would presumably be based on Article 12 of the 1993 Directive, which requires member states to inform EU nationals of the conditions and detailed arrangements for the exercise of their right to vote 'in good time', which the government has plainly failed to do," he said.
"Doing nothing about the situation serves no legitimate purpose – or, if it does serve a legitimate purpose, the interference with the right to vote is so serious that it will be argued that it outweighs that purpose," said Professor Howarth.
Join our new commenting forum
Join thought-provoking conversations, follow other Independent readers and see their replies