Schools to be held accountable for exam results of excluded pupils, new report says
Labour warns 'most vulnerable children paying the price' for budget cuts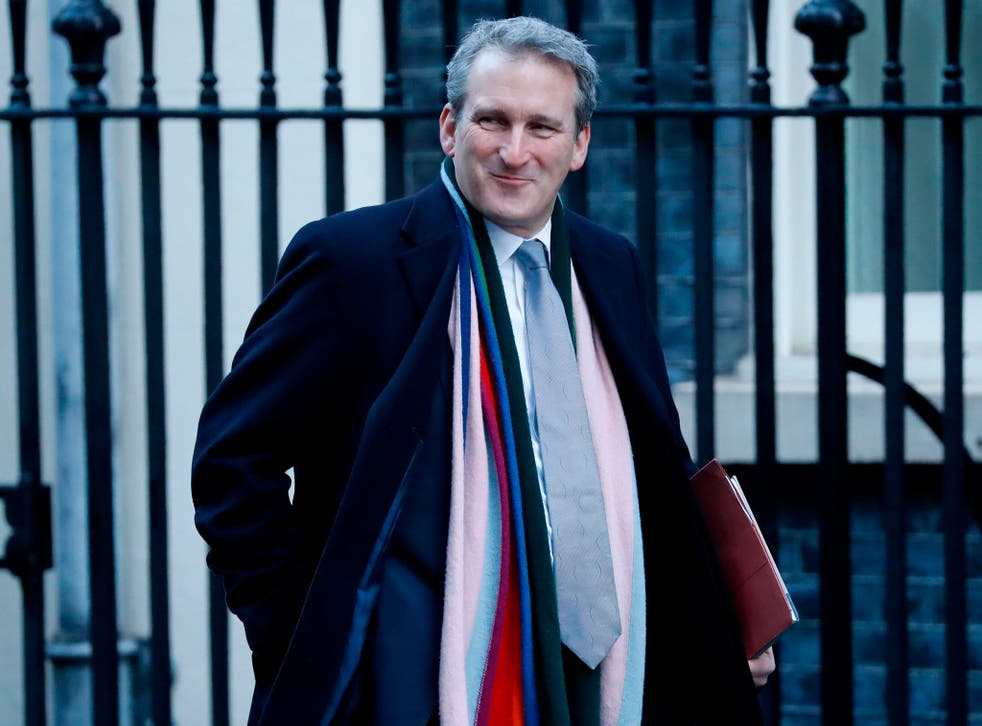 Headteachers will be accountable for the exam results of students they exclude under a government shakeup aimed at reducing school expulsions.
Damian Hinds, the education secretary, admitted the number of exclusions was too high as he endorsed a long-awaited report by former children's minister Edward Timpson into the thousands of pupils disappearing from school registers.
Mr Hinds pledged to implement dozens of recommendations from the report, which includes forcing schools to find alternative places for excluded pupils.
The move would also see excluded pupils counted in school league tables to eliminate "off-rolling", the controversial practice of removing weaker or more difficult students from the school register without formal expulsion in order to bolster results.
Permanent exclusions have risen by 40 per cent in just three years amid fears that excluded pupils are at increased risk of being drawn into knife crime.
Ahead of the launch, Mr Hinds told a media briefing: "I would like to see the level of exclusions come down.
"It it worth reiterating that the level of exclusions is lower than it was 10 years ago, but I would like to see the level of exclusions coming down further because it is better if children are not having to be excluded.
"Critically, the outcomes for kids who have been excluded and the attainment of those going through alternative placements is clearly an area to measure and be very watchful of."
The cabinet minister said headteachers must be allowed to continue to expel pupils when necessary but it must be used as a last resort.
Mr Timpson found "huge variability" in practice between different schools and local authorities.
He said: "Exclusion from school should never mean exclusion from education.
"Throughout this review I have found too much variation in the use of exclusions and too many missed opportunities for children to remain in the education that best suits their needs.
UK news in pictures

Show all 50
"Although I did see examples of schools using exclusions appropriately and effectively, there is clear room for improvement and everyone – from teachers and parents, the Department for Education and Ofsted, to local authorities and children's services - has their part to play."
Some 40 pupils were expelled each day in 2016-17, accounting for around 0.1 per cent of the 8 million children in schools in England. This is the highest figure since 2007-8 and represents a year-on-year rise since 2013-14.
The analysis found 78 per cent of permanent exclusions were issued to children who had special educational needs (SEN), or were eligible for free school meals.
Certain ethnic groups, including Bangladeshi and Indian pupils, have lower rates of exclusion than white British pupils.
Children from other ethnic groups, such as black Caribbean and mixed white pupils, experienced higher rates, after controlling for other factors.
Shadow education secretary Angela Rayner said: "After months of foot dragging, the government has finally adopted some of Labour's proposals to ensure that every child, particularly the most vulnerable, gets the education they deserve.
"But far more must be done to ensure every child can succeed. In particular, schools must be given the resources to meet the needs of all pupils, especially those with more complex needs.
"Years of Tory cuts to school budgets have left too many struggling to make ends meet and the most vulnerable children are paying the price."
Support free-thinking journalism and attend Independent events
Geoff Barton, general secretary of the Association of School and College Leaders, said he was "disappointed" that funding was not "given anywhere near enough weight" in the review.
He added: "The current level of funding is so desperately inadequate that many schools have had to cut back on support staff who provide early intervention to children with challenging behaviour.
"This makes it more difficult to prevent challenging behaviour escalating to the point of exclusion, and we believe this has fuelled the rise in the rate of exclusions in recent years."
Paul Whiteman, general secretary of the National Association of Head Teachers, said exclusion was "not a standalone problem".
He said: "Too often provision for pupils at risk of exclusion is regarded as a separate element of educational provision for a specific group of pupils, in the same way that special and specialist schools are frequently 'set aside' from the mainstream. We urgently need to change this situation.
"What is most clear is that more support for schools, rather than more sanctions, is what will make the difference for pupils at risk of exclusion."
Join our new commenting forum
Join thought-provoking conversations, follow other Independent readers and see their replies