Exclusive: 50,000 people are now facing eviction after bedroom tax
One council tenant in three has been pushed into rent arrears since April, while tens of thousands in housing association properties are also affected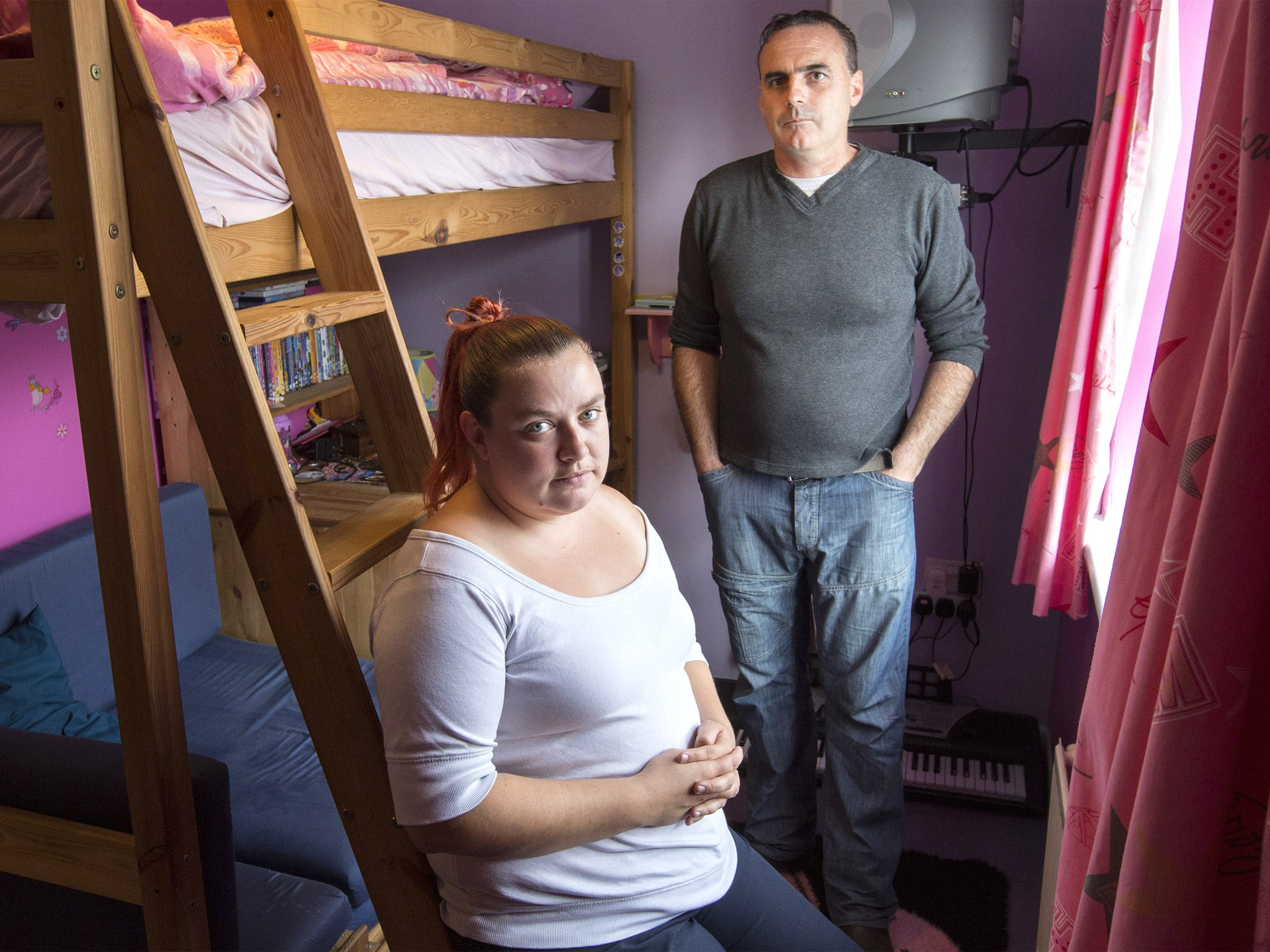 More than 50,000 people affected by the so-called bedroom tax have fallen behind on rent and face eviction, figures given to The Independent show.
The statistics reveal the scale of debt created by the Government's under-occupancy charge, as one council house tenant in three has been pushed into rent arrears since it was introduced in April.
Figures provided by 114 local authorities across Britain after Freedom of Information (FoI) requests by the campaign group False Economy show the impact of the bedroom tax over its first four months. The total number of affected council tenants across Britain is likely to be much higher than the 50,000 recorded in the sample of local authorities that responded to the FoI.
At least another 30,000 people living in housing association properties have also fallen behind on rent payments since the bedroom tax came in, with potentially tens of thousands more also affected, according to separate research by the National Housing Federation.
Barrow in Cumbria was the worst-affected area, where more than three-quarters of all council-house tenants have fallen into arrears since the bedroom tax started. In Clackmannanshire, Tamworth and South Kesteven more than half of all affected households have fallen behind on their rent since the charge was introduced.
The shadow Work and Pensions Secretary, Liam Byrne, said: "These appalling figures prove that while this government stands up for a privileged few, a debt bombshell is exploding for a generation of people.
"While the nation's millionaires get a huge tax cut, thousands more now confront arrears and eviction from which they'll never recover. This is final proof that the hated tax must be dropped now."
Responding to the figures highlighted by The Independent, Mr Byrne told the BBC that "thousands and thousands of our neighbours are being pushed into foodbanks and into the hands of loan sharks because of this vicious policy".
"The vast majority of people living in these homes are people with a disability. Hitting largely disabled people with this horrific tax and plunging them into debt - surely the message and the conclusion is very clear - we need to drop this tax, and drop it now," he said.
He asked where people should move to, highlighting research published by the Labour party earlier in the year that suggested there were not suitable alternative homes for 90 per cent of those affected by the bedroom tax.
The bedroom tax penalises tenants if they have a "spare" bedroom by reducing their housing benefit by up to 25 per cent. As emergency funds from councils dry up, experts warn the situation is expected to deteriorate further over the coming months. The latest revelations are a further blow for the policy after a judge ruled last week that those with a smaller extra room would be exempt from the charge.
A smaller survey published last night found that one household in four hit by the bedroom tax has been pushed into rent arrears for the first time. Just over half of the 63,578 tenants of 51 housing associations were unable to meet their rent payments in the first months of the new system, according to research by the National Housing Federation.
The United Nations' special rapporteur on housing Raquel Rolnik called for a rethink on the policy after finding the reform was causing "great stress and anxiety" to "very vulnerable" people.
Clifford Singer, campaign manager for False Economy, said: "Together with the raft of other benefits cuts the Government has forced through both this year and previously, the bedroom tax is driving tenants and families who were just making ends meet into arrears, and pushing those who were already struggling with the cost of living into a full-blown crisis."
Only 16 of the 114 local authorities who responded to the FoI request have a "no-eviction" policy, meaning many thousands of families risk losing their homes as a result of the bedroom tax.
The TUC general secretary, Frances O'Grady, said: "The bedroom tax is not saving money. Instead it is pushing up rent arrears which will force councils to waste more cash on evictions, debt collection and emergency support for homeless families.
A Department for Work and Pensions spokesman said: "The removal of the spare-room subsidy is a necessary reform to return fairness to housing benefit. Even after the reform we pay over 80 per cent of most claimants' housing benefit – but the taxpayer can no longer afford to pay for people to live in properties larger than they need. It is right that people contribute to these costs, just as private renters do."
Case Study
Toni Bloomfield, 25, lives in Chipping Norton, Oxfordshire, with her partner, Paul Bolton, 42, and his four children.
"I have to pay £98 extra a month since the bedroom tax came in," she said. "We've got a four-bedroom house and Paul's four children, aged between two and eight, live with us. Before the school holidays we were struggling and now we're nearly three months behind on rent.
"The children get free school meals and feeding them through the holidays was tough. Paul and I are only eating in the evenings two or three nights a week to make sure we can put enough food on the table. We're not working, but not out of choice. Trying to find a full-time job here is a nightmare."
Join our commenting forum
Join thought-provoking conversations, follow other Independent readers and see their replies