Exclusive: Beat the Big Six power companies - Coalition offers new £10m fund for DIY energy schemes
Local communities are to be offered cash to create their own renewable fuel with solar panels or wind turbines
Jane Merrick
Sunday 26 January 2014 01:01 Comments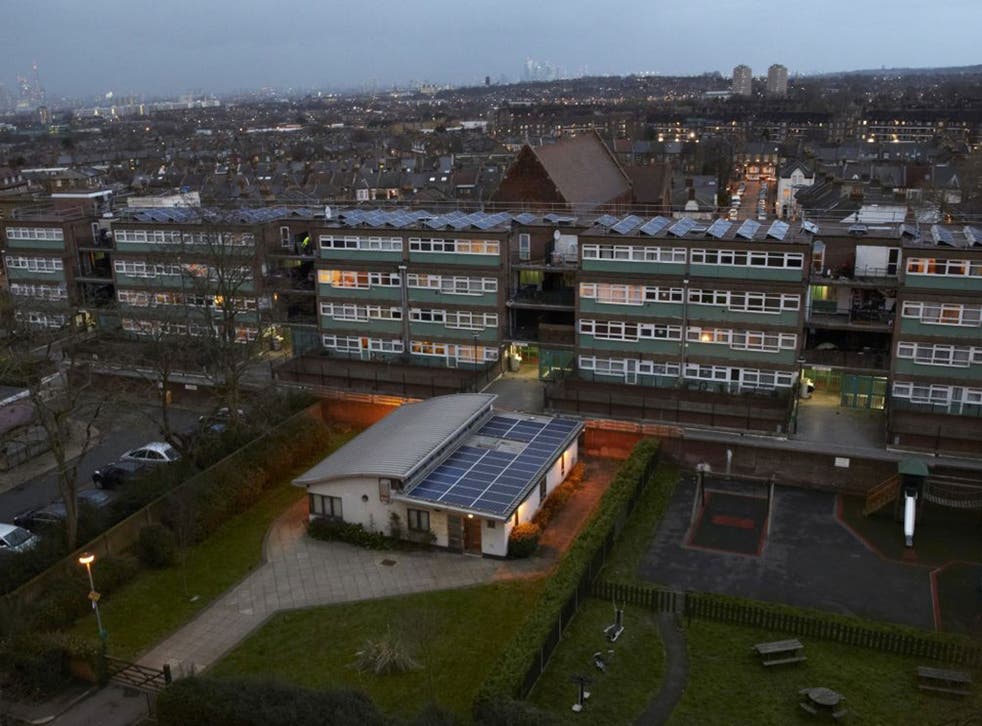 Local communities will be offered up to £150,000 each to create their own renewable energy through solar panels or wind turbines and take on the Big Six gas and electricity giants, the Government will announce tomorrow.
Ed Davey, the Climate Change Secretary, will launch a £10m Urban Community Energy Fund to kick-start projects in England that could see one million homes supplied with electricity from "home-made" generation by 2020. Neighbouring households are being encouraged to group together to apply for the funding, which could pay for solar panels, wind turbines or hydro-electric generators that could save families hundreds of pounds a year in fuel bills.
The fund is being announced as part of Britain's first Community Energy Strategy, which the sector says is a way for consumers to regain control over soaring bills. Mr Davey has also encouraged householders to use collective switching – where thousands of people can come together to change supplier on the same day, and therefore secure a cheaper deal – to stand up to the Big Six.
A survey for the Department of Energy and Climate Change found that more than 50 per cent of people said that saving money on bills would be the major motivation for getting involved with community energy schemes, while four in 10 said they were already interested in joining such a group or taking part in collective switching.
Ministers hope communities will be inspired by the success of projects like Brixton Energy Solar in south London, where local residents built solar panels on the roof of blocks of council housing and made a profit from electricity generation, with the money going back into the community.
In Cheshire, families taking part in the Ashton Hayes Going Carbon Neutral project saved £300 a year each on their fuel bills by installing energy efficiency measures.
Anger over the soaring price of fuel coupled with the vast profits accumulated by major energy suppliers has spilt over into political debate, triggering Ed Miliband's promise to freeze bills for two years if Labour wins the election.
The Climate Change Secretary said last night: "We're at the turning point in developing true community energy. The cost of energy is now a major consideration for household budgets, and I want to encourage groups of people across the country to participate in a community energy movement and take real control of their energy bills. Community-led action, such as collective switching, gives people the power to bring down bills and encourage competition within the energy market."
As part of the strategy, Mr Davey will also announce a £100,000 competition prize for communities to develop new ways to save energy and money. There will also be a "one stop shop" information centre for people interested in developing community energy projects.
Since 2008, more than 5,000 community groups have set up their own energy projects. It is hoped that the generation of electricity by communities will put pressure on major suppliers to drive down prices and cut carbon emissions. Yet ministers are realistic about how much can be generated this way, insisting that community energy is only part of a wider "energy mix". There are also concerns about planning restrictions.
The £10m Urban Community Energy Fund matches an existing pot of money for rural communities. Community groups are invited to apply for grants of up to £20,000 for feasibility work, while loans of up to £130,000 will be available to support projects, including planning applications. Mr Davey will write to councils to urge them to smooth any local planning issues.
Philip Wolfe of the Community Energy Action Programme and the Westmill Solar Co-operative, the largest community-owned solar power station in the world, said: "Community energy offers a viable, attractive and responsible channel for energy saving and delivery, alongside the existing dominant commercial providers, but has hitherto been hopelessly under-exploited in the UK compared with other countries.
"The eventual success of this initiative will depend on the Government's follow-through, and the response of those of us active in the sector. The strategy must lead to real action to overcome some of the barriers it identifies, such as the ability of community schemes to sell energy to their own members and into the broader marketplace."
Kate Gilmartin, director of My Green Investment, said: "Community energy is crucial as we move to a low carbon future. We need to look to Germany, where 46 per cent of renewable energy installations are owned by the community.
"As the number of people facing fuel poverty rises in tandem to energy price hikes, community renewable energy projects, through their community benefit funds can help bring additional resources to community led action initiatives."
Naomi Luhde-Thompson, a Friends of the Earth planning campaigner, said: "This new pot of money is a useful first step in helping more people to generate their own clean power, but more needs to be done if we are going to make community projects more than a sideshow in the UK's energy mix. Imagine whole streets and villages producing their own energy with wind and solar power, creating jobs while helping to tackle climate change – it's possible within the next few years if the Government removes the barriers."
Chris Church of the UK Low Carbon Communities Network welcomed the new strategy, but added: "At the moment, life is very tough for the innovators making this happen. We need to move beyond warm platitudes and meetings to removing the barriers to progress and we need this to happen fast."
Critics say that the Government has made life difficult, not easier, for renewable energy partnerships and, following last month's Autumn Statement, the Energy Saving Cooperative was forced to go into administration after George Osborne relaxed the Big Six Energy Company Obligation (Eco) in his war on "green taxes".
Basil Scarsella: in the spotlight again
Union leaders claim their members would have been sacked if they had done their job to the same standards as Basil Scarsella, chief executive at UK Power Networks.
Mr Scarsella was hauled in front of MPs last week to explain why 460,000 of his customers had their power disrupted by storms last month. There were 20,000 UK Power customers who had no electricity on the morning of Christmas Day, but Mr Scarsella hailed a "brilliant effort" by his staff for getting the vast majority reconnected quickly.
Gary Smith, the GMB's national secretary for energy, said "it would appear Basil's got form" on winter power problems. Mr Scarsella previously ran Northern Gas Networks which was fined £900,000 in 2011 for gas leaks during a severe winter.
Mr Scarsella left Northern in the October before the leaks, but unions argue that he would have still been responsible for that winter's contingency plans.
Mr Smith said: "If any ordinary worker was responsible for these problems, not once but possibly twice, they would be facing a gross misconduct charge, if not summary dismissal. We can only presume that Basil's coat is on a very shoogly [wobbly] nail."
A UK Power spokesman said: "Basil Scarsella formally joined UK Power Networks on 29 October, therefore before any winter disruptions due to the extreme cold in 2010/2011. Additionally, Mr Scarsella was leading the acquisition of UK Power Networks from EDF Energy from August that year."
Mark Leftly
Dear Customer, Where are you?
MPs want to force Britain's energy distribution companies to keep records for every customer, after discovering that the biggest distributor cannot contact 1.5 million – a fifth – of its eight million customers as it doesn't have their details. UK Power Networks, 460,000 of whose customers lost power for up to five days over Christmas, only has details of 6.5 million of the households it serves in East Anglia, London, Sussex, Kent and Surrey.
"It's astonishing that there is a significant number of customers they cannot contact immediately, considering that being without power is such an emergency," said Tim Yeo, the Tory MP who heads the Energy Select Committee.
"It should be mandatory that power distribution companies have a phone number for every customer so they can get in touch in case of an emergency," he said. UK Power Networks and the other distributors operate the overhead power lines and underground cables that connect households to the energy grid. The big household energy suppliers pay to use the network.
Tom Bawden
Register for free to continue reading
Registration is a free and easy way to support our truly independent journalism
By registering, you will also enjoy limited access to Premium articles, exclusive newsletters, commenting, and virtual events with our leading journalists
Already have an account? sign in
Join our new commenting forum
Join thought-provoking conversations, follow other Independent readers and see their replies