Exclusive: Ed Balls - I'm planning a proper wealth tax
Shadow Chancellor reveals surprise policy to steal Lib Dems' thunder
Andrew Grice
,
Steve Richards
Thursday 06 September 2012 14:06 Comments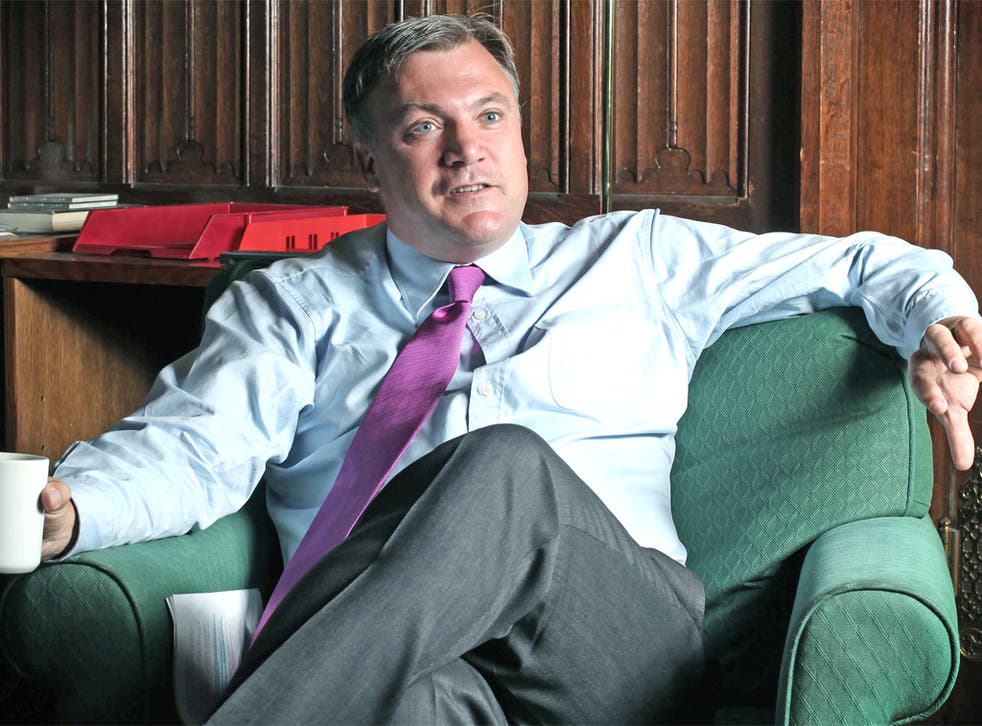 A future Labour government could bring in a wealth tax on high-value properties to safeguard the NHS and invest in the economy, the Shadow Chancellor Ed Balls reveals today.
In an interview with The Independent, Mr Balls rejected the temporary wealth tax floated by Nick Clegg last week but offered immediate talks with Vince Cable, the Liberal Democrat Business Secretary, on a new Lib-Lab consensus including his idea of a permanent mansion tax on homes worth more than £2m.
Mr Balls signalled an important move away from Labour's traditional goal of state-funded wealth "redistribution" such as Gordon Brown's flagship tax credits towards "predistribution – tackling inequality by reforming the capitalist system, which could become Labour's big idea in the age of austerity. "It's about both," said Mr Balls.
The Shadow Chancellor suggested Labour could make a long-term shift in taxation from income to wealth and green taxes. He dismissed as "not in the real world" the one-off wealth tax proposed by Mr Clegg, saying he and Ed Miliband had repeatedly looked at the idea when they worked at the Treasury.
But Mr Balls said he would be happy to discuss what he called Mr Cable's "serious" proposal for a high-value property tax. "The likes of a mansion tax need to be on the table to be looked at," he said. "I'm open to new ways of making our economy strong, which requires investment in skills and universities and making sure the NHS, one of the finest achievements of the 20th century, continues to be as strong in the coming decades."
Mr Balls also said Labour would be prepared to enter a coalition with the Lib Dems if the next election ends in a stalemate. "I don't believe coalitions are better as a matter of principle but if there's a hung parliament our duty is to find common ground. I sense Liberal Democrats are frustrated because Nick Clegg thought he had found that common ground with Cameron and Osborne in what is a right-wing government. Ed and I are both clear Nick Clegg is an obstacle, but that does not apply to Lib Dems in general at all. I feel empathy at their frustration."
The Shadow Chancellor made clear he would continue to take a tough line against Labour frontbenchers who want to make spending commitments or outline cuts. But he promised Labour would say more about its programme before the next election. "The really easy option would be to say we're ahead in the polls, the Government is doing badly on the economy, we can sit back and wait for it to fall into our hands, but that's really dangerous for us," he said.
Today Ed Miliband and Mr Balls will set out their latest thinking at a conference on economic growth staged by the Policy Network think tank. They will argue that the Government's "economic and political failure" means Labour needs "more change, not less".
Mr Miliband will say that "redistribution alone isn't enough, predistribution is key". Although tax credits helped to halve the number of children in poverty, millions are still growing up in it. "Redistribution is still necessary and will remain a key aim of the next Labour Government. But, because it is not sufficient, we need new ideas to tackle inequality," he will say.
Mr Miliband will insist the rules of the economy are not set in stone. "We did not do enough to reshape the rules of how markets worked or address what was happening to the living standards of the squeezed middle," he will say.
Register for free to continue reading
Registration is a free and easy way to support our truly independent journalism
By registering, you will also enjoy limited access to Premium articles, exclusive newsletters, commenting, and virtual events with our leading journalists
Already have an account? sign in
Join our new commenting forum
Join thought-provoking conversations, follow other Independent readers and see their replies