Exclusive: George Osborne digs himself a hole: 'Uneconomical' roads to get go-ahead
The Chancellor is determined to build a new network – that will do little to help the economy – rather than repair streets in poor condition
Jane Merrick
Saturday 04 May 2013 21:26 Comments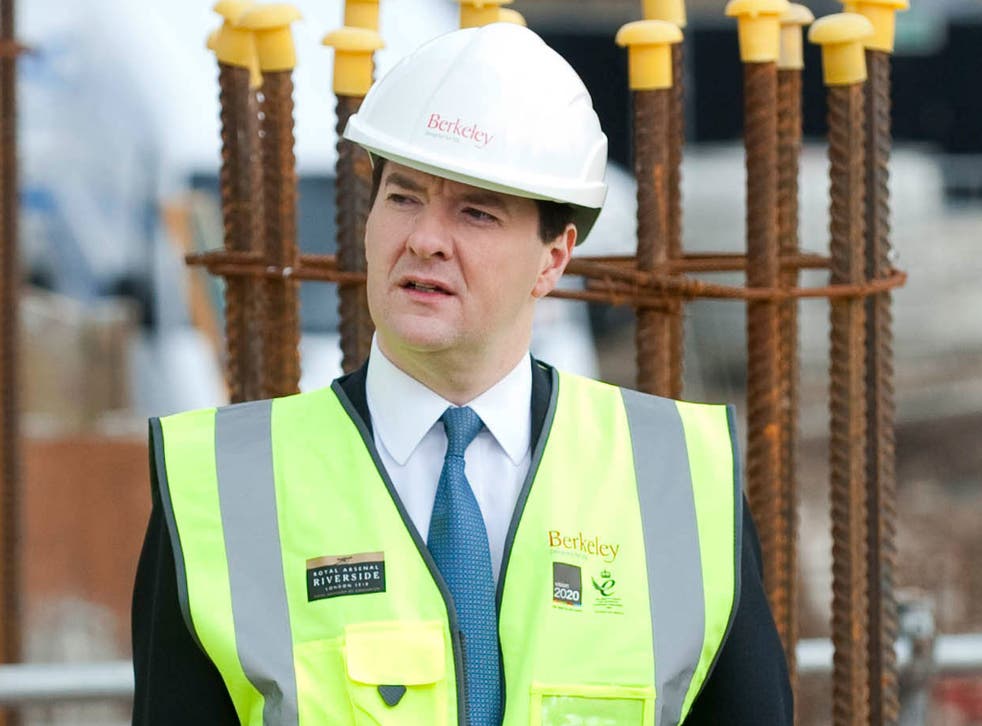 George Osborne is pushing ahead with a massive nationwide road-building programme despite high-level concerns from ministers and Department for Transport (DfT) officials that there is little evidence it will boost the economy.
The Independent on Sunday has learnt of serious doubts across Whitehall about the Chancellor's insistence that new roads are built when public money could instead be used to mend Britain's crumbling highways and local streets.
In a vivid example of how Mr Osborne's strategy is being challenged, documents revealed that he spent £57m on a controversial new road through an environmentally and archaeologically important stretch of countryside despite a warning by Transport officials that the scheme offered little value for money.
The Chancellor is preparing to announce more major new roads in his Comprehensive Spending Review next month to show that he has "shovel-ready" plans to keep Britain's economy out of recession, including new lanes on the A1 and a new toll motorway to ease congestion on the M4.
Yet at the same time, road use has been steadily falling for at least five years, undermining a key plank of the Chancellor's strategy. There is also a backlog of £10.5bn worth of repairs to roads – a fraction of what it would cost to build new highways. The policy, with its echoes of Margaret Thatcher's "great car economy" of the 1980s, has drawn criticism from environmental groups, anxious to remind the Government of its promise three years ago to be "the greenest ever".
Mr Osborne announced £57m for the Bexhill-Hastings Link Road in East Sussex in his 2012 Budget, to the outcry of local campaigners and environmental groups over its proximity to a site of special scientific interest and the suspected true location of the Battle of Hastings.
Building work is due to start this month, providing Mr Osborne with the opportunity to show ministers donning hard hats.
But memos newly released under the Freedom of Information Act show that just days before the Chancellor announced the plan, DfT officials were advising Transport minister Norman Baker that the Bexhill-Hastings road would offer "low-to-medium value for money" and that the scheme would create a third of the jobs claimed. They also warned that Mr Osborne faced "risks in making an early announcement".
The local authority, East Sussex County Council, had "significantly overstated the scheme's benefits" by claiming it would generate economic activity, a senior DfT official wrote on 19 March 2012 – two days before Mr Osborne unveiled his Budget.
In that memo, and an earlier one dated 14 March, officials told the Liberal Democrat minister that he had to decide "urgently" on giving the go-ahead to the road in time for the Budget. The officials said they were not being given enough time to investigate alternative, less environmentally damaging plans. "In the time available, we have had little opportunity to review this alternative," the official wrote on 14 March. "We cannot be sure … that the road-based alternatives are either credible or deliverable without substantially more work … Our analysis is not quite complete."
On 19 March, a DfT official wrote: "Our review of the economic case is that the scheme is likely to offer either low or medium value for money." Analysis by East Sussex council that the road would unlock £1bn of economic growth in the deprived part of Hastings and Bexhill "significantly overstates the benefits of the scheme as it makes optimistic assumptions including the number of jobs dependent on the scheme, the extent to which economic activity will relocate from elsewhere and local wage rates".
Despite a campaign by locals – backed by national groups including the Campaign to Protect Rural England, the Wildlife Trust and the Royal Society for the Protection of Birds – the road, which links the A259 and B2092, will cut into the Combe Haven Valley near a site of special scientific interest. Two local Tory MPs backed the link road despite objections: Greg Barker, the minister for climate change, and Amber Rudd, who is Mr Osborne's ministerial aide. Mr Baker yesterday declined to comment.
East Sussex council was Tory controlled before Thursday's local elections, but the party lost nine seats and the authority is under no overall control. Peter Jones, who stepped down as leader of the council last month, described the road as a "once-in-a-generation opportunity to make a step change to the most deprived local economy in the South-east".
Repairing the existing network would be far cheaper than building new roads: while it would cost £10.5bn to clear the nationwide backlog of potholes, a small, 21-mile, rerouting of the A14 in Cambridgeshire, for example – cancelled by the coalition government in 2010 because it was too expensive – would have cost £1.5bn to build.
By contrast, in the US, Barack Obama has launched a "Fix It First" programme prioritising repairs and maintenance over the building of new transport infrastructure.
According to the DfT's figures, cars and taxi road use peaked in 2007, with 247.3 billion vehicle miles on Britain's roads. In 2012, cars and taxis accounted for 240.2 billion vehicle miles. For all motor vehicles, including vans and motorcycles, road use was 314.1 billion vehicle miles in 2007, declining to 302.6 last year, down 3.7 per cent. By contrast, rail use is increasing at 3 per cent a year.
While the fall in car use since 2007 is in part due to the recession, experts say there are other factors that will remain once economic recovery is under way, including a cultural shift and fuel costs. The Treasury's own forecast for revenue from vehicle excise duty predicts a fall of 6.8 per cent in 2017 from 2013 – £5.5bn from £5.9bn – suggesting that the Government expects road usage to continue to fall despite predicted economic growth.
Stephen Joseph, head of the Campaign for Better Transport, said: "Instead of reviving zombie road building plans, the Government should be investing in alternatives. We should maintain our existing roads properly, invest in affordable, reliable public transport and support cycling and walking."
Professor Stephen Glaister, director of the RAC Foundation, said: "When it comes to spending on roads, the Chancellor is swamped with options. Even before you consider new capacity, there are plenty of old problems to fix, including the maintenance backlog. Mileage has slipped in recent years but it would be wrong to be blinkered by these figures. Before the recession, car travel was growing in every region of the country except London."
A Treasury spokeswoman said: "Investing in infrastructure is a key part of the Government's economic strategy."
Rubber revolution
A pioneering new road surface that uses recycled car tyres could lead to quieter and more environmentally friendly roads, if a successful Scottish trial is adopted nationwide.
A short stretch of the A90 dual carriageway between Perth and Dundee was resurfaced with a new asphalt material that includes shredded rubber particles from old car tyres. Engineers say the rubber results in quieter and more environmentally friendly roads. Tyre recyclers claim it also saves money because thinner layers of the new material are needed to withstand traffic.
In addition, they say it requires less maintenance over the life of the road and still permits surface drainage. In the US, transport authorities already recycle tyres to produce 20,000 lane-miles.
Paul Bignell
Register for free to continue reading
Registration is a free and easy way to support our truly independent journalism
By registering, you will also enjoy limited access to Premium articles, exclusive newsletters, commenting, and virtual events with our leading journalists
Already have an account? sign in
Join our new commenting forum
Join thought-provoking conversations, follow other Independent readers and see their replies