Exclusive: 'It was no accident' - Government blamed for A&E crisis
Most senior emergency doctor says warnings about staff shortages were ignored by ministers
Charlie Cooper
Tuesday 31 December 2013 20:13 Comments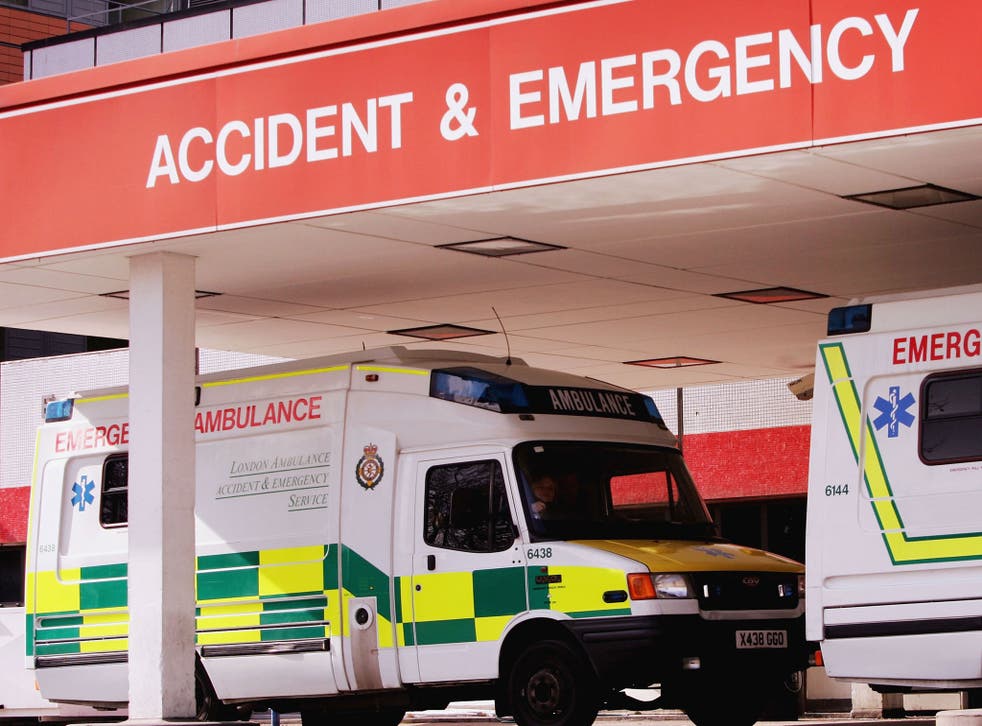 England's A&E crisis could have been averted two years ago if the Government had heeded warnings of a looming collapse in casualty ward staffing, the country's top emergency doctor has said.
Dr Clifford Mann, President of the College of Emergency Medicine, said that ministers and health chiefs were "tied in knots" by the challenges of implementing the Coalition's health reforms from 2011 onwards, leading to them ignoring the first warnings of an imminent crisis from the College that the NHS was failing to recruit enough new A&E doctors.
Although a new recruitment drive for A&E doctors is now under way, Dr Mann told The Independent that the Government's reforms - which finally came into effect in April - had caused "decision-making paralysis" throughout the NHS for 18 months, leaving the College in a position akin to "John the Baptist crying in the wilderness".
"The first warning signs were three years ago when we failed to recruit to 50 per cent of our posts - that was 2010," Dr Mann said. "Those concerns were raised at the time."
"We failed to recruit enough staff again the next year," he continued. "The problem at that time was many people were still wrestling with moving the Health and Social Care Act through Parliament and working out how it was going to be implemented.
"It took a lot of time and resources from the medical royal colleges and other organisations wondering how they should approach such an enormous piece of legislation and potential change. It tied us all up in knots for quite a long time. There was a lot of decision-making paralysis and stasis in the system at that time."
Casualty wards up and down the country are under intense pressure this winter, with seasonal illnesses driving up demand for hospital beds, with a knock-on effect for emergency admissions.
A&E wards missed waiting times targets two weeks in a row before Christmas. Winter pressures last year contributed to the worst A&E performance in nine years.
Over the past year ministers have variously blamed the increased pressures on Britain's ageing population, changes to GP out-of-hours care, or more recently, denied that the crisis even exists.
However, Dr Mann said that the problems were a consequence of a staffing crisis that has left the country short of around 375 emergency doctors - which over the course of a year means "750,000 patients per year who aren't going to be seen".
He added: "They're never going to exist, we've lost that opportunity. It takes four years to train and you can't just be parachuted into the fourth year."
Dr Mann said the NHS has also had difficulty retaining its A&E medical workforce, with hundreds emigrating to seek better working conditions and pay overseas. In Australia, for example, there are 480 British or Irish-trained A&E doctors - now a quarter of the Australia's emergency specialists.
Growing anxiety in the Coalition about A&E performance this year has sped up efforts to address staffing levels. Health Education England recently announced that 75 new training places for A&E doctors will be created.
Dr Mann said that much time had been lost, in which NHS trusts had been forced to spend an average of £500,000 per year on locum doctors, while hundreds of millions of pounds had been spent by the Government on "short-term crisis management".
Before recent concerns about A&E waiting times surfaced, the representatives from the College met with the serving Health Secretary only twice in four years, but have now held two meetings with the current Health Secretary, Jeremy Hunt, in the past two months alone. "We've moved from crisis into resolving these challenges... We've finally got people to listen to our message," said Dr Mann.
A Department of Health spokesperson said that the NHS reforms had created the national training body - Health Education England - which would ensure A&E wards had enough doctors.
However, Labour said that the Health and Social Care Act had "pulled the rug from under the NHS" at a critical moment. Andy Burnham, shadow Health Secretary, said: "David Cameron's decision to break his pledge of 'no top-down re-organisation' was a monumental misjudgement. Doctors and nurses knew the dangers and pleaded with him to call it off.
"The result has been two lost years in the NHS. At a stroke, focus shifted from the front line to the back office - away from issues like the growing recruitment crisis in England's A&Es."
The Department of Health spokesperson said: "Since 2010, over a million more people are visiting A&E departments. We recognise that emergency medicine is under pressure and we are determined to tackle it. [NHS Medical Director] Sir Bruce Keogh's recent review gives us a blueprint for how the NHS should respond to demands for emergency services. It was based on extensive consultation, taking on board views from the College of Emergency Medicine."
Profile: The top doctor with the dire warning
Dr Clifford Mann is one of the UK's leading emergency medicine consultants. Having trained in the UK, New Zealand and Australia he became a consultant at the Taunton and Somerset NHS Foundation Trust in 1999.
He was appointed president of the College of Emergency Medicine in 2013, and has been an outspoken critic of the Government's response to ever-increasing pressure on A&E wards, warning in May that casualty units were becoming like "war zones".
In November the College published 10 priorities for resolving the crisis, including improving conditions for A&E doctors to encourage more trainees into the profession, and to stop the drain of top doctors leaving the UK for better pay and shorter hours overseas. While serving as president, Dr Mann still works regular shifts on his hospital's emergency ward.
Register for free to continue reading
Registration is a free and easy way to support our truly independent journalism
By registering, you will also enjoy limited access to Premium articles, exclusive newsletters, commenting, and virtual events with our leading journalists
Already have an account? sign in
Join our new commenting forum
Join thought-provoking conversations, follow other Independent readers and see their replies