Exclusive: Labour bets the house with pledge to outspend Tories
Ed Miliband rejects lesson of 1997 when Tony Blair promised to match the Tories' budget limits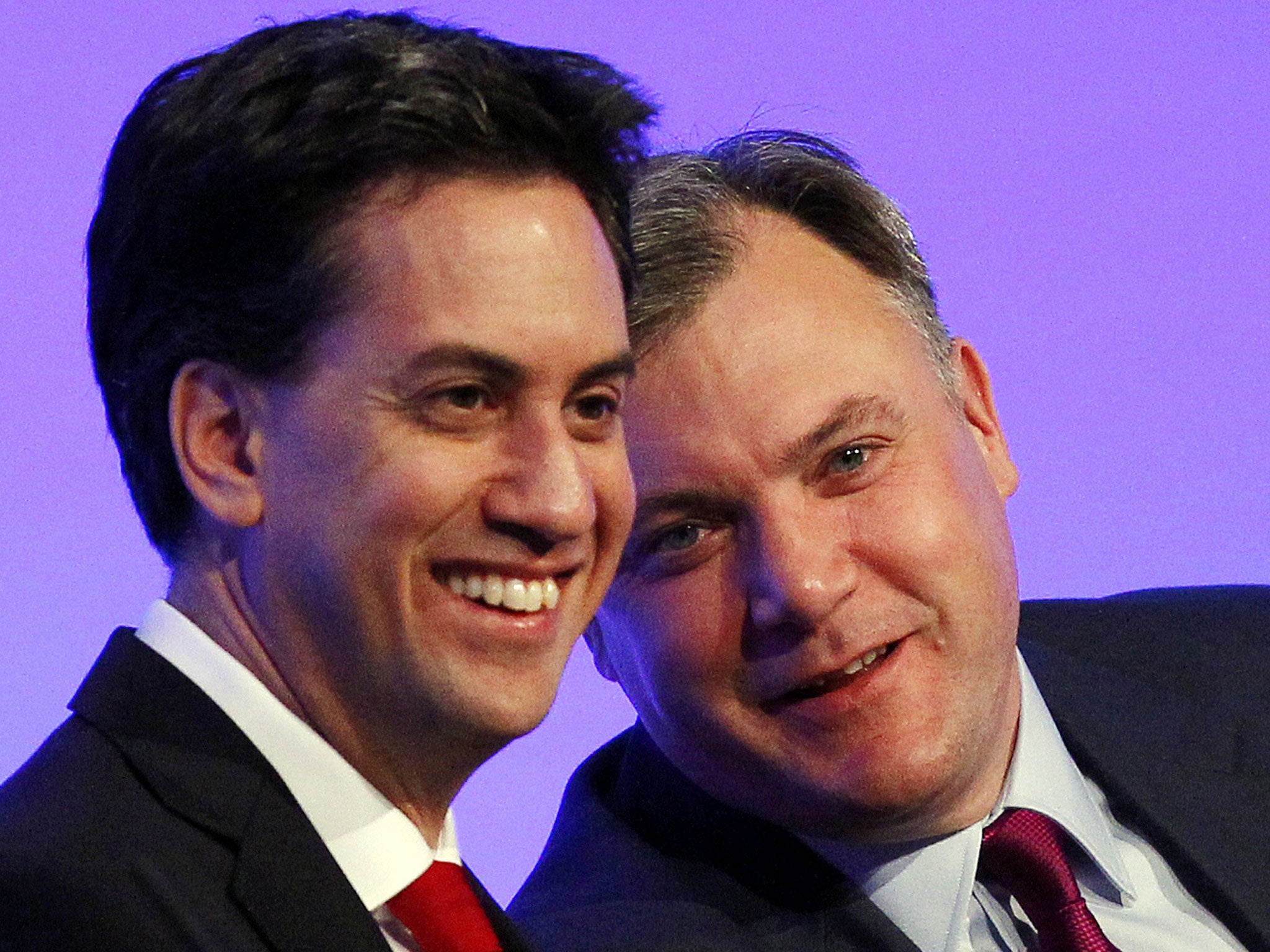 Labour is preparing to fight the 2015 election on a bold but risky pledge to spend more than the Conservatives.
Ed Miliband and Ed Balls will reject the more cautious approach – adopted by Tony Blair in 1997 – of sticking to the Tory government's public spending limits in favour of a "new economic settlement" for Britain.
Some Labour figures believe that repeating Mr Blair's landmark move would help the party regain economic credibility, on which it still trails the Tories. But there is a growing consensus inside the Shadow Cabinet, which includes its Blairites, in favour of reducing the deficit over a longer period than under the Coalition's plans in order to finance "investment", such as a huge house-building programme.
Strong support for this approach will come in a study to be published next week by the Labour-affiliated Fabian Society. Sticking to George Osborne's plans, it found, would mean that "non-protected" areas of spending such as police, justice and local government face cuts of about 35 per cent between 2011 and 2017.
Arguing the cuts may be unnecessary, the study says that, if the economy is growing by about 2 per cent annually, public spending could rise by 1 per cent a year and Labour could achieve Mr Osborne's target of seeing debt falling by 2016-17 two years later – or sooner than 2018-19 if taxes were increased.
Mr Miliband is under mounting pressure to reveal how and when Labour would reduce the deficit. Last week, Tony Blair warned that Labour is in danger of becoming a protest party as it opposes Coalition cuts and urged it not to "tack left on tax and spending". The Miliband-Balls plan to borrow more than the Coalition would is bound to be a seen as a gamble. But the Labour leadership believes that it would pay off if seen as part of a strategy to "rebuild and invest in Britain's economic future".
Mr Miliband will argue today, addressing the Scottish Labour conference, that the UK needs a change of direction like the one Margaret Thatcher launched in 1979. "The promise that the majority would always do well from an in-it-for-yourself, laissez-faire, deregulated economy isn't working for most working people," he will say.
Accusing both Baroness Thatcher and David Cameron of dividing the country, he will say: "We need to build a new settlement and only Labour can do it. The answer lies in not going back, but in a new settlement appropriate for new times." Refusing to brand jobless people "scroungers or skivers", he will say: "We will succeed by uniting our country, not dividing it."
Andrew Harrop, the Fabian Society's general secretary, writes in the Fabian Review magazine: "Labour needs to have a credible alternative on the economy that will include targeted cuts in some areas to shift money to higher priorities. But importantly, it must be an alternative on Miliband's and Balls's own terms. Lashing themselves to the mast of the Chancellor's sinking ship is a recipe for economic and political disaster.
"George Osborne's spending plans are predicated on his and his party's political commitment to austerity. They make no sense in the short term for our flatlining economy, and they are totally unnecessary for the period after 2015 when overall cuts might not be needed," Mr Harrop argues.
"The vast majority of people considering voting Labour in 2015 did not vote Conservative at the last election and do not support their spending plans," Mr Harrop adds.
He warns that matching the Coalition's plans "will harm the economy, further undermine the welfare state and might not even help Labour's election chances."
The Labour leadership will spell out some of its economic priorities for 2015 before Mr Osborne unveils his Spending Review in June. Blairites want a firm timetable announced soon for clearing the deficit, but Mr Balls, the shadow Chancellor, argues it is too early to declare the party's hand. He wants to delay setting out Labour's tax and spending plans until the autumn of next year, eight months before the 2015 election. He argues final decisions cannot be taken before then in such an uncertain global climate.
Yesterday, Labour sources insisted no decision had been taken on post- 2015 spending. But Shadow Cabinet members confirmed current thinking was to make investment in spending – such as on housing – a key election dividing line with the Tories.
The history
Politicians and their advisers love to hail their best moves as "game-changers". In fact, there are few such moments in politics.
In January 1997, however, Gordon Brown, the shadow Chancellor, pulled off one such moment by announcing that Labour would not raise the basic or top rate of tax if it regained power, and would stick to the Conservatives' spending plans for two years.
His aim was to bury Labour's image as a "tax and spend" party and to slay the ghost of a disastrous "shadow Budget" before the 1992 election, in which Labour had promised to raise taxes to fund higher pensions and child benefit.
New Labour's 1997 pledge proved a crucial step on Tony Blair's path to power. The late Philip Gould, Mr Blair's pollster, recalled: "The Tories were pole-axed. It was as though a political mallet had been smashed through their heads."
Voters' remaining doubts about Labour eased and the party even moved ahead of the Tories on tax, always one of the strongest Conservative cards. Mr Blair was on course for his landslide victory four months later.
The irony was that Kenneth Clarke, Tory Chancellor at the time of the election, admitted later that his party would never have been able to stick to his "eye-wateringly tight" spending limits if it had retained power. Labour's two-year squeeze was followed by a big splurge.
Join our commenting forum
Join thought-provoking conversations, follow other Independent readers and see their replies