Exclusive: New chapter in 'bedroom tax' saga - now councils run out of emergency funds to help worst cases
Mass protests as thousands 'driven into destitution' by policy
Emily Dugan
Saturday 05 April 2014 05:39 Comments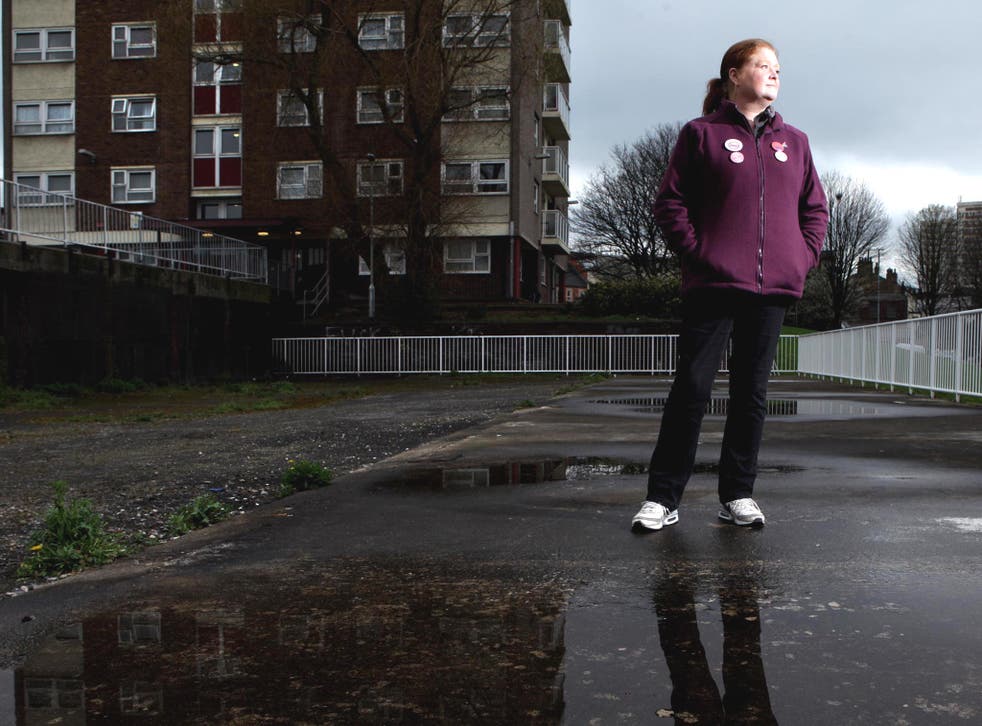 The 'bedroom tax' has resulted in thousands of people being "driven into destitution" as councils run out of the emergency funds set aside to rescue those worst affected.
Demonstrators will gather in Cardiff, Leeds and London today to call for the abolition of the widely criticised policy, a year after it was introduced by Iain Duncan Smith.
Ministers have always maintained that those forced into hardship by the tax can apply to their council for discretionary housing payments (DHPs) to help cover their rent.
But The Independent can disclose that many councils had already exceeded their budget for DHPs in February, weeks before the end of the financial year on 31 March, even though the Government had increased the money available to local authorities. The Government disputes the figures.
Some councils have to turn away as many as three quarters of those asking for help, according to Freedom of Information requests to 311 local authorities in England, Scotland and Wales by the False Economy campaign group. One in five councils rejected more than 40 per cent of applications for DHPs in the past year.
Demand for DHPs across the country has soared by more than 300 per cent within months of the introduction of the bedroom tax. The welfare cap and other benefit reforms have also boosted demand.
The figures are the latest blow for a policy widely considered one of the Coalition's most unpopular initiatives. Labour has pledged to repeal the tax and the Lib Dem president, Tim Farron, recently indicated that his party will withdraw support for it.
Of the 47 councils to spend more than 90 per cent of their budget by February, almost a third had refused more than a third of DHP applications. Some of those rejected will be ineligible, if, say, they cannot prove debt or low income, but others in dire circumstances will fall under an increasingly high bar set by many local authorities trying to stay within tight budgets.
False Economy researcher Chaminda Jayanetti said: "The Government try to pretend that discretionary housing payments stop anyone being driven to destitution by benefit cuts. These figures show that in reality the money does not go far enough ... DHPs are a sticking plaster that neither sticks nor covers the wound."
Leeds City Council spent 105 per cent of its budget of more than £2m by 12 February and still had to turn away 2,200 people, almost 40 per cent of those who applied.
Councillor Keith Wakefield, leader of Leeds City Council, said of welfare reform: "It's an absolute shambles, but above all it's brutal and cruel. We've had to spend our own money [on DHPs] and we've still had to turn people down ... 75 per cent of this is just on the bedroom tax. There's a significant number out there who still can't get any help and that's when we've still not yet seen the full year's effect of the benefit cap."
In Monmouthshire, 112.44 per cent of the DHP budget was spent, with 7 per cent of claims rejected. Richard Davies, head of benefits at Monmouthshire and Torfaen councils, said: "We've been fairly prudent but there's a great deal of hardship out there."
Mr Davies said administering the huge demand for help has dramatically increased council workload: "Dealing with DHP applications is like dealing with a totally separate benefit scheme. It's shifted everything from statutory to discretionary, [so] it's a huge burden of administration."
The Welsh government has acknowledged the extra workload created by welfare reform, allocating an additional £1.3million to local authorities to help with the extra administrative burden of the bedroom tax. In Scotland the bedroom tax has been effectively abolished after the devolved government announced it would subsidise the extra cost.
Shadow Work and Pensions secretary Rachel Reeves said: "This is further evidence the tax has been a complete disaster for ¬thousands of people."
The tax was intended to tackle under-occupancy in local-authority housing by docking housing benefit for "spare" rooms, forcing people to move to smaller properties. However, figures published today (SAT) show the number of households affected by the charge has only fallen 15 per cent since it was introduced. Nearly six out of seven affected households have been unable to avoid a cut in rent support, as a chronic shortage of housing means there are no smaller properties for them to move to.
In some areas the number subject to the bedroom tax has actually increased. In New Forest and Arun District Councils the number of households impacted by the reduction in housing benefit is up 25 per cent.
Councillor Sharon Taylor, Chair of the Local Government Association's Finance Panel, said: "In many areas welfare reform is not encouraging people to downsize because opportunities to cut costs are severely limited by a lack of affordable accommodation. Unless more is done to build homes, households will increasingly be pushed into financial hardship and we will see a huge rise in the number of people going to their councils asking for help to make ends meet."
She added: "We are seeing that demand for help from Discretionary Housing Payments is significantly outstripping the money the Government has made available to councils to mitigate the changes in some areas. This will have a significant impact on local government budgets, which are already stretched to breaking point by the deepest cuts in the public sector."
A DWP spokesman said: "Our reforms are necessary to restore fairness to the benefits system and make a better use of social housing. We are saving the taxpayer £1m a day, but we have given councils £345m since reforms came in last year to support vulnerable groups – including £20m of top-up funds that only a quarter of local authorities bid for.
"These figures suggest this funding is working well, with the vast majority of councils spending less than 90 per cent of cash with just a month before the end of the year."
Case study: Single and unaware of risks of accepting a two-bedroom home
Carole O'Keefe, 45, from Leeds
"I was about £300 in arrears that were entirely caused by the £9 a week bedroom tax I couldn't pay before I finally got discretionary housing payment. I got a lot of threatening letters which scared me witless. It got as far as a notice of intended repossession order.
I was a victim of a house fire three years ago and was in hospital for a time and made homeless. It was an arson attack and I wasn't insured so I lost all my possessions and the house I co-owned with my ex-husband.
I live alone but the council offered me a two bedroom flat in a high rise and I didn't know at that point that the bedroom tax was coming in so I took it. Now I'm on the housing exchange list and keep applying for one bedroom properties but nothing has come forward, so I have no choice.
I've been out of work intermittently for the last five years and on job seeker's allowance. I worked for 22 years, first in insurance and then in debt recovery. Now I'm training to use that experience to help people.
The DHP I was given has run out now and I've had to fill out another form for a new one. I've handed it in so it's a waiting game again now."
Register for free to continue reading
Registration is a free and easy way to support our truly independent journalism
By registering, you will also enjoy limited access to Premium articles, exclusive newsletters, commenting, and virtual events with our leading journalists
Already have an account? sign in
Join our new commenting forum
Join thought-provoking conversations, follow other Independent readers and see their replies