Exclusive: Osborne's father-in-law in 'conflict of interest' row
Lord Howell is both a personal adviser to William Hague and a paid consultant to a train company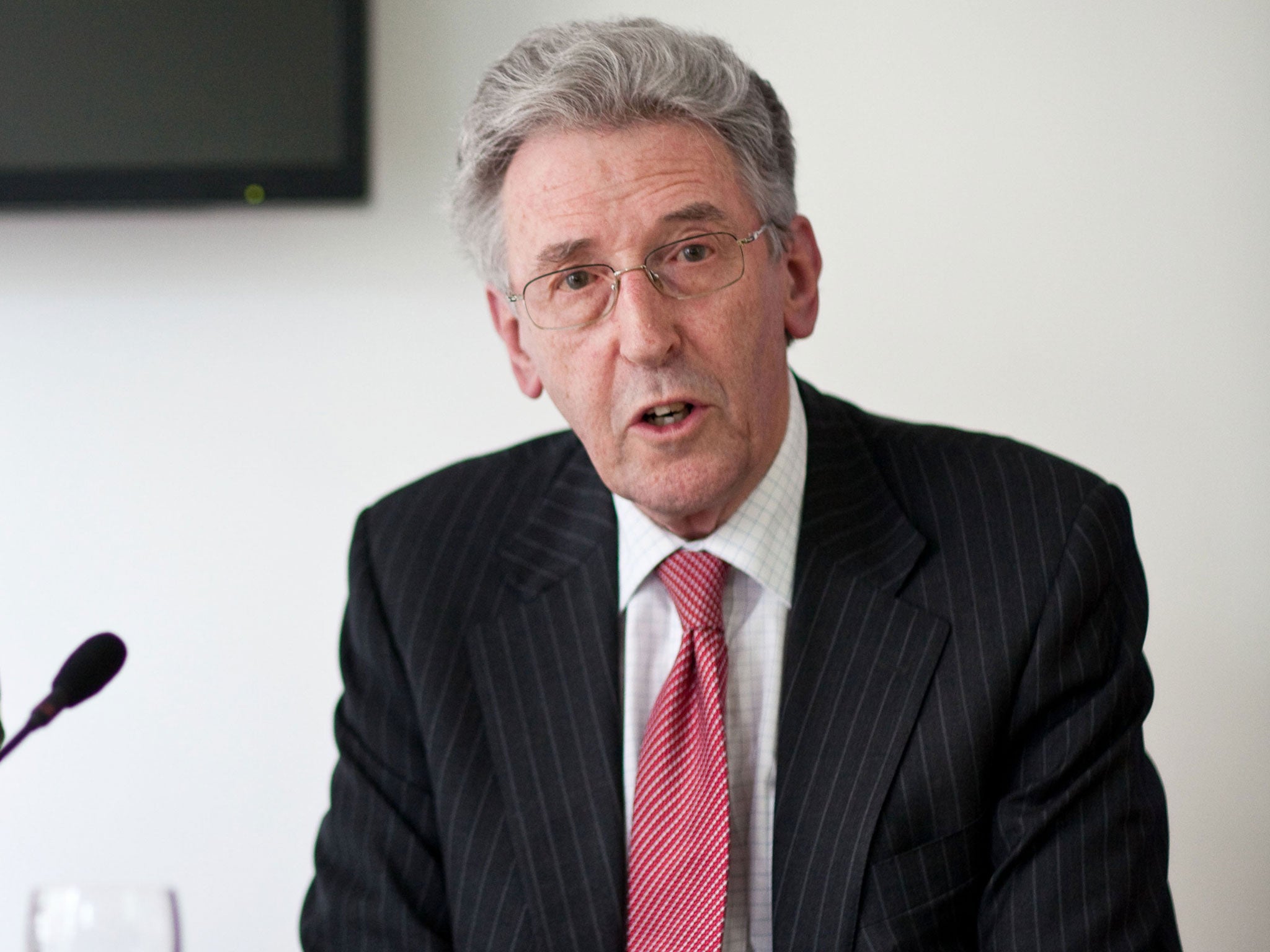 George Osborne's father-in-law was accused of a conflict of interest last night after it emerged he is being paid by a Japanese high-speed rail firm with commercial interests in the UK at the same time as having top-level access to the Foreign Office as William Hague's personal adviser.
Lord Howell of Guildford, who was Margaret Thatcher's transport secretary and one of David Cameron's ministers until September, is being paid as a "European consultant" to JR Central, a train company which could be a bidder for multimillion-pound contracts connected to the controversial HS2 rail line.
But the peer, in his role as personal adviser to Mr Hague on energy security, has access to the Foreign Office and confidential FCO documents, and is funded by the taxpayer to go on official visits on behalf of the Foreign Secretary, although the post itself is unsalaried. Last year, days after the Government gave the go-ahead to HS2, Mr Osborne, who is close to his father-in-law, used a visit to Tokyo to declare that the Japanese bullet-train technology – of which JR is a leading exponent – would play a part in the new high-speed line between London and the North.
Lord Howell has caused embarrassment to his son-in-law before. He is a keen enthusiast for shale gas and last year was secretly recorded telling an undercover Greenpeace activist that Mr Osborne was "putting pressure" on Mr Cameron to push for new gas technology.
Yesterday's revelation follows concerns about the business interests of a string of Conservative peers. Last week, Tory donor and academies sponsor John Nash was given a peerage and a job as education minister, while another donor, Lord Popat, was made a government whip. Lord Sassoon, who quit his job as a Treasury minister last month, is to start a job with the City firm Jardine Matheson this week, without undergoing the traditional three-month "gardening leave". This has been cleared by officials.
The cross-party committee that vets the appointments of former ministers approved Lord Howell's paid role with JR Central in October, on condition that he does not lobby anyone in government on behalf of the company for two years. Yet the Advisory Committee on Business Appointments (Acoba) deals with MPs, peers and civil servants who have left government, and it is unclear whether they were aware of the nature of his FCO role, which the peer took up a month earlier and which grants him privileged access to the Foreign Office and official documents. Acoba is chaired by Lord Lang, a fellow former minister from the Thatcher era. Lord Howell started the job with JR Central in December. It is not known how much he is being paid.
Setting out details of the envoy role to Parliament in September, the Foreign Office minister David Lidington said that although Lord Howell would "not speak on behalf of the Foreign and Commonwealth Office" and would have no office in Whitehall, he "may have sight of relevant departmental paperwork under secure conditions" and "will have access to the FCO to advise the Foreign Secretary". Mr Lidington added: "Lord Howell may, on occasion, undertake trips in this capacity funded by the FCO and organised and co-ordinated by the FCO and our overseas posts."
In November, Lord Howell visited South Korea in his capacity as Mr Hague's adviser. He has also attended a House of Lords reception involving Azerbaijan's state oil company, Socar, at a Lancaster House event for countries and firms in the "Caspian corridor", and a seminar at the Royal Geographical Society with Crown Prince Haakon of Norway and Norwegian oil executives.
JR Central is Japan's leading train operator and developer of the Maglev – or magnetic levitation – rail system. It also builds, along with Hitachi, the bullet, or Shinkansen, train which would be a leading contender for the £32bn HS2 rail line. Lord Howell was an adviser to JR Central from 2003 but gave up the post on becoming a minister in May 2010. His son-in-law shares his enthusiasm for the Japanese rail industry. In 2006, Mr Osborne enthused about the Maglev system. Nine days after the Government gave the go-ahead to HS2 in January last year, Mr Osborne, on a visit to Tokyo, said Britain was interested in using Japanese bullet-train technology for the new line. He said: "I want Britain to set the standard for the next generation of high-speed rail – for the level of technology, quality of travel and value for money. Japan is the home of high-speed rail. So we will look at all the options, including using bullet-train technology in Britain."
Hitachi, which has helped to develop JR Central's new N700 Shinkansen train, has also supplied Javelin trains for express commuter services in London and Kent. A senior rail industry source said that although JR did not have a short-term interest in HS2 because the project was still in the planning stage, the company "could be interested in HS2 in the long term given the success that Hitachi have had".
The shadow Cabinet Office minister Jon Trickett said last night: "We have been waiting for a law on lobbying, and the Government has got to get on and publish it, which would ensure that these sort of activities could not take place. Lord Howell has serious questions to answer to reassure the public that there is nothing inappropriate about this, because it certainly looks inappropriate."
The Labour peer and former minister George Foulkes said: "This certainly looks like a conflict of interest. Many people will find it galling to see Tory ministers slipping into well-paid sinecures when they move out of government."
The Lib Dem peer Lord Oakeshott said: "It is acceptable for a backbencher outside government to have a role advising a Japanese train company, but clearly you cannot be half in and half out of government. I am sure when he thinks about it David Howell will realise it is quite inappropriate to carry on in this paid advisory job when he is hopping in and out of the Foreign Office."
Lord Howell said last night: "It has all been cleared with the committee. There is no objection to my taking this job."
Asked whether he had informed Acoba of the official nature of his personal adviser role, including access to the FCO and representing the Government abroad, Lord Howell said only: "It is as a personal adviser to the Foreign Secretary. It is what it is." He added there was "no question" that he would lobby the Government on behalf of JR Central, saying: "The rules are very strictly set down. Obviously I adhere to them very strictly."
An FCO spokesman said: "The lobbying ban imposed by Acoba is a two-year ban on Lord Howell lobbying government on behalf of JR Central. Lord Howell has confirmed that he will not be doing this."
Revolving doors
Lord Sassoon Stood down as Commercial Secretary to the Treasury at the end of last month. Takes up a job with City firm Jardine Matheson this week. The normal requirement to wait three months before taking a job in the same sector has been waived.
Lord Nash Venture capitalist and academies sponsor John Nash is to be given a peerage and job as education minister, despite him, his wife Caroline and his firm giving nearly £300,000 to the Tories since 2006. Has agreed he will not play any role in decisions that affect his academies charity, Future.
Lord Popat The care homes and hotels entrepreneur, who has donated more than £200,000 to the Tories, received a peerage in 2010. Last week he was given a job in government as a Lords Whip. In opposition he helped fund the offices of Andrew Mitchell, Baroness Warsi and Nick Herbert.
Lord Hill Promoted to Leader of the Lords following the resignation of Lord Strathclyde last week. He has been allowed to keep shares in the lobbying firm Huntsworth, which owns Quiller Consultants, which he founded. Quiller's clients include those with government contracts, including Tesco, A4e and PricewaterhouseCoopers.
Jane Merrick
Join our commenting forum
Join thought-provoking conversations, follow other Independent readers and see their replies