Exclusive poll reveals Liberal Democrat activists would want to form a coalition with Labour in 2015
Pressure mounts on Nick Clegg to distance himself from the Tories as the membership demonstrates it would rather side with Miliband
Jane Merrick
,
Brian Brady
Sunday 15 September 2013 19:37 Comments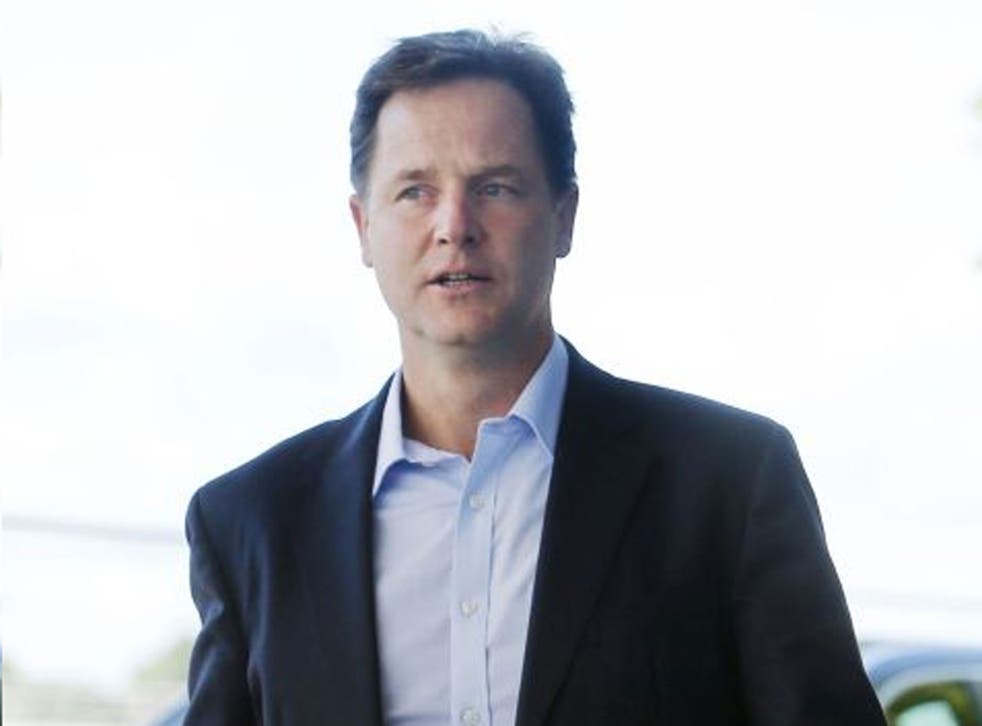 Liberal Democrat members are demanding Nick Clegg make a deal with Labour at the next election, an exclusive poll has revealed.
The extraordinary poll will put pressure on the Deputy Prime Minister, who opened his party conference in Glasgow yesterday, to start distancing himself from the Conservatives and open talks with senior Labour figures.
Party president Tim Farron stepped up the pressure on Mr Clegg by calling for a "new consensus" in politics, including supporting Labour's plans for a living wage.
It remains a strong possibility that the 2015 election will result in another hung Parliament, with Labour as the largest party. But many Lib Dems are fearful that Mr Clegg has not done enough to decouple from David Cameron and to mend fences with Ed Miliband, leaving the prospect of a breakdown in negotiations in May 2015.
According to the poll for The Independent on Sunday by the respected grassroots website Liberal Democrat Voice, four out of 10 party activists want the Lib Dem leader to form a coalition with Labour in 2015, while a further 15 per cent would like to see a Labour-Lib Dem "confidence and supply" agreement, whereby the third party is free to vote against the Government but agrees not to bring down the Government or vote against its Budget.
In a major blow to some senior Lib Dems close to Mr Clegg who are planning a second term of coalition with the Conservatives, only 15 per cent want to see this deal, while 6 per cent would back a Conservative-Lib Dem "confidence and supply".
The poll shows that 54 per cent of members believe the party should drop its opposition to tuition fees, compared with 39 per cent who do not. The result is startling, because three years ago Mr Clegg faced widespread uproar from his party after breaking a promise to scrap them.
The Business Secretary, Vince Cable, comes out top in the popularity stakes among Lib Dems, with a satisfaction rating of 77 per cent, with Mr Farron next on 68 per cent. Their potential leadership rival Ed Davey is fifth on 58 per cent, while Mr Clegg is ninth on 47 per cent.
In her interview with The IoS, employment minister Jo Swinson, who is close to the Deputy Prime Minister, says that the Lib Dems could work with Labour in a coalition. She admitted there were "issues" with working with the Conservatives and said it would be no different with Labour. But she added: "Working in a mature and adult way where you recognise what your shared goal is – that is not something which I think would be particularly more difficult with Labour than it is with the Conservatives."
At a rally last night, Mr Clegg said the Lib Dems were the "only authentic party of jobs" because they had blocked Tory plans to make it easier for employers to sack workers.
He added: "The Conservatives have a bizarre idea that to create more jobs you need to increase insecurity. They aren't the Party of Jobs – they are the Party of Fire At Will .... A policy dreamed up by a Conservative donor without a shred of evidence to back it up. Let's be in no doubt that without us taking a stand in government, it would have happened."
Of Ed Miliband's party, Mr Clegg said: "I know that some people in our party don't like us being too nasty to Labour, so in the spirit of cross-party co-operation, I'm going to help them make a start. If the Eds are watching, here is the first thing they should do to win back the trust of people. Apologise for being too busy schmoozing the bankers to worry about the risks they were taking with the economy."
Mr Farron, whom many Lib Dem members would prefer to see as leader, set out his stall for a future contest by calling for a "new consensus" in politics – in a clear attempt to distance the party from the Tories and leave the door open to talks with Labour.
The party president said: "Not more of the same, but a movement for change – a new consensus. That is our vision, my ambition, the Liberal Democrat mission.
"We build a new consensus that says if there is a housing crisis, then we stop waiting for the weather to change – we make the weather, we build the houses.
"A new consensus which says that no one in work should be in want – so if you are on the minimum wage you should pay no income tax. It is time that we made the minimum wage a living wage."
Stephen Tall, co-editor of Liberal Democrat Voice, said: "Our survey shows that, despite the pounding the party has taken over the past three years in coalition, Lib Dem members are still eager to stick around in government. The dilemma, though, is this. Party members clearly prefer a Lib-Lab pact, while the leadership appears to lean to a second coalition with the Tories."
The opening of the Glasgow conference saw a flurry of policies announced by ministers, including a 5p charge on plastic bags.
Danny Alexander, the Chief Secretary to the Treasury, called on private firms to give employees pay rises, while David Laws, the Schools minister, urged schools to end the practice of using a single clothing supplier to allow parents to shop around for the best deal.
Register for free to continue reading
Registration is a free and easy way to support our truly independent journalism
By registering, you will also enjoy limited access to Premium articles, exclusive newsletters, commenting, and virtual events with our leading journalists
Already have an account? sign in
Register for free to continue reading
Registration is a free and easy way to support our truly independent journalism
By registering, you will also enjoy limited access to Premium articles, exclusive newsletters, commenting, and virtual events with our leading journalists
Already have an account? sign in
Join our new commenting forum
Join thought-provoking conversations, follow other Independent readers and see their replies