Family in limbo after UK leaves Uzbek embassy man in the cold
Guard refused to spy on Britain, despite torture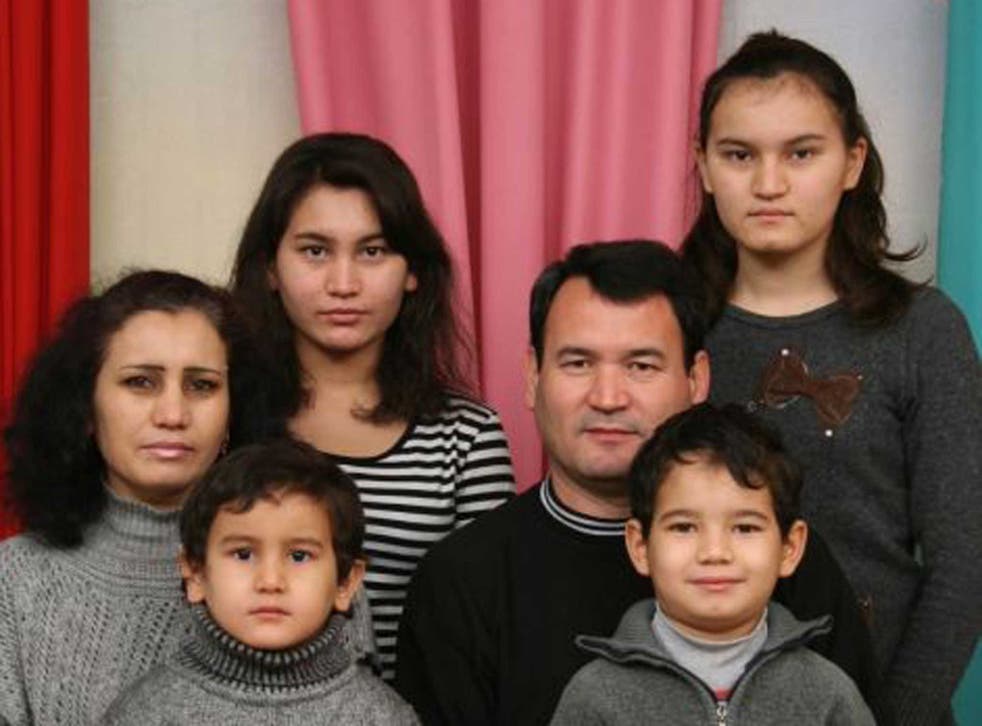 A former British embassy worker allegedly tortured for refusing to become an informer for secret police in Uzbekistan has been abandoned by Britain, his family having "lost hope" of being given any help, it was claimed last night.
The plight of Kayum Ortikov, a 44-year-old married father of four who says he was tortured in Uzbekistan – a dictatorship notorious for human rights abuses – was revealed by the The Independent on Sunday this year.
A desperate appeal by the Ortikov family to David Cameron went unanswered. Instead, the family claim they were offered "false hope" by the Foreign Office minister Baroness Warsi and remain in limbo as refugees in Ukraine, without a country to take them in.
Mr Ortikov worked as a security guard for the British Embassy in Tashkent, Uzbekistan, for several years. His ordeal began after he was imprisoned in 2008.
Shortly after The IoS became aware of the case, in 2011, and raised questions with the Foreign Office in London, Mr Ortikov was suddenly freed from prison. Foreign Office officials do not dispute Mr Ortikov's claims of torture. The family managed to flee their homeland in 2012 and have been in Ukraine ever since.
Mr Ortikov remains traumatised by his ordeal, but last night his wife Mohira spoke out: "Three months ago my husband and I revealed the story of how he was brutally tortured by Uzbek officials and accused of being a British spy. We believed that by going public with this incredibly painful story we thought the British government would make arrangements to provide us refugee resettlement and medical treatment for my husband."
Mrs Ortikov added: "We learned that Minister Baroness Warsi had taken an interest in our case and were very hopeful there might be some concrete result."
In reality, the help was confined to a meeting with a British embassy official, who, she said, "politely listened to our story and never got in touch with us after the meeting.... We believed that Great Britain would help its loyal employee and treat this case seriously. We've lost hope."
The Government came under mounting pressure to intervene last night, with politicians from the Joint Committee on Human Rights, the Foreign Affairs Committee, and the All Party Parliamentary Group on Human Rights uniting in calling for urgent help for the family.
"We have a responsibility towards people who have worked for the British government," Ann Clwyd MP, chair of the all-party group, said.
The case raises "serious questions" and warrants greater effort to help the Ortikovs, said Douglas Alexander, Labour's Shadow Foreign Secretary. Baroness Lister, a member of the Joint Committee on Human Rights, called on the Government to act "without further delay".
Steve Swerdlow, a Central Asia researcher at Human Rights Watch, described Mr Ortikov's ordeal as "one of the most harrowing cases" campaigners have documented in Uzbekistan in recent years.
"He was targeted because of his work at the British embassy and this raises serious questions about why UK officials did not raise the case more forcefully throughout his ordeal," he added.
British officials should take "swift action" to help the family instead of putting out "broad statements" and doing nothing "to find a concrete solution", Mr Swerdlow said.
Despite serious concerns over routine breaches of human rights, including child labour and torture, Uzbekistan is regarded as a strategic ally – not least because it shares a border with Afghanistan and is viewed as a buffer against Islamic extremism.
In a statement, a Foreign Office spokesman confirmed that Baroness Warsi "knew the case well" and was being kept informed of developments. "She has not promised to intervene in the proceedings. At this point, action lies with the UNHCR [United Nations High Commission for Refugees]. It would be counterproductive for the UK to take any steps which could compromise their work," they claimed.
A UNHCR spokesperson warned that refugees can face a "very lengthy" wait before being resettled, but would not comment on individual cases. They confirmed the UK itself had long been at liberty to refer the case to the UNHCR, had it wished to.
Sir Menzies Campbell, a member of the Foreign Affairs Select Committee, said: "I can't think of a more compelling case for admission to Britain as a refugee than someone who was tortured for his unwillingness to spy on the British embassy in Tashkent, by which he was employed as a guard."
Lord Dubs, a former member of the Joint Committee on Human Rights, said: "The Uzbekistan government have a very poor human rights record and it's shocking when somebody who worked for the British embassy is left abandoned by the UK." He added: "We should offer them safety and asylum here. This is a failure of action by the British."
Human Rights Watch highlighted Mr Ortikov's case in a report on Uzbekistan's "abysmal human rights record" made to a review of Uzbekistan by the UN Committee Against Torture last week. Campaigners presented a dossier of cases showing how "torture and ill-treatment are systematic and committed with near-total impunity".
Register for free to continue reading
Registration is a free and easy way to support our truly independent journalism
By registering, you will also enjoy limited access to Premium articles, exclusive newsletters, commenting, and virtual events with our leading journalists
Already have an account? sign in
Register for free to continue reading
Registration is a free and easy way to support our truly independent journalism
By registering, you will also enjoy limited access to Premium articles, exclusive newsletters, commenting, and virtual events with our leading journalists
Already have an account? sign in
Join our new commenting forum
Join thought-provoking conversations, follow other Independent readers and see their replies